Product Description
NOTE: To place order using Credit Card, P-Card, or Purchase Order – please choose kit size above and click "Add to cart" button. You can place order online without creating an account.
Transfection Reagent for C2C12 Cells (Mouse Myoblast Cells, CRL-1772)
Lipid-based transfection reagent

Optimized easy-to-use transfection protocol provided for transfection of siRNA, DNA, mRNA, and microRNA

Kit includes Transfection Enhancer reagent and recommended transfection protocol

High transfection efficacy in the presence of serum

Expand your RNAi application with a reagent optimized for delivery of both siRNA and plasmid

Reproducible transfection results

Works well for standard reverse transfection and high-throughput applications
Transfection Efficiency:
Reagent exhibits at least 88% transfection efficiency of siRNA delivery. Transfection efficiency was determined by qRT-PCR.
Transfection Protocol and MSDS:
Download Altogen Biosystems C2C12 Transfection Protocol: [PDF]
Download MSDS: [PDF]
C2C12 Cell Line:
The C2C12 cell line was established from a subclone of a mouse (Mus musculus) cell line. This is a muscle tissue cell line, which exhibits myoblast morphology. This cell line acts as a good transfection model, but it differentiates rapidly. C2C12 has been tested negative for mousepox (ectromelia virus). These cells could be useful for biomedical research and cell biology, especially of mammalian myoblast cells.
Data: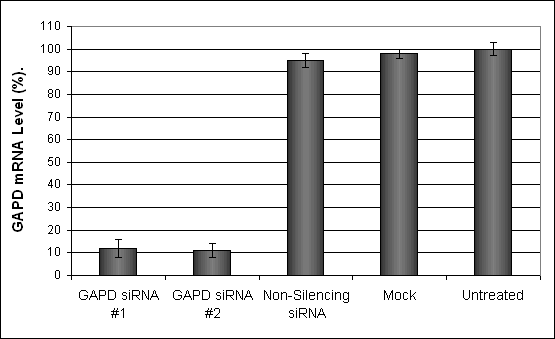 Figure 1. GAPD mRNA levels were quantified using real-time RT-PCR in the C2C12 cells transfected with siRNAs targeting GAPD or non-silencing siRNA. Forty-eight hours post-transfection, the cells were harvested and analyzed by real-time RT-PCR for GAPD mRNA expression levels. Data were normalized against the 18S rRNA signal. Control samples were either mock-transfected or untreated. Values are normalized to untreated sample. Data are means ± SD (n=5).
Selected in vivo transfection product citations (ALTOGEN® IN VIVO Transfection Kits used in the following publications):
Altogen Biosystems:
Altogen Biosystems is a life sciences company that offers cell type-specific and pre-optimized transfection products, elecroporation kits, and in vivo delivery reagents (peg-liposome, nanoparticle, lipid, and polymer-based; and tissue targeted: liver, pancreas,kidney). Advanced formulation of reagents and optimized transfection protocols provide efficient intracellular delivery of protein, DNA, mRNA, shRNA and siRNA molecules. Read more about transfection technology at Altogen's Transfection Resource.
Altogen Research Services:
Altogen Labs is a GLP compliant laboratory that provides preclinical contract research services (CRO). Pharma and biotechnologyservices include: transient and stable transfection (development of stable cell lines), liposome encapsulation (proteins, DNA, mRNA, siRNA), A-to-Z RNAi services, in vivo and in vitro toxicology, xenograft animal models, assay development, cell bankingand cryopreservation services.
Volume Options:
0.5 ml (Catalog #6343)
1.5 ml (Catalog #6344)
8.0 ml (Catalog #7025)