Description
NOTE: To place order using Credit Card, P-Card, or Purchase Order – please choose kit size above and click "Add to cart" button. You can place order online without creating an account.
Transfection Reagent for J774A Cells (Mouse Macrophage Cells, TIB-67)
Two component formulation enhances lipid mediated transfection efficiency

Optimized easy-to-use transfection protocol provided for transfection of siRNA, DNA, mRNA, and microRNA

Kit includes Transfection Enhancer reagent and recommended transfection protocol

High transfection efficacy in the presence of serum

Expand your RNAi application with a reagent optimized for delivery of both siRNA and plasmid

Reproducible transfection results

Works well for standard reverse transfection and high-throughput applications

Download PowerPoint presentation for J774A cells transfection kit: [PPT]
Transfection Efficiency:
Reagent exhibits at least 87% transfection efficiency of siRNA delivery. Transfection efficiency was determined by qRT-PCR.
Transfection Protocol and MSDS:
Download Altogen Biosystems J774A Transfection Protocol: [PDF]
Download MSDS: [PDF]
J774A Cell Line:
Macrophages are phagocytic white blood cells that are involved in the destruction of bacteria and other harmful organisms through phagocytosis. Macrophages are immune cells formed through differentiation of monocytes that have a wide range of physiological functions, including the removal of dead cells and clearing the body of harmful substances. Macrophage cell lines have proven to be ideal model systems for immunological studies as well as for biophysical analyses of different cellular processes. Furthermore, macrophage cell lines are highly utilized in quantitative cell motility research due to their low maintenance nature.
The J774 macrophage cell line is a well-studied model system both in immunology and in cellular and molecular biology. The J774A.1 cell line was derived from the ascitic tissue of an adult female mouse (Mus musculus) with reticulum cell sarcoma and can synthesize significant amounts of lysozyme. These macrophage-like cells can be used as a transfection host in DNA transfection, and in testing biological response. In addition to doubling every 17 hours, J774A.1 cells express receptors complement (c3), Fc receptor, IgG, and high-affinity I.  Also, the J774A.1 cell line continuously synthesizes Interleukin 1 beta (Il1b) and is particularly helpful for the assessment of cellular functionality. Altogen Biosystems provides pre-optimized transfection reagent kits for the J447A mouse macrophage cell line.
Data: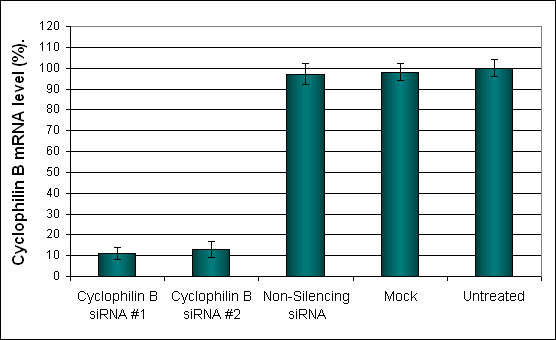 Figure 1. Cyclophilin B silencing efficiency was determined by qRT-PCR in the J774A cells transfected by Cyclophilin B siRNA or non-silencing siRNA control following the recommended transfection protocol. Cyclophilin mRNA expression levels were measured 48 hours post-transfection. 18S rRNA levels were used to normalize the Cyclophilin B data. Values are normalized to untreated sample. Data are presented as means ± SD (n=6).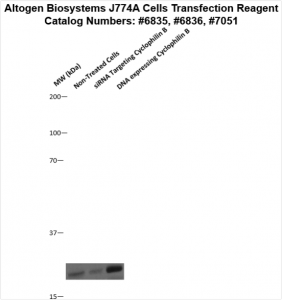 Figure 2. Protein expression of Cyclophilin B in J774A cells. DNA plasmid expressing Cyclophilin B or siRNA targeting Cyclophilin B were transfected into J774A cells following Altogen Biosystems transfection protocol. At 72 hours post-transfection the cells were analyzed by Western Blot for protein expression levels (normalized by total protein, 10 µg of total protein loaded per each well). Untreated cells used as a negative control.
Altogen Biosystems:
Altogen Biosystems is a life sciences company that offers cell type-specific and pre-optimized transfection products, electroporation kits, and in vivo delivery reagents. Advanced formulation of reagents and optimized transfection protocols provide efficient intracellular delivery of protein, DNA, mRNA, shRNA and siRNA molecules. Read more about transfection technology at Altogen's Transfection Resource.
Altogen Research Services:
Altogen Labs provides GLP-compliant contract research studies for pre-clinical research, IND applications, and drug development. Biology CRO services include: Xenograft models (30+), development of stable cell lines, ELISA assay development, cell-based and tissue targeted RNAi studies, safety pharm/tox assays, and other studies (visit AltogenLabs.com).
Volume Options:
0.5 ml (Catalog #6835)
1.5 ml (Catalog #6836)
1.5 ml CRISPR (Catalog #2162)
8.0 ml (Catalog #7051)