Description
Product Availability: In Stock (FedEx delivery within 2 business days).
Ordering: To place an order please use Add to Cart button (account not required).
---
Transfection Reagent for 293T/17 Cells (Embryonic Kidney Cells, CRL-11268)
Proprietary cationic lipids formulation

High transfection efficiency of small RNA (siRNA, shRNA, miRNA), mRNA, pDNA

Effective and robust intracellular delivery

Kit includes Transfection Enhancer and Complex Condenser  reagent

Produces consistent results, lot-to-lot, plate-to-plate, and well-to-well

Work in the presence of serum

A proven reagent for establishing stable cell lines

Optimized transfection protocols are adapted for use with both standard & reverse transfection methods

Download in vitro 293T/17 transfection protocol: [PDF]
Download 293T/17 CRISPR/Cas9 transfection protocol: [PDF]
Download PowerPoint presentation for 293T cells transfection kit: [PPT]
UPC/GTIN/EAN: 860002089710
Transfection Efficiency:
Reagent exhibits at least 90% transfection efficiency of siRNA delivery. Transfection efficiency was determined by real-time RT-PCR.
Transfection Protocol and MSDS:
Download Altogen Biosystems 293T Transfection Protocol: [PDF]
Download MSDS: [PDF]
293T/17 Cell Line:
293T cells are a modified version of the 293 cell line that was created by introducing the SV40 large T antigen gene into 293 cells. This modification allows the cells to express high levels of viral proteins and to be more easily transfected with exogenous DNA. 293T cells are commonly used in molecular biology and biotechnology research as a host for the production of recombinant proteins and viral vectors. They have been widely used as a host for the production of lentiviral vectors, retroviral vectors, and other viral vectors that are used to introduce genetic material into cells. Like 293 cells, 293T cells have a high transfection efficiency and are known to be relatively easy to culture. They can be cultured as adherent monolayers or in suspension, and they are commonly used in large-scale bioreactors for the production of recombinant proteins and viral vectors. 293T cells have been used to study a wide range of biological processes, including signal transduction, protein trafficking, and gene regulation. They are also commonly used in gene editing applications, such as CRISPR/Cas9-mediated genome editing. Additionally, 293T cells have been used in cancer research as a model system for studying the molecular mechanisms of tumorigenesis and for evaluating potential cancer therapies.
Kidney cancer is the twelfth leading cause of death in oncology patients, with more than 338,000 new cases diagnosed annually. It is reportedly responsible for over 13,000 fatalities every year in the United States alone. The lifetime risk of developing renal cancer is higher in black males, as stated by the American Cancer Society (ACS). Preclinical cell line models could help scientists find new therapies for patients with kidney cancer. The 293T/17 epithelial cell line is derived from the 293/293T cell line, originating from embryonic kidney cells. The 293T/17 cell line is similar to the 293 / 293T cell line. They all carry the SV40 T-antigen gene, which causes them to produce the simian virus 40 (SV40), allowing the episomal replication of transfected plasmids. The number designating this as 17 indicates the line which was selected specifically for its high ability to be transfected. In addition to being an adequate host for kidney cancer research, the 293T/17 cell line is helpful for studying kidney-related infections. 293T/17 could be useful in many types of molecular and cell biology experimental research. Altogen Biosystems offers high-efficiency transfection kits for this cell line.
Data: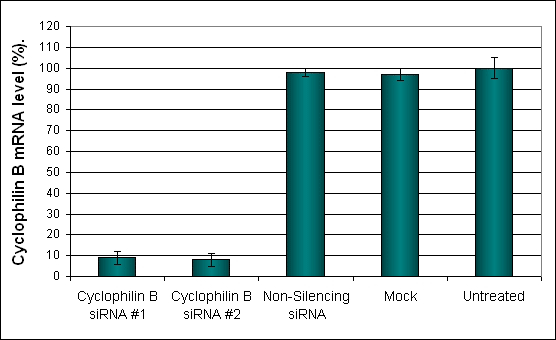 Figure 1. Cyclophilin B silencing efficiency was determined by qRT-PCR in the 293T cells transfected by Cyclophilin B siRNA or non-silencing siRNA control following the recommended transfection protocol. Cyclophilin mRNA expression levels were measured 48 hours post-transfection. 18S rRNA levels were used to normalize the Cyclophilin B data. Values are normalized to untreated sample. Data are presented as means ± SD (n=6).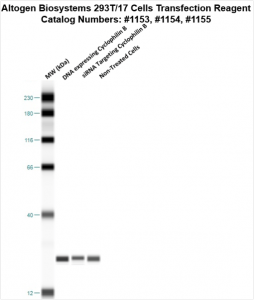 Figure 2. Protein expression of Cyclophilin B in 293T/17 cells. DNA plasmid expressing Cyclophilin B or siRNA targeting Cyclophilin B were transfected into 293T/17 cells following Altogen Biosystems transfection protocol. At 72 hours post-transfection the cells were analyzed by Western Blot for protein expression levels (normalized by total protein, 10 µg of total protein loaded per each well). Untreated cells used as a negative control.
Selected in vivo transfection product citations (ALTOGEN® IN VIVO Transfection Kits used in the following publications):

Altogen Biosystems:
Altogen Biosystems is a life sciences company that offers cell type-specific and pre-optimized transfection products, elecroporation kits, and in vivo delivery reagents. Advanced formulation of reagents and optimized transfection protocols provide efficient intra-cellular delivery of protein, DNA, mRNA, shRNA and siRNA molecules. Read more about transfection technology at Altogen's Transfection Resource.
Altogen Labs Research Services:
Altogen Labs provides GLP compliant contract research studies for pre clinical research, IND applications, and drug development. Biology CRO services include: Xenograft models (over 90 xenograft models), development of stable cell lines, ELISA assay development, cell-based and tissue targeted RNAi studies, safety pharm/tox assays, and other studies (visit AltogenLabs.com).
Volume Options:
0.5 ml (Catalog #1153)
1.5 ml (Catalog #1154)
1.5 ml CRISPR (Catalog #2205)
8.0 ml (Catalog #1155)