Description
Product Availability: In Stock (FedEx delivery within 2 business days).
Ordering: To place an order please use Add to Cart button (account not required).
---
Transfection Reagent for C6 Cells (Glioma Cells, CCL-107)
Two component formulation enhances lipid mediated transfection efficiency

Optimized easy-to-use transfection protocol provided for transfection of siRNA, DNA, mRNA, and microRNA

Kit includes Transfection Enhancer reagent and recommended transfection protocol

High transfection efficacy in the presence of serum

Expand your RNAi application with a reagent optimized for delivery of both siRNA and plasmid

Reproducible transfection results

Works well for standard reverse transfection and high-throughput applications

Download C6 CRISPR/Cas9 transfection protocol: [PDF]
Download PowerPoint presentation for C6 cells transfection kit: [PPT]
UPC/GTIN/EAN: 860002089737
Transfection Efficiency:
Reagent exhibits at least 94% transfection efficiency of siRNA delivery. Transfection efficiency was determined by qRT-PCR.
Transfection Protocol and MSDS:
Download Altogen Biosystems C6 Transfection Protocol: [PDF]
Download MSDS: [PDF]
C6 Cell Line:
While glioblastoma is not the most common type of brain cancer, it is the most aggressive and deadliest. Glial cells are responsible for providing nourishment and mechanical support to nerve cells in the brain. Gliomas are tumors that originated in glial cells and are characterized based on location. According to the Brain Tumor Center at Johns Hopkins, malignant gliomas comprise about 70% of all new cases of brain tumors and tend to recur despite aggressive combinatorial treatment. New therapies are desperately needed to conquer any potential challenges in the treatment of the malignant brain tumor and improve the survival rate of patients. Research at the cellular level is a helpful tool to gather information on cells that rapidly metastasize such as cancerous glial cells. The C6 glioma cell line was derived from the nervous tissue of a rat (Rattus norvegicus) glial tumor and has proven to be a reliable transfection host for the study of brain tumors. This strain of cells is isolated by N-nitrosomethylurea by Benda et al., exhibiting fibroblast morphology. In addition to being an appropriate host in mammalian brain tumors studies, the C6 cell line is employed for preclinical research worldwide as well as in cellular and molecular biology applications. C6 cells have been known to show glucocorticoid receptors, and they also make for a good transfection research model. Altogen Biosystems provides two-component high-efficiency transfection reagent kits for the C6 glioma cell line.
C6 is a cell line that was derived from a rat glioma, a type of brain tumor that arises from glial cells. It is commonly used as a model system for studying glioblastoma multiforme, the most aggressive and malignant form of brain cancer. C6 cells are adherent and grow in vitro as monolayer cultures. They have a glial-like morphology and express high levels of glial fibrillary acidic protein (GFAP), a marker for astrocytes, a type of glial cell. C6 cells are often used to investigate the molecular mechanisms of glioblastoma progression and to test the efficacy of various drugs and compounds for the treatment of glioblastoma. C6 cells are particularly useful for studying the effects of therapies that target the tumor microenvironment, such as angiogenesis inhibitors and immunotherapies. They have also been used to investigate the role of various signaling pathways, such as the EGFR/PI3K/Akt pathway and the p53 pathway, in glioblastoma progression and drug resistance.
Data: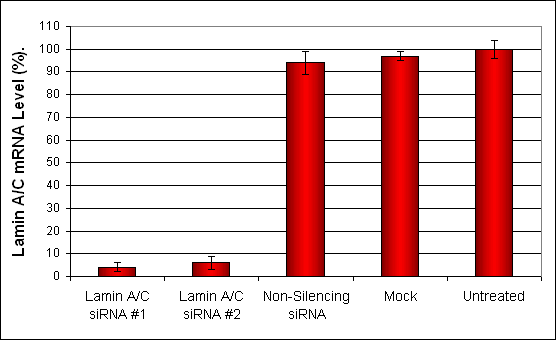 Figure 1. siRNAs targeting Lamin A/C mRNA or non-silencing control siRNA were transfected into C6 cells following the recommended protocol. At 48 hours post-transfection the cells were analyzed by qRT-PCR for Lamin A/C gene expression levels. 18S rRNA levels were used to normalize the Lamin A/C data. Values are normalized to untreated sample. Data are means ± SD (n=4).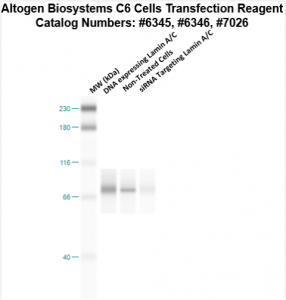 Figure 2. Protein expression of Lamin A/C in C6 cells. DNA plasmid expressing Lamin A/C or siRNA targeting Lamin A/C were transfected into C6 cells following Altogen Biosystems transfection protocol. At 72 hours post-transfection the cells were analyzed by Western Blot for protein expression levels (normalized by total protein, 10 µg of total protein loaded per each well). Untreated cells used as a negative control.

Altogen Biosystems:
Altogen Biosystems provides pre-optimized transfection kits and electroporation products for life sciences and cancer research. Transfection protocols are optimized for individual cancer cell lines. Altogen Biosystems developed two types of in vivo delivery kits (animal transfection): 1) Tissue-targeted reagents (delivery of proteins, DNA, and RNA into liver, pancreas, or kidney tissues), and 2) Broad range in vivo biodistribution reagents (PEG-Liposome based reagent, Nanoparticle-based in vivo reagent, Lipid-based transfection kit, and Polymer-based kit). Advanced formulation of reagents and optimized transfection protocols provide efficient intracellular delivery of proteins, DNA, mRNA, shRNA, siRNA, and other negatively charged biomolecules in vitro and in vivo. Read more about transfection technology at Altogen's Transfection Resource.
Altogen Labs Contract Research Services:
Altogen Labs provides GLP compliant laboratory research services for IND applications and drug development. Biology CRO services include: Xenograft models (90+), development of stable cell lines, ELISA assay development, cell-based and tissue targeted RNAi studies, safety pharm/tox assays, and other studies (visit AltogenLabs.com).
Volume Options:
0.5 ml (Catalog #6345)
1.5 ml (Catalog #6346)
1.5 ml CRISPR (Catalog #2121)
8.0 ml (Catalog #7026)