Description
Product Availability: In Stock (FedEx delivery within 2 business days).
Ordering: To place an order please use Add to Cart button (account not required).
---
Transfection Reagent for A204 Cells (Rhabdomyosarcoma Cells)
A biodegradable polymer based transfection agent – once inside the cell, the polymer degrades into smaller less toxic components reducing cell toxicity, facilitating release of the transgene, and improving transfection efficiency

Optimized for intracellular delivery of plasmid DNA, siRNA, microRNA, and mRNA

High transfection efficiency of both siRNA and plasmid DNA without compromising cell viability

Achieve robust siRNA uptake for dependable gene silencing

Effective transfection under conditions of up to 40% serum

Transfection kit includes Transfection Enhancer reagent

Gentle enough to be used for single cell analysis

Download in vitro A204 transfection protocol: [PDF]
Download A204 CRISPR/Cas9 transfection protocol: [PDF]
Download PowerPoint presentation for A204 cells transfection kit: [PPT]
UPC/GTIN/EAN: 860002089715
Transfection Efficiency:
Reagent exhibits at least 70% transfection efficiency of siRNA delivery. Transfection efficiency was determined by real-time qRT-PCR.
Transfection Protocol and MSDS:
Download Altogen Biosystems A204 Transfection Protocol: [PDF]
Download MSDS: [PDF]
A204 Cell Line:
Per the American Cancer Society, there are approximately 350 diagnoses of rhabdomyosarcoma (RMS), cancer of connective tissue, in the US annually, more than half of these are in children younger than ten years. RMS is a rare, but extremely aggressive form of cancer, accounting for around 40% of all recorded soft tissue sarcomas in adults. Furthermore, it is considered the most common soft tissue sarcoma among children. RMS has not been extensively studied; thus, selecting an appropriate cell line with desired characteristics is particularly important. The A204 cell line has proven to be a suitable host to perform RMS preclinical research. A204 cells were derived from the muscle tissue of a one-year-old female with rhabdomyosarcoma in 1973. These are epithelial cells which were reported to form small malignant tumors in nude mice consistent with embryonic rhabdomyosarcoma. A204 cells have shown limited sensitivity to Natural Killer cell cytotoxicity. In an examination of the transcriptional and post-transcriptional regulation of the human laminin beta-2 chain in human tumor cell lines, A204 expressed the laminin beta-2 chain mRNA and secreted laminin heterotrimers containing the beta-2 chain. A204 has been studied in culture for its capacity to synthesize collagen types and other extracellular matrix proteins.
A204 is a human rhabdomyosarcoma cell line that was originally derived from a tumor in the thigh muscle of a child. This cell line is commonly used as a model system for studying rhabdomyosarcoma, a type of cancer that arises from muscle tissue. A204 cells are known for their ability to form tumors in vivo when injected into immunodeficient mice, and they are commonly used in preclinical studies to evaluate the efficacy of potential rhabdomyosarcoma therapies. These cells have also been used to study the molecular mechanisms underlying rhabdomyosarcoma development and progression. A204 cells are commonly cultured as adherent monolayers and have been shown to express markers of muscle differentiation, such as myogenin and myosin heavy chain. They are also known to be sensitive to certain chemotherapeutic agents and radiation therapy, which makes them useful for studying drug resistance mechanisms and testing novel therapeutic strategies. In addition to their use as a model system for studying rhabdomyosarcoma, A204 cells have been used to study a wide range of biological processes, including cell signaling, apoptosis, and autophagy. They have also been used to study the interactions between cancer cells and the immune system and to evaluate potential immunotherapies for rhabdomyosarcoma.
Mutations:
| | | | | | | | | | |
| --- | --- | --- | --- | --- | --- | --- | --- | --- | --- |
| CNTN4 | 152330 | 37 | 3 | 2928874 | 2928874 | Silent | SNP | G | C |
| KCNC4 | 3749 | 37 | 1 | 110765692 | 110765692 | Missense_Mutation | SNP | G | A |
| TNN | 63923 | 37 | 1 | 175054551 | 175054551 | Silent | SNP | G | A |
| LANCL2 | 55915 | 37 | 7 | 55468927 | 55468927 | Missense_Mutation | SNP | C | T |
| TAS1R3 | 83756 | 37 | 1 | 1268387 | 1268387 | Silent | SNP | C | T |
| ARHGEF16 | 27237 | 37 | 1 | 3383897 | 3383897 | Missense_Mutation | SNP | C | T |
| NCDN | 23154 | 37 | 1 | 36031010 | 36031010 | Missense_Mutation | SNP | G | A |
| NBPF12 | 149013 | 37 | 1 | 146398373 | 146398373 | Missense_Mutation | SNP | C | G |
| NUP210L | 91181 | 37 | 1 | 154127374 | 154127374 | Silent | SNP | G | A |
| YY1AP1 | 55249 | 37 | 1 | 155630136 | 155630136 | Missense_Mutation | SNP | C | T |
| RXRG | 6258 | 37 | 1 | 165398164 | 165398164 | Missense_Mutation | SNP | G | A |
Data: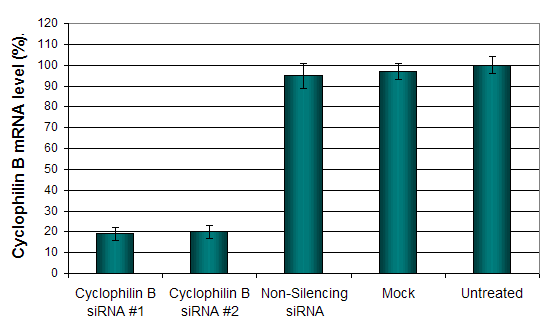 Figure 1. Cyclophilin B silencing efficiency was determined by RT-PCR in the A204 cells transfected by Cyclophilin B siRNA or non-silencing siRNA control following the recommended transfection protocol. Cyclophilin mRNA expression levels were measured 48 hours post-transfection. 18S rRNA levels were used to normalize the Cyclophilin B data. Values are normalized to untreated sample. Data are presented as means ± SD (n=3).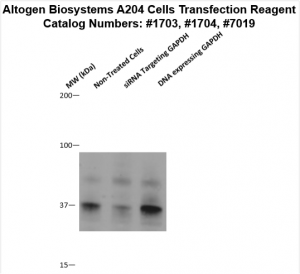 Figure 2. Protein expression of GAPDH in A204 cells. DNA plasmid expressing GAPDH or siRNA targeting GAPDH were transfected into A204 cells following Altogen Biosystems transfection protocol. At 72 hours post-transfection the cells were analyzed by Western Blot for protein expression levels (normalized by total protein, 10 µg of total protein loaded per each well). Untreated cells used as a negative control.
Selected in vivo transfection product citations (ALTOGEN® IN VIVO Transfection Kits) used in the following publications:

Altogen Biosystems:
Altogen Biosystems provides pre-optimized transfection kits and electroporation products for life sciences and cancer research. Transfection protocols are optimized for individual cancer cell lines. Altogen Biosystems developed two types of in vivo delivery kits (animal transfection): 1) Tissue-targeted reagents (delivery of proteins, DNA, and RNA into liver, pancreas, or kidney tissues), and 2) Broad range in vivo biodistribution reagents (PEG-Liposome based reagent, Nanoparticle-based in vivo reagent, Lipid-based transfection kit, and Polymer-based kit). Advanced formulation of reagents and optimized transfection protocols provide efficient intracellular delivery of proteins, DNA, mRNA, shRNA, siRNA, and other negatively charged biomolecules in  vitro and in vivo. Read more about transfection technology at Altogen's Transfection Resource.
Altogen Research Services:
Altogen Labs provides GLP compliant contract research studies for preclinical research, IND applications, and drug development. Our biology CRO services include: Xenograft models (90+), development of stable cell lines, ELISA assay development, cell-based and tissue targeted RNAi studies, safety pharmacology and toxicology assays, and other studies (visit AltogenLabs.com).
Volume Options:
0.5 ml (Catalog #1703)
1.5 ml (Catalog #1704)
1.5 ml CRISPR (Catalog #2101)
8.0 ml (Catalog #7019)