Description
Product Availability: In Stock (FedEx delivery within 2 business days).
Ordering: To place an order please use Add to Cart button (account not required).
---
Transfection Reagent for BMS and BMS2 Cells (Bone Marrow Cells)
Proprietary cationic lipids formulation

High transfection efficiency of small RNA (siRNA, shRNA, miRNA), mRNA, pDNA

Effective and robust intracellular delivery

Kit includes Transfection Enhancer reagent

Produces consistent results, lot-to-lot, plate-to-plate, and well-to-well

Work in the presence of serum

A proven reagent for establishing stable cell lines

Optimized transfection protocols are adapted for use with both standard & reverse transfection methods

Download BMS2 CRISPR/Cas9 transfection protocol: [PDF]
Download PowerPoint presentation for BMS-2 cells transfection kit: [PPT]
UPC/GTIN/EAN: 860002089734
Transfection Efficiency:
Reagent exhibits at least 70% transfection efficiency of siRNA delivery. Transfection efficiency was determined by qRT-PCR.
Transfection Protocol and MSDS:
Download Altogen Biosystems BMS2 Transfection Protocol: [PDF]
Download MSDS: [PDF]
BMS2 Cell Line:
As per the Leukemia and Lymphoma Society, approximately 160 people die of leukemia every day, in the United States. Although numerous treatment options are available for people with bone marrow cancer (multiple myeloma), remission is not always a cure, and new therapies are critical for improving the survival rate of multiple myeloma patients. Preclinical studies of bone marrow can help researchers find novel treatments for patients with bone marrow disorders. New red blood cells (RBCs) are synthesized in a process called hematopoiesis inside a region called the bone marrow of long bones such as the femur, located in the thigh. Bone marrow is the primary target in various forms of leukemia. Furthermore, bone marrow is highly susceptible to preventative radiation therapy as it causes a disturbance in RBC production, which could lead to immunodeficiency and only worsen the growth of cancer. The Bone Marrow Stromal (BMS) cell line was established from mammalian tissue and has proven to be useful in cell and molecular biology research that employs transfection to investigate these cells thoroughly. Bone marrow is the flexible material in the interior of most bones. In large bones, it is the source of new blood cells. The stroma is all tissue not directly involved making blood cells. These properties make these type of cells valuable for many kinds of biomolecular studies. Also, this cell line is an adequate host for studying skin cancer and other forms of cancer. High-efficiency transfection reagents considerably improve the quality of the transfection procedure. Altogen Biosystems provides lipid-based transfection reagent kits that have exhibited high efficiency in establishing stable BMS and BMS2 cell lines.
BMS2 refers to Bristol-Myers Squibb 2, a preadipocyte cell line that can differentiate into mature adipocytes. These cells were developed by Bristol-Myers Squibb and have been used in research related to obesity, diabetes, and lipid metabolism. BMS2 preadipocytes are adherent and grow in vitro as monolayer cultures. They have the capacity to differentiate into mature adipocytes when treated with appropriate stimuli, such as insulin, dexamethasone, and IBMX. BMS2 adipocytes are commonly used as a model system to study adipocyte metabolism and the effects of various compounds on adipogenesis, lipogenesis, and lipolysis. BMS2 adipocytes have been used in a variety of studies, including investigations of the molecular mechanisms of insulin resistance and the effects of different drugs and compounds on adipocyte function. They are a useful tool for identifying potential therapeutic targets and for developing new drugs for the treatment of obesity and diabetes.
Data: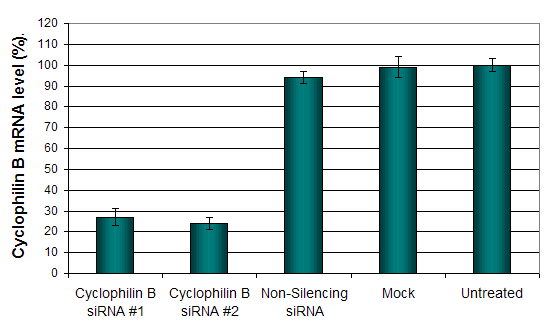 Figure 1. Cyclophilin B silencing efficiency was determined by qRT-PCR in the BMS2 cells transfected by Cyclophilin B siRNA or non-silencing siRNA control following the recommended transfection protocol. Cyclophilin mRNA expression levels were measured 48 hours post-transfection. 18S rRNA levels were used to normalize the Cyclophilin B data. Values are normalized to untreated sample. Data are presented as means ± SD (n=3).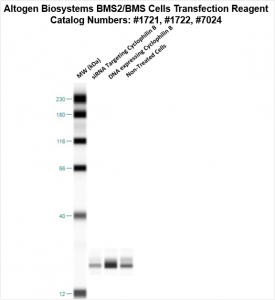 Figure 2. Protein expression of Cyclophilin B in BMS2 cells. DNA plasmid expressing Cyclophilin B or siRNA targeting Cyclophilin B were transfected into BMS2 cells following Altogen Biosystems transfection protocol. At 72 hours post-transfection the cells were analyzed by Western Blot for protein expression levels (normalized by total protein, 10 µg of total protein loaded per each well). Untreated cells used as a negative control.

Altogen Biosystems:
Altogen Biosystems provides preoptimized transfection kits and electroporation products for life sciences and cancer research. Transfection protocols are optimized for individual cancer cell lines. Altogen Biosystems developed two types of in vivo delivery kits (animal transfection): 1) Tissue-targeted reagents (delivery of proteins, DNA, and RNA into liver, pancreas, or kidney tissues), and 2) Broad range in vivo biodistribution reagents (PEG-Liposome based reagent, Nanoparticle-based in vivo reagent, Lipid-based transfection kit, and Polymer-based kit). Advanced formulation of reagents and optimized transfection protocols provide efficient intracellular delivery of proteins, DNA, mRNA, shRNA, siRNA, and other negatively charged biomolecules in  vitro and in vivo. Read more about transfection technology at Altogen's Transfection Resource.
Selected in vivo transfection product citations (ALTOGEN® IN VIVO Transfection Kits used in the following publications):
Altogen Labs Research Services:
Altogen Labs provides GLP compliant contract research studies for preclinical research, IND applications, and drug development. Biology CRO services include: Xenograft models (90+), development of stable cell lines, ELISA assay development, cell-based and tissue targeted RNAi studies, safety pharm/tox assays, and other studies (visit AltogenLabs.com).
Volume Options:
0.5 ml (Catalog #1721)
1.5 ml (Catalog #1722)
1.5 ml CRISPR (Catalog #2117)
8.0 ml (Catalog #7024)