Description
Product Availability: In Stock (FedEx delivery within 2 business days).
Ordering: To place an order please use Add to Cart button (account not required).
---
Transfection Reagent for ASMC Cells (Aortic Smooth Muscle Cells)
Two component formulation enhances lipid mediated transfection efficiency

Optimized easy-to-use transfection protocol provided for transfection of siRNA, DNA, mRNA, and microRNA

Kit includes Transfection Enhancer and Complex Condenser reagents and recommended transfection protocol

High transfection efficacy in the presence of serum

Expand your RNAi application with a reagent optimized for delivery of both siRNA and plasmid

Reproducible transfection results

Works well for standard reverse transfection and high-throughput applications

Download ASMC CRISPR/Cas9 transfection protocol: [PDF]
Download PowerPoint presentation for ASMC cells transfection kit: [PPT]
UPC/GTIN/EAN: 860002089720
Transfection Efficiency:
Reagent exhibits at least 70% transfection efficiency of siRNA delivery. Transfection efficiency was determined by real-time RT-PCR.
Transfection Protocol and MSDS:
Download Altogen Biosystems ASMC Transfection Protocol: [PDF]
Download MSDS: [PDF]
ASMC Cell Line:
According to American Heart Association, nearly 92.1 million Americans suffer from a cardiovascular disease (CVD) of some sort. Preclinical research is critical in understanding how the arteries respond to various biological and chemical factors, and hence devise innovative methods to address CVDs. Human Aortic Smooth Muscle Cells are derived from tunica intima and tunica media of plaque-free aorta tissue. The tunica intima is the inner layer of the artery comprised of a lining, a network of connective tissue, and a layer of elastic fibers; the tunica media, or middle coat, is composed mostly of smooth muscle cells and elastic fibers arranged in spiral layers. Arterial Smooth Muscle Cell (ASMC) line has been useful in the study of atherosclerosis, a vascular disorder characterized by loss of flexibility in blood vessels due to the accumulation of dead white blood cells, cholesterol, and crystallized salts, which leads to narrowing of arteries and may cause further problems such arrhythmia and strokes. Human arterial smooth muscle cells can synthesize collagen, elastin, myosin, and glycosaminoglycan. ASMC cells respond to various factors by proliferating or differentiating. These cells are used to study of human vascular disorders, including angiogenesis, stroke, vascular biology and also diabetes. Human aortic smooth muscle cells are insulin resistant at the receptor level but sensitive to IGF1 and IGF2. Curcumin prevents the migration of human aortic smooth muscle cells by inhibiting of MMP-9 expression.
ASMC cells are commonly used in research related to respiratory diseases such as asthma and chronic obstructive pulmonary disease (COPD). In particular, they have been used to study the mechanisms underlying airway hyperresponsiveness, a hallmark of asthma characterized by increased airway constriction and narrowing in response to stimuli. ASMC cells are commonly cultured as adherent monolayers and have been shown to express markers of smooth muscle differentiation, such as smooth muscle actin (SMA) and smooth muscle myosin heavy chain (SMMHC). They are also known to be responsive to certain signaling molecules, such as histamine and acetylcholine, which induce airway constriction. In addition to their use in studying respiratory diseases, ASMC cells have been used to study the effects of potential therapeutic agents for asthma and other airway diseases. They have also been used to study the interactions between airway smooth muscle cells and other cell types in the airway, such as immune cells and epithelial cells.
Data: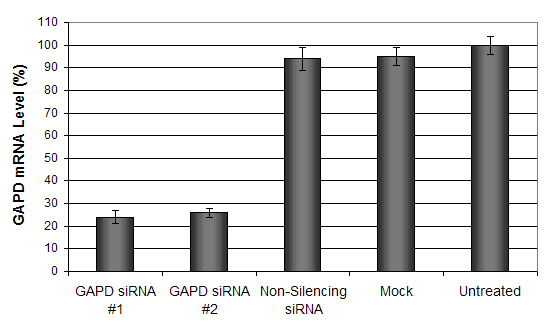 Figure 1. GAPD mRNA levels were quantified using real-time RT-PCR in the ASMC cells transfected with siRNAs targeting GAPD or non-silencing siRNA. Forty-eight hours post-transfection, the cells were harvested and analyzed by real-time RT-PCR for GAPDH mRNA expression levels. Data were normalized against the 18S rRNA signal. Control samples were either mock-transfected or untreated. Values are normalized to untreated sample. Data are means ± SD (n=3).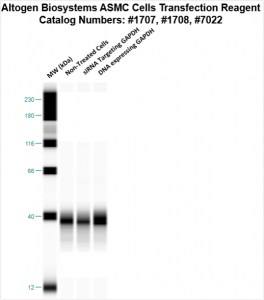 Figure 2. Protein expression of GAPDH in ASMC cells. DNA plasmid expressing GAPDH or siRNA targeting GAPDH were transfected into ASMC cells following Altogen Biosystems transfection protocol. At 72 hours post-transfection the cells were analyzed by Western Blot for protein expression levels (normalized by total protein, 10 µg of total protein loaded per each well). Untreated cells used as a negative control.

Altogen Biosystems:
Altogen Biosystems transfection and electroporation products for life sciences and cancer research. Transfection reagents are developed for individual cancer cell line and transfection protocols are optimized for maximum delivery efficiency. Advanced formulation of reagents and optimized transfection protocols provide efficient intracellular delivery of proteins, DNA, mRNA, shRNA, siRNA, and other negatively charged biomolecules in  vitro and in vivo. Read more about transfection technology at Altogen's Transfection Resource.
Selected ASMC transfection reagent citation references:
FEBS J. 2016. 283: 1767–1781. Transforming growth factor B1 antagonizes the transcription, expression and vascular signaling of guanylyl cyclase … Sen et al [PDF]
Mol Cell Biol. 2013 33(7). SCO2 induces p53-mediated apoptosis by Thr845 phosphorylation … Madan et al [PDF]
Altogen Labs Contract Research Services:
Altogen Labs provides GLP compliant contract research studies for preclinical research, IND applications, and drug development. Our biology CRO services include: Xenograft services (over 90 xenograft models), development of stable cell lines, ELISA assay development, cell-based and tissue targeted RNAi studies, safety pharmacology/toxicology assays, and other studies (visit AltogenLabs.com).
Volume Options:
0.5 ml (Catalog #1707)
1.5 ml (Catalog #1708)
1.5 ml CRISPR (Catalog #2108)
8.0 ml (Catalog #7022)