Description
Product Availability: In Stock (FedEx delivery within 2 business days).
Ordering: To place an order please use Add to Cart button (account not required).
---
Transfection Reagent for ASPC-1 Cells (Pancreatic Beta Cells, CRL-1682)
A nanoparticle-based liposome formulation

Transfection protocols provided for transfection of proteins, DNA, mRNA, siRNA, shRNA and microRNA

Transfection Enhancer reagent provided with the kit

Produce higher level of recombinant protein expression with minimal disruption of normal cell function

Generate physiologically relevant data you can trust

Effective for plasmid DNA/siRNA co-transfection

Easy-to-use transfection protocol with reproducible results

Download ASPC-1 CRISPR/Cas9 transfection protocol: [PDF]
Download PowerPoint presentation for ASPC-1 cells transfection kit: [PPT]
UPC/GTIN/EAN: 860002089730
Transfection Efficiency:
Reagent exhibits at least 70% transfection efficiency of siRNA delivery. Transfection efficiency was determined by qRT-PCR.
Transfection Protocol and MSDS:
Download Altogen Biosystems ASPC-1 Transfection Protocol: [PDF]
Download MSDS: [PDF]
ASPC-1 Cell Line:
Pancreatic cancer is one of the most challenging cancers to diagnose, as there no specific and reliable screening tests on the market that can help detect the disease in early stages. According to the American Cancer Society, if caught in its early stages, the 5-year survival rate is 27%, but if cancer metastasizes then this number goes down to 11%. The AsPC-1 cell line comprising pancreatic beta cells and is an invaluable tool for pancreatic cancer research as well as commonly employed for studying human infections related to the pancreas. The AsPC-1 cell line was reestablished via nude mouse xenografts initiated with cells from the ascites of a 62-year-old Caucasian woman with metastatic pancreatic adenocarcinoma. The reestablished epithelial cells retained their original morphology. This tumor represents a new model for human pancreatic cancer. AsPC-1 cells are used in studies seeking possible treatments for pancreatic cancer, which has a five-year survival rate of less than one percent. For examples, research has shown that the plant alkaloid sanguinarine induced apoptosis of AsPC-1 cells. In another study, immunoprecipitation and ELISA using human pancreatic cancer cells revealed the presence of high levels of DcR3 protein in AsPC-1 cells. Reducing endogenous DcR3 levels increases FasL-induced apoptosis of human pancreatic cancer cells. Another intriguing study indicated that deuterium oxide (D2O), also called heavy water, induced apoptosis of AsPC-1, and is considered a possible future treatment against AsPC-1.
ASPC1 is a human pancreatic adenocarcinoma cell line that was originally isolated from a metastatic lesion in the liver of a patient with pancreatic cancer. This cell line is commonly used as a model system for studying pancreatic cancer and for evaluating potential therapies.
ASPC1 cells are known for their ability to form tumors in vivo when injected into immunodeficient mice, and they are commonly used in preclinical studies to evaluate the efficacy of potential pancreatic cancer therapies. These cells have also been used to study the molecular mechanisms underlying pancreatic cancer development and progression. ASPC1 cells are commonly cultured as adherent monolayers and have been shown to express markers of pancreatic adenocarcinoma, such as CA19-9 and MUC1. They are also known to be resistant to certain chemotherapeutic agents, which makes them useful for studying drug resistance mechanisms and testing new therapeutic strategies. In addition to their use as a model system for studying pancreatic cancer, ASPC1 cells have been used to study a many biological processes, including cell signaling pathways, cell cycle, apoptosis, and autophagy. They have also been used to study the interactions between cancer cells and the immune system and to evaluate potential immunotherapies for pancreatic cancer.
Mutations:
| | | | | | | | | | |
| --- | --- | --- | --- | --- | --- | --- | --- | --- | --- |
| PANK4 | 55229 | 37 | 1 | 2442807 | 2442807 | Silent | SNP | A | G |
| ACTRT2 | 140625 | 37 | 1 | 2938457 | 2938457 | Silent | SNP | G | A |
| UBE4B | 10277 | 37 | 1 | 10177606 | 10177606 | Missense_Mutation | SNP | A | G |
| EXOSC10 | 5394 | 37 | 1 | 11142785 | 11142785 | Missense_Mutation | SNP | C | T |
| VPS13D | 55187 | 37 | 1 | 12337606 | 12337606 | Missense_Mutation | SNP | G | A |
| ZNF593 | 51042 | 37 | 1 | 26496958 | 26496958 | Missense_Mutation | SNP | G | T |
| RLF | 6018 | 37 | 1 | 40701798 | 40701798 | Missense_Mutation | SNP | T | C |
| DOCK7 | 85440 | 37 | 1 | 63096986 | 63096986 | Missense_Mutation | SNP | T | C |
Data: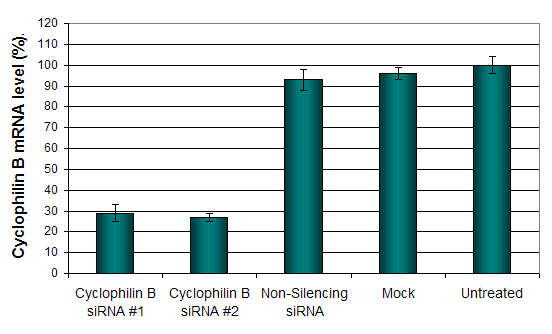 Figure 1. Cyclophilin B silencing efficiency was determined by qRT-PCR in the AsPC-1 cells transfected by Cyclophilin B siRNA or non-silencing siRNA control following the recommended transfection protocol. Cyclophilin mRNA expression levels were measured 48 hours post-transfection. 18S rRNA levels were used to normalize the Cyclophilin B data. Values are normalized to untreated sample. Data are presented as means ± SD (n=3).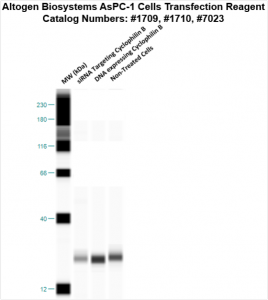 Figure 2. Protein expression of Cyclophilin B in AsPC-1 cells. DNA plasmid expressing Cyclophilin B or siRNA targeting Cyclophilin B were transfected into AsPC-1 cells following Altogen Biosystems transfection protocol. At 72 hours post-transfection the cells were analyzed by Western Blot for protein expression levels (normalized by total protein, 10 µg of total protein loaded per each well). Untreated cells used as a negative control.
Selected in vivo transfection product citations (ALTOGEN® IN VIVO Transfection Kits used in the following publications):

Altogen Biosystems:
Altogen Biosystems provides preoptimized transfection products for life science research applications. Transfection protocols are optimized for individual cancer cell lines. Altogen Biosystems developed two types of in vivo delivery kits for animal research: Tissue-targeted reagents (delivery to liver, pancreas, and kidney tissues), and broad range in vivo delivery reagents (PEG-Liposome, Nanoparticle-based, Lipid-based, and Polymer-based kits). Advanced formulation of reagents and optimized transfection protocols provide efficient intracellular delivery of proteins, DNA, RNA, and any other negatively charged molecules in vitro and in vivo. Read more about transfection technology at Altogen's Transfection Resource.
Altogen Labs Research Services:
Altogen Labs provides GLP-compliant contract research studies for pre-clinical research, IND applications, and drug development. Biology CRO services include: Xenograft models (90+), development of stable cell lines, ELISA assay development, cell-based and tissue targeted RNAi studies, safety pharm/tox assays, and other studies (visit AltogenLabs.com).
Volume Options:
0.5 ml (Catalog #1709)
1.5 ml (Catalog #1710)
1.5 ml CRISPR (Catalog #2109)
8.0 ml (Catalog #7023)