Description
Product Availability: In Stock (FedEx delivery within 2 business days).
Ordering: To place an order please use Add to Cart button (account not required).
---
Brain In Vivo Transfection Reagent
Effectively delivers negatively charged biomolecules (DNA, RNA, small protein) into mouse/rat brain. Transfection kit for animal laboratory research (mouse, rat)
Modes of administration:
Systemic intravenous (i.v.) injection
Brain-targeted In Vivo Transfection Kit
Nanoparticle liposome-based reagent
IV systemic administration (tail vein)
Efficient delivery to the brain tissue and U87 orthotopic tumor
Efficient delivery of protein, small molecule, RNA, and pDNA into brain
Functionally validated in mice
Download safety data sheet: [PDF]
UPC/GTIN/EAN: 860002089719
DATA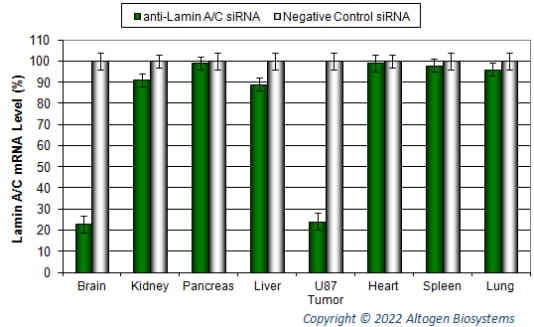 Figure 1. Systemic administration (i.v.) of Brain In Vivo Transfection Reagent conjugated with 150 ug of chemically modified siRNA targeting Lamin A/C mRNA or non-silencing control siRNA following the recommended protocol. Tissues (liver, brain, U87 orthotopic tumor, kidney, pancreas, heart, spleen, and lungs) were collected and RNA isolated 24 hours after first injection. Samples were analyzed by qRT-PCR for Lamin A/C gene expression levels. Ribosomal RNA levels were used to normalize the Lamin A/C data. Data are means ± SD (n=8).
Selected in vivo transfection reagents references:
Altogen Contract Research Services:
Altogen Labs provides biology CRO research services for IND applications and preclinical drug development. Please visit AltogenLabs.com
Volume Options:
0.25 ml – 10 injections (Catalog #5090)
0.75 ml – 30 injections (Catalog #5091)
2.0 ml – 80 injections (Catalog #5092)
8.0 ml – 320 injections (Catalog #5093)