Description
Product Availability: In Stock (FedEx delivery within 2 business days).
Ordering: To place an order please use Add to Cart button (account not required).
---
Transfection Reagent for 3LL Cells (Lewis Lung Carcinoma Cells)
A nanoparticle-based liposome formulation

Transfection protocols provided for transfection of proteins, DNA, mRNA, siRNA, shRNA and microRNA

Transfection Enhancer reagent provided with the kit

Produce higher level of recombinant protein expression with minimal disruption of normal cell function

Generate physiologically relevant data you can trust

Effective for plasmid DNA/siRNA co-transfection

Low cytotoxicity

Download in vitro 3LL transfection protocol: [PDF]
Download 3LL CRISPR/Cas9 transfection protocol: [PDF]
Download PowerPoint presentation for 3LL cells transfection kit: [PPT]
UPC/GTIN/EAN: 860002089708
Transfection Efficiency:
Reagent exhibits at least 73% transfection efficiency of siRNA delivery. Transfection efficiency was determined by real-time RT-PCR.
Transfection Protocol and MSDS:
Download Altogen Biosystems 3LL Transfection Protocol: [PDF]
Download MSDS: [PDF]
3LL Cell Line:
Lung cancer is considered the most preventable malignancy globally. However, it is the deadliest form of cancer with very high mortality rates because of lack of adequate therapies and aggressive tumor cell growth. Rodent cell line models play an essential role in preclinical research to study novel therapeutic agents and treating human cancer. The LLC cell line is a well-studied mouse cancer model that is extensively employed as a transplantable malignancy model. Lewis Lung Carcinoma cells (also known as 3LL cells or LLC cells) got their name after Dr. Margaret R. Lewis of the Wistar Institute, who discovered carcinoma in 1951. This cell line has been known to show reduced metastatic ability when exposed to ultraviolet light. It has also been observed that the presence of cannabinoids suppresses cell growth. These cells could be useful for medical research for treatments to certain types of lung cancer, and many other molecular or cell biology studies. According to the recent data, the proliferative advantage of 3LL metastatic cells is achieved by the gene expression which prevents tumor cells from escaping hostile microenvironmental conditions. Altogen Biosystems provides nanoparticle-based transfection kits for this cell line.
3LL (also known as LLC or Lewis lung carcinoma) is a murine lung cancer cell line that was first described in 1951 after being spontaneously induced in a C57BL/6 mouse by a subcutaneous implantation of primary Lewis lung tumor. It is widely used as a model for studying lung cancer in mice. 3LL cells are known for their ability to form aggressive tumors in mice and are often used in preclinical studies to evaluate the efficacy of potential lung cancer therapies. They can be grown as adherent monolayers or in suspension and have been shown to express markers of lung epithelial differentiation, such as surfactant protein C. 3LL cells have been used in a wide range of research applications, including the investigation of the molecular mechanisms underlying lung cancer development and progression, the identification of novel anti-cancer agents, and the development of mouse models of lung cancer. Additionally, 3LL cells have been used to study the interactions between cancer cells and the immune system, which has led to the development of new immunotherapeutic approaches for lung cancer treatment.
Data: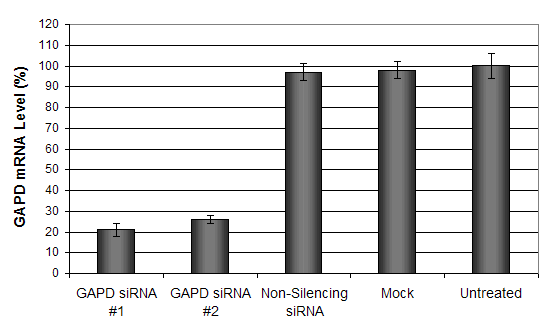 Figure 1. GAPD mRNA levels were quantified using real-time RT-PCR in the cells transfected with siRNAs targeting GAPD or non-silencing siRNA. Forty-eight hours post-transfection, 3LL cells were harvested and analyzed by real-time RT-PCR for GAPDH mRNA expression levels. Data were normalized against the 18S rRNA signal. Control samples were either mock-transfected or untreated. Values are normalized to untreated sample. Data are means ± SD (n=3).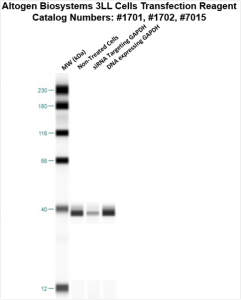 Figure 2. Protein expression of GAPD in 3LL cells. DNA plasmid expressing GAPD or siRNA targeting GAPD were transfected into 3LL cells following Altogen Biosystems transfection protocol. At 72 hours post-transfection the cells were analyzed by Western Blot for protein expression levels (normalized by total protein, 10 µg of total protein loaded per each well). Untreated cells used as a negative control.
Selected in vivo transfection product citations (ALTOGEN® IN VIVO Transfection Kits used in the following publications):
Altogen Biosystems:
Altogen Biosystems manufacturers cell type specific and preoptimized transfection products, elecroporation kits, and in vivo delivery reagents for life science research. Advanced formulation of reagents and optimized transfection protocols provide efficient intracellular delivery of protein, DNA, mRNA, shRNA and siRNA molecules. Read more about transfection technology at Altogen's Transfection Resource.
Altogen Research Services:
Altogen Labs provides GLP-compliant contract research studies for preclinical research, IND applications, and drug development. Biology CRO services include: Xenograft models (90+), development of stable cell lines, ELISA assay development, cell-based and tissue targeted RNAi studies, safety pharm/tox assays, and other studies (visit AltogenLabs.com).
Volume Options:
0.5 ml (Catalog #1701)
1.5 ml (Catalog #1702)
1.5 ml CRISPR (Catalog #2206)
8.0 ml (Catalog #7015)