Description
Product Availability: In Stock (FedEx delivery within 2 business days).
Ordering: To place an order please use Add to Cart button (account not required).
---
Transfection Reagent for KB Cells (Mouth Epidermal Carcinoma Cells)
Proprietary cationic lipids formulation

High transfection efficiency of small RNA (siRNA, shRNA, miRNA), mRNA, pDNA

Effective and robust intracellular delivery

Kit includes Transfection Enhancer reagent

Produces consistent results, lot-to-lot, plate-to-plate, and well-to-well

Work in the presence of serum

A proven reagent for establishing stable cell lines

Optimized transfection protocols are adapted for use with both standard & reverse transfection methods

Download KB CRISPR/Cas9 transfection protocol: [PDF]
Download PowerPoint presentation for KB cells transfection kit: [PPT]
UPC/GTIN/EAN: 860002089780
Transfection Efficiency:
Reagent exhibits at least 73% transfection efficiency of siRNA delivery. Transfection efficiency was determined by qRT-PCR.
Transfection Protocol and MSDS:
Download Altogen Biosystems KB Transfection Protocol: [PDF]
Download MSDS: [PDF]
KB Cell Line:
The KB cell line was first believed to be established from a removal of human mouth epidermal carcinoma of the nasopharynx, a type of throat cancer. KB cells exhibit an epithelial cell morphology and are known to produce keratin. Many medical applications exist for KB cell line. However, recent testing has identified HeLa cell line marker chromosomes in the KB cell line, and through DNA fingerprinting, KB cells are now thought to have been produced due to HeLa cell contamination. Furthermore, KB cells contain human papillomavirus 18 sequences, just like the HeLa cell line does, and are positive for keratin by immunoperoxidase staining. The KB line is also used as an assay for antineoplastic agents. An endoribonuclease which cleaves tRNA precursor molecules has been partially purified from human KB tissue culture cells. KB cells have been used by the National Cancer Institute as an antitumor assay for screening plant extracts. KB cells have also been used as a model system for studying host-pathogen interactions. For example, KB cells have been used to study the interaction between Streptococcus pyogenes, a bacterial pathogen that causes strep throat and other infections, and host cells. These studies have provided valuable insights into the molecular mechanisms underlying bacterial pathogenesis and host immune responses. KB cells are a line of human mouth epithelial cells that were originally isolated from a squamous cell carcinoma of the mouth. These cells have been extensively studied in research as a model system for studying various aspects of cancer biology and host-pathogen interactions. Research using KB cells has contributed significantly to our understanding of cancer biology. For example, KB cells have been used to study the effects of various chemotherapeutic agents on cancer cells and to screen potential drug candidates for their efficacy against cancer. Additionally, KB cells have been used to study the molecular mechanisms underlying cancer metastasis and invasion.
Now KB is known to be a subline of the KERATIN-forming tumor cell line HeLa that was established in 1951 using cervical adenocarcinoma cells taken from Henrietta Lacks, a 31-year-old working-class African-American woman who died of cervical cancer. The HeLa cell line is the first human cell line successful in vitro in a cell culture that is also considered an "immortal" cell line. HeLa cells have received media attention because of the controversy over patient's rights as the cells were taken without the permission or knowledge of the patient and her family. The HeLa cell line has played a vital role in the development of a polio vaccine and contributed to the telomerase discovery. Altogen Biosystems provides reliable transfection reagent kits for the KB cell line.
Data: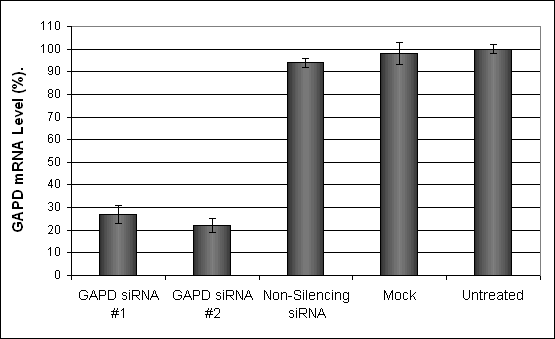 Figure 1. GAPD mRNA levels were quantified using real-time RT-PCR in the KB cells transfected with siRNAs targeting GAPD or non-silencing siRNA. Forty-eight hours post-transfection, the cells were harvested and analyzed by real-time RT-PCR for GAPD mRNA expression levels. Data were normalized against the 18S rRNA signal. Control samples were either mock-transfected or untreated. Values are normalized to untreated sample. Data are means ± SD (n=5).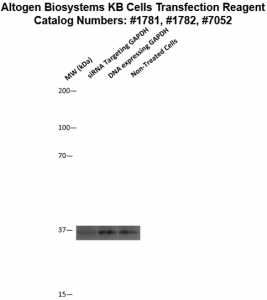 Figure 2. Protein expression of GAPDH in KB cells. DNA plasmid expressing GAPDH or siRNA targeting GAPDH were transfected into KB cells following Altogen Biosystems transfection protocol. At 72 hours post-transfection the cells were analyzed by Western Blot for protein expression levels (normalized by total protein, 10 µg of total protein loaded per each well). Untreated cells used as a negative control.
Altogen Biosystems:
Altogen Biosystems manufacturers optimized transfection kits for cancer research. Reagents and transfection protocols are optimized for individual cancer cell lines. Altogen Biosystems developed two types of in vivo delivery kits for animal research: Tissue-targeted reagents (delivery into liver, pancreas, and kidney tissues), and in vivo biodistribution reagents (PEG-Liposome, Nanoparticle, Lipid, and Polymer-based kits). Optimized transfection protocols provide efficient cellular delivery of proteins, DNA, and RNA molecules in vitro and in vivo. Read more about transfection technology at Altogen's Transfection Resource.
Altogen Labs Research Services:
Altogen Labs provides GLP-compliant contract research studies for pre-clinical research, IND applications, and drug development. Biology CRO services include: Xenograft models (90+), development of stable cell lines, ELISA assay development, cell-based and tissue targeted RNAi studies, safety pharmacology and toxicology assays, and other studies (visit AltogenLabs.com).
Volume Options:
0.5 ml (Catalog #1781)
1.5 ml (Catalog #1782)
1.5 ml CRISPR (Catalog #2163)
8.0 ml (Catalog #7052)