Description
Product Availability: In Stock (FedEx delivery within 2 business days).
Ordering: To place an order please use Add to Cart button (account not required).
---
Transfection Reagent for BJ Cells (Skin Fibroblast Cells, CRL-2522)
A nanoparticle-based liposome formulation

Transfection protocols provided for transfection of proteins, DNA, mRNA, siRNA, shRNA and microRNA

Transfection Enhancer reagent provided with the kit

Produce higher level of recombinant protein expression with minimal disruption of normal cell function

Generate physiologically relevant data you can trust

Effective for plasmid DNA/siRNA co-transfection

Easy-to-use transfection protocol with reproducible results

Download BJ CRISPR/Cas9 transfection protocol: [PDF]

Download PowerPoint presentation for BJ cells transfection kit: [

PPT

]

UPC/GTIN/EAN: 860002089735
Transfection Efficiency
Reagent exhibits at least 73% transfection efficiency of siRNA delivery. Transfection efficiency was determined by qRT-PCR.
Transfection Protocol and MSDS:
Download Altogen Biosystems BJ Transfection Protocol: [PDF]
Download MSDS: [PDF]
BJ Cell Line:
The two main advantages of using the BJ cell line are its much longer lifespan compared to other fibroblast cells as well as up to 72 population doublings before senescence. The BJ fibroblast telomerase negative cell line was derived from the foreskin of a healthy newborn male and is a suitable host for transfection as well as a powerful tool for the assessment of cellular functionality. Dermal fibroblasts found within the skin play an essential role in cell and molecular biology research regarding healing of wounds, as they are responsible for generating connective tissue that imparts elasticity to the epidermis. Altogen Biosystems provides nanoparticle-based transfection reagent kits for the BJ skin fibroblast cell line that yield at least 73 percent transfection efficiency and are highly utilized in molecular and telomerase biology research. The ready to order Altogen Biosystems BJ transfection kits offer a stable performance and have low cytotoxicity.
BJ is a human fibroblast cell line that was derived from the foreskin of a normal male newborn. The cell line was established in 1963 by Gey and colleagues and has since been widely used in biomedical research, including studies on aging, cancer, and viral infections. BJ cells have a diploid karyotype and can be grown in vitro as adherent cultures. They are a valuable tool for studying cellular senescence and aging-related changes, as they have a finite lifespan in culture and eventually enter a state of replicative senescence after a certain number of cell divisions. BJ cells are also used as a model system for studying the effects of viral infections on host cells. They have been infected with a variety of viruses, including human papillomavirus (HPV), adenovirus, and herpes simplex virus (HSV), to investigate the mechanisms of viral replication and pathogenesis.
Data: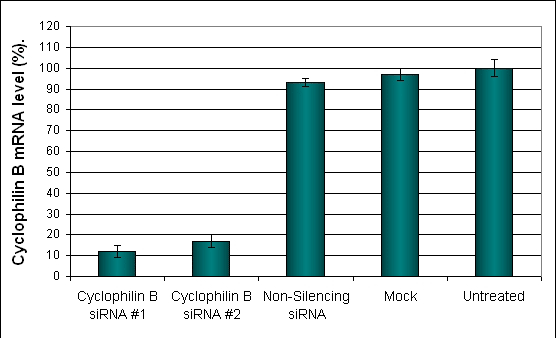 Figure 1. Cyclophilin B silencing efficiency was determined by qRT-PCR in BJ cell line transfected by Cyclophilin B siRNA or non-silencing siRNA control following the recommended transfection protocol. Cyclophilin mRNA expression levels were measured 48 hours post-transfection. 18S rRNA levels were used to normalize the Cyclophilin B data. Values are normalized to untreated sample. Data are presented as means ± SD (n=6).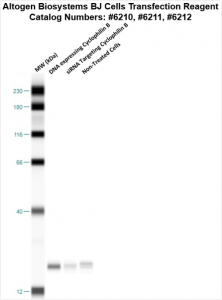 Figure 2. Protein expression of Cyclophilin B in BJ cells. DNA plasmid expressing Cyclophilin B or siRNA targeting Cyclophilin B were transfected into BJ cells following Altogen Biosystems transfection protocol. At 72 hours post-transfection the cells were analyzed by Western Blot for protein expression levels (normalized by total protein, 10 µg of total protein loaded per each well). Untreated cells used as a negative control.

Altogen Biosystems:
Altogen Biosystems is a life sciences company that offers cell type-specific and preoptimized transfection products, electroporation kits, and in vivo delivery reagents. Advanced formulation of reagents and optimized transfection protocols provide efficient intracellular delivery of protein, DNA, mRNA, shRNA and siRNA molecules. Read more about transfection technology at Altogen's Transfection Resource.
Selected in vivo transfection product citations (ALTOGEN® IN VIVO Transfection Kits used in the following publications):
J Proteome Res. 2012(11) Retinal proteome analysis in a mouse model of oxygen-induced … Kim et al [PDF]
J Transl Med. 2010 15;8:133. Prevention of hyperglycemia-induced myocardial apoptosis … Zhang et al [PDF]
Mol Cell Biol. 2013 33(7). SCO2 induces p53-mediated apoptosis by Thr845 phosphorylation … Madan et al [PDF]
Altogen Research Services:
Altogen Labs provides GLP-compliant contract research studies for pre-clinical research, IND applications, and drug development. Biology CRO services include: Xenograft models (30+), development of stable cell lines, ELISA assay development, cell-based and tissue targeted RNAi studies, safety pharm/tox assays, and other studies (visit AltogenLabs.com).
Volume Options:
0.5 ml (Catalog #6210)
1.5 ml (Catalog #6211)
1.5 ml CRISPR (Catalog #2116)
8.0 ml (Catalog #6212)