Description
Product Availability: In Stock (FedEx delivery within 2 business days).
Ordering: To place an order please use Add to Cart button (account not required).
---
Transfection Reagent for NCI-H23 Cells (Lung Adenocarcinoma Cells, CRL-5800)
Two component formulation enhances lipid mediated transfection efficiency

Optimized easy-to-use transfection protocol provided for transfection of siRNA, DNA, mRNA, and microRNA

Kit includes Transfection Enhancer reagent and recommended transfection protocol

High transfection efficacy in the presence of serum

Expand your RNAi application with a reagent optimized for delivery of both siRNA and plasmid

Reproducible transfection results

Works well for standard reverse transfection and high-throughput applications

Download NCI-H23 CRISPR/Cas9 transfection protocol: [PDF]

Download PowerPoint presentation for NCI-H23 cells transfection kit: [

PPT

]
Transfection Efficiency:
Reagent exhibits at least 94% transfection efficiency of siRNA delivery. Transfection efficiency was determined by qRT-PCR.
Transfection Protocol and MSDS:
Download Altogen Biosystems NCI-H23 Transfection Protocol: [PDF]
Download MSDS: [PDF]
NCI-H23 Cell Line:
The NCI-H23 cell line was established from lung cancer tissue from a 51-year-old male with lung adenocarcinoma. The cell sample was removed prior to any therapy for the disease. NCI-H23 cells exhibit epithelial morphology and carry the K-ras 12 mutation, as well as a mutation in the 246 codon of the p53 gene. It has also been known to have a population doubling time of nearly every 38 hours. NCI-H23 cell line expresses heterogeneous mRNA expression for platelet-derived growth factor subunits A and B, which transforms the epidermal growth factor receptor as well as growth factor alpha and beta. NCI-H23 cells are negative for neurofilament but stain positive for keratins 18 and 5+8. Furthermore, NCI-H23 cells have no detectable amplification of c-myc RNA but exhibit a high degree of c-myc DNA. This cell line is vital for lung cancer research as well as in drug discovery and gene expression studies. Altogen Biosystems provides lipid-based transfection reagent kits for the NCI-H23 lung cancer cell line.
NCI-H23 is a human non-small cell lung cancer cell line that was originally derived from a patient with lung adenocarcinoma. NCIH23 cells are characterized by their high proliferation rate and resistance to apoptosis, which is the programmed cell death that helps to control cell growth and division. These cells also have a mutation in the TP53 gene, which encodes for the p53 tumor suppressor protein, and a deletion in the CDKN2A gene, which encodes for the p16 tumor suppressor protein. These genetic alterations are commonly found in lung cancer and contribute to the development and progression of the disease. Researchers have used NCI-H23 cells to study various aspects of lung cancer biology, including the signaling pathways that drive tumor growth and metastasis, the mechanisms of drug resistance, and the development of new therapeutic agents. This cell line has also been used to study the role of p53 and p16 in cancer development and to test the efficacy of novel drugs targeting these pathways.
Data: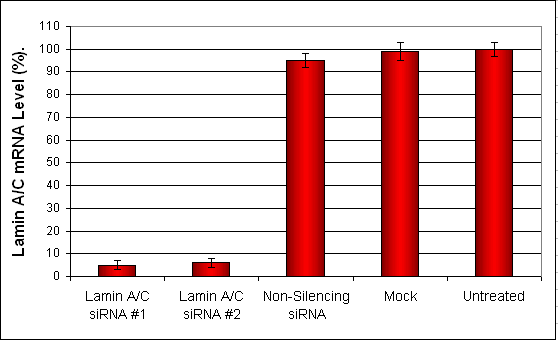 Figure 1. siRNAs targeting Lamin A/C mRNA or non-silencing control siRNA were transfected into NCI-H23 cells following the recommended protocol. At 48 hours post-transfection the cells were analyzed by qRT-PCR for Lamin A/C gene expression levels. 18S rRNA levels were used to normalize the Lamin A/C data. Values are normalized to untreated sample. Data are means ± SD (n=4).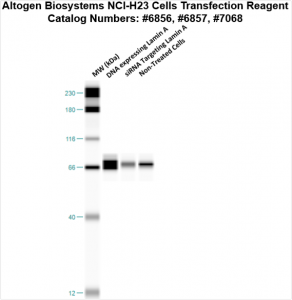 Figure 2. Protein expression of Lamin A in NCI-H23 cells. DNA plasmid expressing Lamin A or siRNA targeting Lamin A were transfected into NCI-H23 cells following Altogen Biosystems transfection protocol. At 72 hours post-transfection the cells were analyzed by Western Blot for protein expression levels (normalized by total protein, 10 µg of total protein loaded per each well). Untreated cells used as a negative control.

Altogen Biosystems:
Altogen Biosystems transfection and electroporation products for life sciences and cancer research. Company developed two types of in vivo delivery kits for animal research: Tissue-targeted reagents (delivery to liver, pancreas, and kidney tissues), and broad range in vivo delivery reagents (PEG-Liposome, Nanoparticle-based, Lipid-based, and Polymer-based kits).  Advanced formulation of reagents and optimized transfection protocols provide efficient intracellular delivery of proteins, DNA, mRNA, shRNA, siRNA, and other negatively charged molecules in vitro and in vivo. Read more about transfection technology at Altogen's Transfection Resource.
Altogen Labs Contract Research Services:
Altogen Labs provides GLP contract research studies for preclinical development, IND applications, and drug development. Biology CRO services include: xenograft models (90+), development of stable cell lines, ELISA assay development, cell-based and tissue targeted RNAi studies, safety pharm/tox assays, and other studies (visit AltogenLabs.com).
Volume Options:
0.5 ml (Catalog #6856)
1.5 ml (Catalog #6857)
1.5 ml CRISPR (Catalog #2178)
8.0 ml (Catalog #7068)