Description
Product Availability: In Stock (FedEx delivery within 2 business days).
Ordering: To place an order please use Add to Cart button (account not required).
---
Transfection Reagent for MRC5 Cells (Human Diploid Fibroblast Cells)
A nanoparticle based liposome formulation

Transfection protocols provided for transfection of proteins, DNA, mRNA, siRNA, shRNA and microRNA

Transfection Enhancer reagent provided with the kit

Produce higher level of recombinant protein expression with minimal disruption of normal cell function

Generate physiologically relevant data you can trust

Effective for plasmid DNA/siRNA co-transfection

Download MRC5 CRISPR/Cas9 transfection protocol: [PDF]
Download PowerPoint presentation for MRC5 cells transfection kit: [PPT]
UPC/GTIN/EAN: 860002089791
Transfection Efficiency:
Reagent exhibits at least 80% transfection efficiency of siRNA delivery. Transfection efficiency was determined by qRT-PCR.
Transfection Protocol and MSDS:
Download Altogen Biosystems MRC-5 Transfection Protocol: [PDF]
Download MSDS: [PDF]
MRC5 Cell Line:
MRC-5 (Medical Research Council cell strain 5) is a cell line that was originally derived from the lung tissue of a 14-week-old male fetus. These cells are widely used in biomedical research and in the production of vaccines. MRC-5 cells are a type of diploid fibroblast cell that are characterized by their ability to grow as adherent monolayers in vitro. They have a normal karyotype and exhibit many of the characteristics of fibroblast cells, including the ability to secrete extracellular matrix components such as collagen and fibronectin. MRC-5 cells have been used extensively in the study of human cytomegalovirus (HCMV) and other viral infections. They are highly permissive to HCMV infection and are often used as a substrate for the growth of the virus in vitro. In addition, MRC-5 cells have been used to study the mechanisms underlying virus-induced cell transformation and to screen for potential antiviral agents. MRC-5 cells have also been used in the production of several vaccines, including those for rubella, varicella, and hepatitis A. These cells are commonly used in vaccine production due to their ability to support the replication of many different types of viruses and their relatively low risk of contamination by adventitious agents.
Human diploid cell strains are cells that are frequently utilized for various purposes, including culturing viruses for the vaccine production. Studies have shown safety and immunogenicity of human diploid cell strains compared to other tissue cultures. The MRC-5 cell line represents the most common human diploid cell line in the manufacturing of currently available human viral vaccines. MRC-5 was derived by J.P. Jacobs and colleagues from the pulmonary tissue of an aborted 14-week-old male human fetus in 1966. This is a normal diploid human cell line with 46, XY karyotype. The modal chromosome number was 46, occurring in 70 percent of cells. The rate of polyploidy was 3.6 percent. The line exhibits adherent growth to glass and polymer culture dishes. MRC-5 are capable of 42 to 46 population doublings before senescence occurs. MRC-5 cells have been shown to be negative for reverse transcriptase, and they support the growth of a broad range of viruses, including adenoviruses, coxsackie a, cytomegalovirus, echovirus, herpes simplex virus, poliovirus, rhinovirus, respiratory syncytial virus, and varicella-zoster virus. MRC-5 cells are extensively employed in a wide array of applications, such as virology-related transfection experiments, cytotoxicity assessments, and the development of vaccines. MRC-5 is useful as a transfection host, and in many kinds of molecular and cell biology research, in part due to its ability to be easily infected by viruses. This cell line is commonly employed for testing of viruses in biomedical research experiments. Altogen Biosystems offers an advanced nanoparticle-based liposome formulation MRC-5 transfection reagent kit for diploid fibroblast cells that exhibits high transfection efficiency, as detected by qRT-PCR.
Cell line mutations:
| | | | | | | | | | |
| --- | --- | --- | --- | --- | --- | --- | --- | --- | --- |
| UGT2B15 | 7366 | 37 | 4 | 69512933 | 69512933 | Silent | SNP | C | T |
| MTF1 | 4520 | 37 | 1 | 38289411 | 38289411 | Missense_Mutation | SNP | G | A |
| CHRD | 8646 | 37 | 3 | 184106783 | 184106783 | Splice_Site | SNP | C | T |
| TCERG1L | 256536 | 37 | 10 | 132944832 | 132944832 | Missense_Mutation | SNP | G | A |
| ENGASE | 64772 | 37 | 17 | 77079627 | 77079627 | Silent | SNP | G | A |
| AGTRAP | 57085 | 37 | 1 | 11805868 | 11805868 | Silent | SNP | C | T |
| C1orf64 | 149563 | 37 | 1 | 16332629 | 16332629 | Missense_Mutation | SNP | G | T |
| SLC5A9 | 200010 | 37 | 1 | 48713135 | 48713135 | Missense_Mutation | SNP | C | G |
| PRMT6 | 55170 | 37 | 1 | 107599496 | 107599496 | Silent | SNP | C | T |
Data: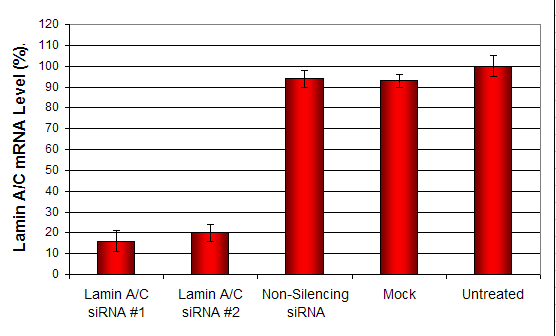 Figure 1. SiRNAs targeting Lamin A/C mRNA or non-silencing control siRNA were transfected into MRC5 following the recommended protocol. At 48 hours post-transfection the cells were analyzed by qRT-PCR for gene expression levels. 18S rRNA levels were used to normalize the Lamin A/C data. Values are normalized to untreated sample. Data are means ± SD (n=3).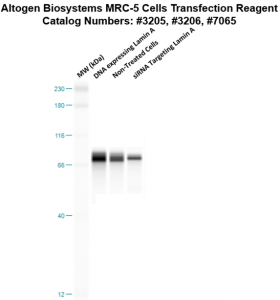 Figure 2. Protein expression of Lamin A/C in MRC-5 cells. DNA plasmid expressing Lamin A/C or siRNA targeting Lamin A/C were transfected into MRC-5 cells following Altogen Biosystems transfection protocol. At 72 hours post-transfection the cells were analyzed by Western Blot for protein expression levels (normalized by total protein, 10 µg of total protein loaded per each well). Untreated cells used as a negative control.
Selected in vivo transfection product citations (ALTOGEN® IN VIVO Transfection Kits used in the following publications):
Hypertension. 2015 65(2):430-9. Neurokinin 3 receptor and phosphocholine transferase… Parchim et al [PDF]
Gastroenterology. 2011 141(2) Differential type I interferon-mediated autophagic trafficking … Desai et al [PDF]
PLoS Pathog. 2014 10(10) Exosomes from hepatitis C infected patients transmit HCV … Bukong et al [PDF]

Altogen Biosystems:
Altogen Biosystems is a life sciences company that manufactures over 100 cell type specific and optimized transfection kits, electroporation buffers, and targeted in vivo delivery kits and reagents. Advanced formulation of reagents and optimized transfection protocols provide highly efficient intracellular delivery of various molecules (proteins, DNA, mRNA, shRNA and siRNA, and small molecule compounds). Read more about transfection technology at Altogen's Transfection Resource.
Altogen Research Services:
Altogen Labs provides GLP compliant contract research studies for preclinical research, IND applications, and drug development. Biology CRO services include: Xenograft models (90+), development of stable cell lines, ELISA assay development, cell-based and tissue targeted RNAi studies, safety pharm/tox assays, and other studies (visit AltogenLabs.com).
Volume Options:
0.5 ml (Catalog #3205)
1.5 ml (Catalog #3206)
1.5 ml CRISPR (Catalog #2175)
8.0 ml (Catalog #7065)