Description
Product Availability: In Stock (FedEx delivery within 2 business days).
Ordering: To place an order please use Add to Cart button (account not required).
---
Transfection Reagent for MEF Cells (Mouse Fibroblast Cells, SCRC-1008)
A nanoparticle-based liposome formulation

Transfection protocols provided for transfection of proteins, DNA, mRNA, siRNA, shRNA and microRNA

Transfection Enhancer reagent provided with the kit

Produce higher level of recombinant protein expression with minimal disruption of normal cell function

Generate physiologically relevant data you can trust

Effective for pDNA/siRNA co-transfection

Easy-to-use transfection protocol with reproducible results

Download MEF CRISPR/Cas9 transfection protocol: [PDF]

Download PowerPoint presentation for MEF cells transfection kit: [

PPT

]

UPC/GTIN/EAN: 860002089782
Transfection Efficiency:
Reagent exhibits at least 80% transfection efficiency of siRNA delivery. Transfection efficiency was determined by qRT-PCR.
Transfection Protocol and MSDS:
Download Altogen Biosystems MEF Transfection Protocol: [PDF]
Download MSDS: [PDF]
MEF Cell Line:
MEF cells, or Mouse Embryonic Fibroblasts, are a type of connective tissue cell that is derived from the embryos of mice. These cells are commonly used in research for a variety of purposes, including as feeder cells for the culture of other cell types and as a model system for studying cellular processes such as cellular senescence and aging. The MEF cell line was derived from murine (Mus musculus) embryonic fibroblast cells and can synthesize collagen and other extracellular matrix proteins. The MEF cell line is frequently used as feeder cells for human embryonic stem cell research and is a suitable host for studies related to mammalian embryonic tissue. MEF cells could be used as a transfection host in cell and molecular biology research. Many MEF cell lines exist, each of which exhibits slightly different characteristics. When cultured in vitro, the MEF cell line shows a spindle shape that confirms its fibroblastic nature. Several strategies such as virus infection and repeated transmission are used to immortalize MEF cells and let them grow indefinitely. Mouse Embryonic Fibroblasts (MEF) are useful models for the study of mammalian cells in the field of molecular biology.
MEF cells are commonly used as feeder cells in the culture of other cell types, particularly embryonic stem cells (ESCs) and induced pluripotent stem cells (iPSCs). MEFs provide important signaling molecules and growth factors that are necessary for the maintenance and growth of ESCs and iPSCs in culture. MEF cells are also used as a model system for studying the process of cellular senescence and aging. These cells exhibit many of the characteristics of senescent cells, including a flat morphology and increased expression of senescence-associated markers such as p16INK4a and p21CIP1.
Primary cell cultures are used in biological and gene therapy studies and serve as valuable model systems that may more accurately represent the biology of normal cells. Many cultured cell lines, as well as the majority of primary cell cultures, are able to be transfected with exogenous nucleic acids when appropriate transfection approaches are employed. Since the majority of transfection methods causes significant toxicity in primary cell cultures, optimizing this procedure, specifically the protocol and reagents to be utilized, is essential for developing an effective transfection strategies for a given cell type. ALTOGEN kits for primary cells and sensitive cell lines have been designed to have significantly lower cytotoxicity than other alternatives. Altogen Biosystems offers nanoparticle-based transfection reagent kits that can be optimized based on specific project requirements.
Data: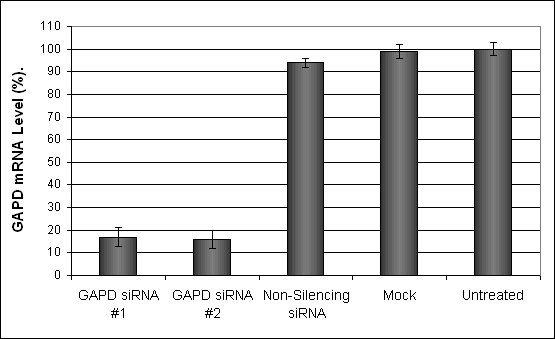 Figure 1. GAPD mRNA levels were quantified using real-time RT-PCR in the MEF cells transfected with siRNAs targeting GAPD or non-silencing siRNA. Forty-eight hours post-transfection, the cells were harvested and analyzed by real-time RT-PCR for GAPD mRNA expression levels. Data were normalized against the 18S rRNA signal. Control samples were either mock-transfected or untreated. Values are normalized to untreated sample. Data are means ± SD (n=5).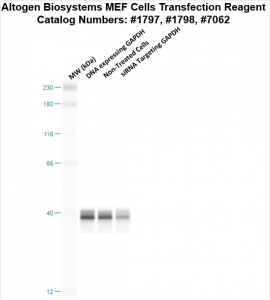 Figure 2. Protein expression of GAPDH in MEF cells. DNA plasmid expressing GAPDH or siRNA targeting GAPDH were transfected into MEF cells following Altogen Biosystems transfection protocol. At 72 hours post-transfection the cells were analyzed by Western Blot for protein expression levels (normalized by total protein, 10 µg of total protein loaded per each well). Untreated cells used as a negative control.
Selected MEF transfection reagent product citations:
Leukemia. 2011 (25). Hypoxia-microRNA-16 downregulation induces VEGF expression … Dejean et al [PDF]
Nature Cell Biology. 2013. Protein interaction switches coordinate Raf-1 and MST2/Hippo … Romano et al [PDF]
Circulation Research. 2010 15;107(8). Kruppel-like factor-4 transcriptionally regulates … Cowan et al [PDF]

Altogen Biosystems:
Altogen Biosystems transfection and electroporation products for life sciences and cancer research. Transfection reagents are developed for individual cancer cell line and transfection protocols are optimized for maximum delivery efficiency. Advanced formulation of reagents and optimized transfection protocols provide efficient cellular delivery of proteins, DNA, mRNA, shRNA, siRNA, and other negatively charged molecules in vitro and in vivo. Read more about transfection technology at Altogen's Transfection Resource.
Altogen Labs Research Services:
Altogen Labs provides GLP preclinical research services for IND applications and drug development. Our biology CRO services includes both efficacy studies (over 90 in-house validated xenograft models) and safety pharmacology/toxicology studies (for more details please visit AltogenLabs.com).
Volume Options:
0.5 ml (Catalog #1797)
1.5 ml (Catalog #1798)
1.5 ml CRISPR (Catalog #2172)
8.0 ml (Catalog #7062)