Description
Product Availability: In Stock (FedEx delivery within 2 business days).
Ordering: To place an order please use Add to Cart button (account not required).
---
Transfection Reagent for 3T3 L1 Cells (Embryonic Fibroblast Cells, CL-173)
Proprietary cationic lipids formulation

Effective and robust intracellular delivery

Kit includes Transfection Enhancer reagent

Produces consistent results, lot-to-lot, plate-to-plate, and well-to-well

A proven reagent for establishing stable cell lines

Optimized transfection protocols are adapted for use with both standard & reverse transfection methods

Download in vitro 3T3-L1 transfection protocol: [PDF]
Download 3T3-L1 CRISPR/Cas9 transfection protocol: [PDF]
Download PowerPoint presentation for 3T3-L1 cells transfection kit: [PPT]
UPC/GTIN/EAN: 860002089719
Transfection Efficiency:
Reagent exhibits at least 80% transfection efficiency of siRNA delivery. Transfection efficiency was determined by real-time RT-PCR.
Transfection Protocol and MSDS:
Download Altogen Biosystems 3T3 Transfection Protocol: [PDF]
Download MSDS: [PDF]
3T3 Cell Line:
The 3T3-L1 cell line was established in 1974 from a Swiss albino mouse (Mus musculus) embryo. This cell line exhibits fibroblast morphology and is very similar to the 3T3 cell line, from which it is derived. These cells do not carry ectromelia virus (mousepox). 3T3-L1 could be useful for studying fibroblast cells, or mammalian embryonic tissue. This cell line has been known to double nearly every 14 hours. 3T3-L1 cells are sensitive to lipolytic and lipogenic hormones and drugs such as epinephrine, isoproterenol, and insulin. Progressing from a rapidly dividing to a confluent and contact inhibited state, 3T3-L1 cell line undergoes a pre-adipose to adipose-like conversion. 3T3-L1 is an embryonic mouse fibroblast cell line widely used in the study of adipose tissue as its cells can differentiate into adipocytes under proper conditions. Altogen Biosystems provides lipid-based transfection kits for the 3T3-L1 cell line.
Data: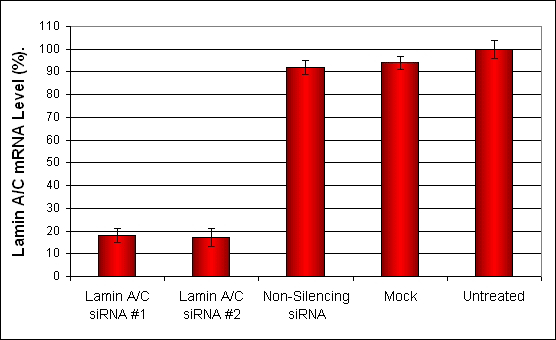 Figure 1. siRNAs targeting Lamin A/C mRNA or non-silencing control siRNA were transfected into 3T3L1 cells following the recommended protocol. At 48 hours post-transfection the cells were analyzed by qRT-PCR for Lamin A/C gene expression levels. 18S rRNA levels were used to normalize the Lamin A/C data. Values are normalized to untreated sample. Data are means ± SD (n=4).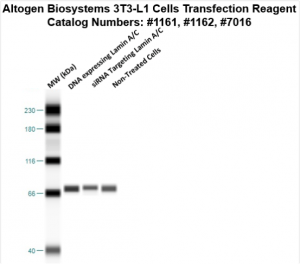 Figure 2. Protein expression of Lamin A/C in 3T3-L1 cells. DNA plasmid expressing Lamin A/C or siRNA targeting Lamin A/C were transfected into 3T3-L1 cells following Altogen Biosystems transfection protocol. At 72 hours post-transfection the cells were analyzed by Western Blot for protein expression levels (normalized by total protein, 10 µg of total protein loaded per each well). Untreated cells used as a negative control.
Selected in vivo transfection product citations (ALTOGEN® IN VIVO Transfection Kits used in the following publications):

Altogen Biosystems:
Altogen Biosystems is a life sciences company that offers over 100 cell type-specific and pre-optimized transfection products, elecroporation kits, and in vivo delivery reagents. Advanced formulation of reagents and optimized transfection protocols provide efficient intracellular delivery of protein, DNA, mRNA, shRNA and siRNA molecules. Read more about transfection technology at Altogen's Transfection Resource.
Altogen Research Services:
Altogen Labs provides GLP-compliant contract research studies for pre-clinical research, IND applications, and drug development. Biology CRO services include: Xenograft models (30+), development of stable cell lines, ELISA assay development, cell-based and tissue targeted RNAi studies, safety pharm/tox assays, and other studies (visit AltogenLabs.com).
Volume Options:
0.5 ml (Catalog #1161)
1.5 ml (Catalog #1162)
1.5 ml CRISPR (Catalog #2207)
8.0 ml (Catalog #7016)