Description
Product Availability: In Stock (FedEx delivery within 2 business days).
Ordering: To place an order please use Add to Cart button (account not required).
---
Transfection Reagent for HCN-1A Cells (Brain Neuronal Cells, CRL-10442)
Two component formulation enhances lipid mediated transfection efficiency

Optimized easy-to-use transfection protocol provided for transfection of siRNA, pDNA, mRNA, and microRNA

Kit includes Transfection Enhancer reagent and recommended transfection protocol

High transfection efficacy in the presence of serum

Expand your RNAi application with a reagent optimized for delivery of both siRNA and plasmid

Reproducible transfection results

Download HCN1A CRISPR/Cas9 transfection protocol: [PDF]

Download PowerPoint presentation for HCN-1A cells transfection kit: [

PPT

]

UPC/GTIN/EAN: 860002089763
Transfection Efficiency:
Reagent exhibits at least 76% transfection efficiency of siRNA delivery. Transfection efficiency was determined by qRT-PCR.
Transfection Protocol and MSDS:
Download Altogen Biosystems HCN1A Transfection Protocol: [PDF]
Download MSDS: [PDF]
HCN-1A Cell Line:
A number of studies have demonstrated the successful application of RNAi in primary cell cultures and non-neuronal cell lines; however, the use of gene silencing in neuronal cell types has been notoriously difficult because of several technical and biological limitations. Neurons are the most resistant to RNAi and difficult to characterize on the molecular level due to their heterogeneous nature and limited lifespan. Methods to consider when performing nucleic acid delivery experiments with neuronal cultures include electroporation, microinjection, viral-based methods, and certain chemical transfection reagents. Although physical delivery methods appear to be efficient for siRNA-induced studies where transient modification of gene expression is sufficient, these methods do not seem to be adequate for behavioral studies where long-term alteration of gene expression may be necessary. The viral-based siRNA expression systems appear to be most applicable to both Central Nervous System (CNS) gene therapy and basic neurobiological studies. Lentiviral vectors have been reportedly used successfully for the delivery of short hairpin RNA (shRNA), a precursor of siRNA, into primary neurons to induce RNAi.
The HCN-1A cell line is a human cortical neuronal line was derived from an 18 month-old female with intractable seizures. Treatment included a hemispherectomy. HCN1A neuronal cell line was derived from the hippocampus of a fetal brain. The HCN-1A cell line has the ability to differentiate, displaying mature morphology after differentiation with significantly slower growth rates.  HCN-1A are frequently used to model neuronal processes for scientific purposes.  HCN-1A cells have been shown to test positive for somatostatin, glutamate, neuron-specific enolase, tubulin, vimentin, gamma-aminobutyric acid, vasoactive intestinal peptide, and cholecystokinin-8. The cells test negative for glial fibrillary acidic protein, and myelin basic protein. Differentiation of HCN-1A can be induced through culturing the cortical neuronal cells with a mixture of nerve growth factor, dibutyryl cyclic adenosine monophosphate, and 1-isobutyl-3-methylxanthine. When HCN-1A cells differentiate, they take on mature morphology which significantly slows their growth rate, with a doubling time exceeding 120 hours. After HIV/N1T infection, HCN-1A diminished in size and small neurites were observed. Transfection studies carried out using the HCN-1A neuronal cell line are an essential tool in neurological research. Altogen Biosystems provides highly efficient lipid-based transfection reagent kits for the HCN-1A cell line.
Data: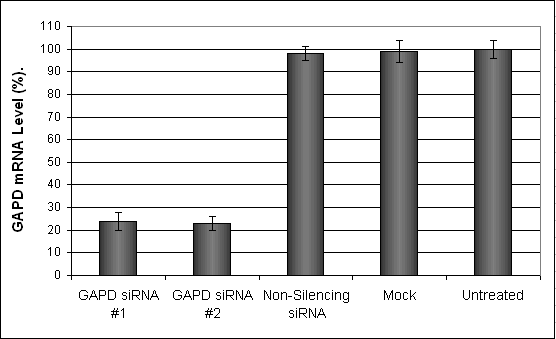 Figure 1. GAPD mRNA levels were quantified using real-time qPCR in the HCN1A cells transfected with siRNAs targeting GAPD or non-silencing siRNA. Forty-eight hours post-transfection, the cells were harvested and analyzed by real-time qPCR for GAPD mRNA expression levels. Data were normalized against the 18S rRNA signal. Control samples were either mock-transfected or untreated. Values are normalized to untreated sample. Data are means ± SD (n=5).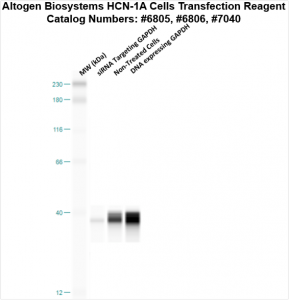 Figure 2. Protein expression of GAPDH in HCN-1A cells. DNA plasmid expressing GAPDH or siRNA targeting GAPDH were transfected into HCN-1A cells following Altogen Biosystems transfection protocol. At 72 hours post-transfection the cells were analyzed by Western Blot for protein expression levels (normalized by total protein, 10 µg of total protein loaded per each well). Untreated cells used as a negative control.
Selected HCN1A transfection kit citations:
Journal of Biological Chemistry. 2011. Regulatory Factor X1-induced Down-regulation of Transforming … Feng et al [PDF]
Cancer Research. 2011 71(15):5144-53. Inhibition of miR-193a expression by… Iliopoulos et al [PDF]
RNA. 2010 16(11):2108-19. RNase L releases a small RNA from HCV RNA that refolds … Malathi et al [PDF]

Altogen Biosystems:
Altogen Biosystems transfection and electroporation products for life sciences and cancer research. Company developed two types of in vivo delivery kits for animal research: Tissue-targeted reagents (delivery to liver, pancreas, and kidney tissues), and broad range in vivo delivery reagents (PEG-Liposome, Nanoparticle-based, Lipid-based, and Polymer-based kits).  Advanced formulation of reagents and optimized transfection protocols provide efficient intracellular delivery of proteins, DNA, mRNA, shRNA, siRNA, and other negatively charged molecules in vitro and in vivo. Read more about transfection technology at Altogen's Transfection Resource.
Altogen Labs Research Services:
Altogen Labs provides GLP compliant contract research studies for nonclinical research, IND applications, and drug development. Biology CRO services include: Xenograft models (90+), development of stable cell lines, ELISA assay development, cell-based and tissue targeted RNAi studies, safety pharmacology and toxicology assays, and other studies (please visit AltogenLabs.com for more details).
Volume Options:
0.5 ml (Catalog #1759)
1.5 ml (Catalog #1760)
1.5 ml CRISPR (Catalog #2146)
8.0 ml (Catalog #7043)