Description
Product Availability: In Stock (FedEx delivery within 2 business days).
Ordering: To place an order please use Add to Cart button (account not required).
---
Transfection Reagent for Weri-Rb-1 Cells (Retinoblastoma Cells)
Proprietary cationic lipids formulation

High transfection efficiency of small RNA (siRNA, shRNA, miRNA), mRNA, pDNA

Effective and robust intracellular delivery

Kit includes Transfection Enhancer reagent

Produces consistent results, lot-to-lot, plate-to-plate, and well-to-well

A proven reagent for establishing stable cell lines

Optimized transfection protocols are adapted for use with both standard & reverse transfection methods

Download Weri-Rb-1 CRISPR/Cas9 transfection protocol: [PDF]
Download PowerPoint presentation for Weri-Rb-1 cells transfection kit: [PPT]
Transfection Efficiency:
Reagent exhibits at least 75% transfection efficiency of siRNA delivery. Transfection efficiency was determined by RT-PCR
Transfection Protocol and MSDS:
Download Altogen Biosystems WeriRb1 Transfection Protocol: [PDF]
Download MSDS: [PDF]
Weri-Rb-1 Cell Line:
The WERI-Rb-1 cell line was isolated from retinoblastoma cells of a 1-year-old Caucasian girl by R.M. McFall and T.W. Sery in 1974. WERI-Rb-1 is considered diploid with a modal chromosome number of 47 that occurs at 38%. The rate of polyploidy is approximately 9%. All cells contain fifteen to sixteen marker chromosomes, but normal chromosomes 3, 10, 13 and 16 are missing. Also, two copies of the X chromosome are present, but Y chromosomes could not be detected in QM stained preparations. WERI-Rb-1 cells can survive culturing in Difco Bacto-Agar. WERI-Rb-1 cells are round cells that grow in grape-like clusters in suspension and do not form colonies. Scanning electron microscopy shows variations in the number of surface blebs, microvilli, and lamellipodia. WERI-Rb1 cells could not be cloned in soft agar, and the population doubling time for these cells is roughly 96 hours. The WERI-Rb-1 cell line is highly utilized in cell differentiation research and studies related to animal tumor therapeutics. The WERI-RB-1 human retinoblastoma cell line is particularly useful in the study of biochemical pathways leading to cell differentiation. Altogen Biosystems offers robust lipid-based transfection kits for the WERI-RB-1 cell line that works equally well for both standard reverse transfection as well as high-throughput applications. WERI-Rb1 is a human retinoblastoma cell line that was derived from a tumor in a child with retinoblastoma. Retinoblastoma is a rare form of eye cancer that primarily affects young children. WERI-Rb1 cells are commonly used in retinoblastoma research to study the biology of this disease and test new therapies. WERI-Rb1 cells are known to have a number of characteristics that are common to retinoblastoma tumors, including the loss of function of the RB1 tumor suppressor gene.
Data: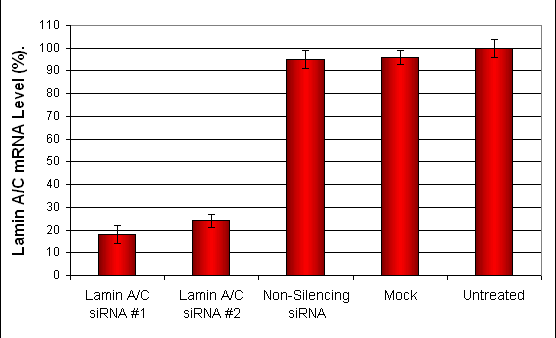 Figure 1. siRNAs targeting Lamin A/C mRNA or non-silencing control siRNA were transfected into Weri-Rb1 cells following the recommended protocol. At 48 hours post-transfection the cells were analyzed by RT-PCR for Lamin A/C gene expression levels. 18S rRNA levels were used to normalize the Lamin A/C data. Values are normalized to untreated sample. Data are means ± SD (n=4).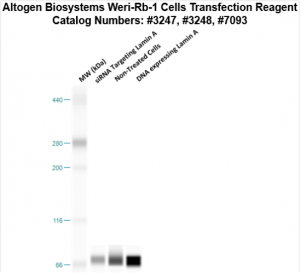 Figure 2. Protein expression of Lamin A in Weri-Rb-1 cells. DNA plasmid expressing Lamin A or siRNA targeting Lamin A were transfected into Weri-Rb-1 cells following Altogen Biosystems transfection protocol. At 72 hours post-transfection the cells were analyzed by Western Blot for protein expression levels (normalized by total protein, 10 µg of total protein loaded per each well). Untreated cells used as a negative control.
Selected Weri-Rb1 transfection reagent citations:
BMC Cancer. 2012 12(69). Regulation of p14ARF expression by miR-24 … Kwong-Him To et al [PDF]
British Journal of Cancer. 2012 107(3):516-26. TIGAR induces p53-mediated cell-cycle … Madan et al [PDF]
Jounal of Biological Chemistry. 2012 287(4):2907. Chaperoning of mutant p53 protein … Gogna et al [PDF]

Altogen Biosystems:
Altogen Biosystems transfection and electroporation products for life sciences and cancer research. Transfection reagents are developed for individual cancer cell line and transfection protocols are optimized for maximum delivery efficiency. Advanced formulation of reagents and optimized transfection protocols provide efficient cellular delivery of proteins, DNA, mRNA, shRNA, siRNA, and other negatively charged molecules in  vitro and in vivo. Read more about transfection technology at Altogen's Transfection Resource.
Altogen Research Services:
Altogen Labs provides GLP-compliant contract research studies for preclinical research, IND applications, and drug development. Biology CRO services include: Xenograft models (90+), development of stable cell lines, ELISA assay development, cell-based and tissue targeted RNAi studies, safety pharm/tox assays, and other studies (visit AltogenLabs.com).
Volume Options:
0.5 ml (Catalog #3247)
1.5 ml (Catalog #3248)
1.5 ml CRISPR (Catalog #2202)
8.0 ml (Catalog #7093)