Description
NOTE: To place order using Credit Card, P-Card, or Purchase Order – please choose kit size above and click "Add to cart" button. You can place order online without creating an account.
Transfection Reagent for SK-MEL-28 Cells (Melanoma Cells, HTB-72)
A nanoparticle-based liposome formulation

Transfection protocols provided for transfection of proteins, DNA, mRNA, siRNA, shRNA and microRNA

Transfection Enhancer reagent provided with the kit

Produce higher level of recombinant protein expression with minimal disruption of normal cell function

Generate physiologically relevant data you can trust

Easy-to-use transfection protocol with reproducible results

Download PowerPoint presentation for SK-MEL-28 cells transfection kit: [

PPT

]
Transfection Efficiency:
Reagent exhibits at least 71% transfection efficiency of siRNA delivery. Transfection efficiency was determined by qRT-PCR.
Transfection Protocol and MSDS:
Download Altogen Biosystems SK-MEL-28 Transfection Protocol: [PDF]
Download MSDS: [PDF]
SK-MEL-28 Cell Line:
The SK-MEL-28 cell line was established from the skin of a 51-year-old male patient who was suffering from malignant melanoma (skin cancer).  This cell line could be useful for studying the effects of skin cancer. SK-Mel-28 cells exhibit polygonal cell morphology, and this is just one of many melanoma cell lines (also named SK-Mel). These tumorigenic human cells are very useful for molecular and cell biology research.
Data: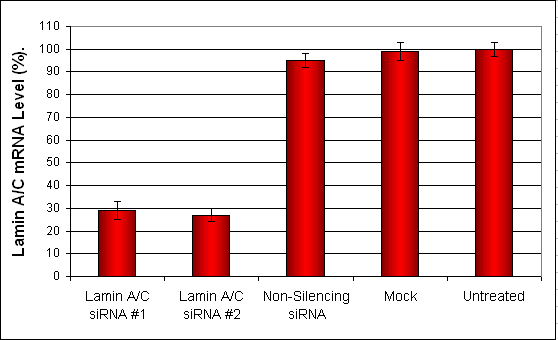 Figure 1. siRNAs targeting Lamin A/C mRNA or non-silencing control siRNA were transfected into SKMEL28 cells following the recommended protocol. At 48 hours post-transfection the cells were analyzed by qRT-PCR for Lamin A/C gene expression levels. 18S rRNA levels were used to normalize the Lamin A/C data. Values are normalized to untreated sample. Data are means ± SD (n=4).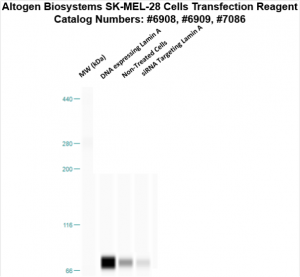 Figure 2. Protein expression of Lamin A/C in SK-MEL-28 cells. DNA plasmid expressing Lamin A/C or siRNA targeting Lamin A/C were transfected into SK-MEL-28 cells following Altogen Biosystems transfection protocol. At 72 hours post-transfection the cells were analyzed by Western Blot for protein expression levels (normalized by total protein, 10 µg of total protein loaded per each well). Untreated cells used as a negative control.
Selected in vivo transfection product citations (ALTOGEN® IN VIVO Transfection Kits used in the following publications):
Altogen Biosystems:
Altogen Biosystems provides pre-optimized transfection kits and electroporation products for life science research. Transfection products are developed for individual cancer cell line and transfection protocols are optimized to enable high transfection  efficiency of biomolecules. Altogen Biosystems developed in vivo delivery products for small animal research, mouse and rat targeted tissue delivery: liver targeted, pancreas targeted, kidney targeted, PEG-Liposome-, Nanoparticle-, Lipid-, and Polymer-based in vivo transfection kits. Advanced formulation of reagents and optimized transfection protocols provide efficient intracellular delivery of biomolecules. Read more about transfection technology at Altogen's Transfection Resource.
Altogen Labs Research Services:
Altogen Labs provides GLP-compliant contract research studies for pre-clinical research, IND applications, and drug development. Biology CRO services include: Xenograft models (30+), development of stable cell lines, ELISA assay development, cell-based and tissue targeted RNAi studies, safety pharm/tox assays, and other studies (visit AltogenLabs.com).
Volume Options:
0.5 ml (Catalog #6908)
1.5 ml (Catalog #6909)
1.5 ml CRISPR (Catalog #2193)
8.0 ml (Catalog #7086)