Description
Product Availability: In Stock (FedEx delivery within 2 business days).
Ordering: To place an order please use Add to Cart button (account not required).
---
Transfection Reagent for SK-N-MC Cells (Neuroblastoma Cells)
Two component formulation enhances lipid mediated transfection efficiency

Optimized easy-to-use transfection protocol provided for transfection of siRNA, DNA, mRNA, and microRNA

Kit includes Transfection Enhancer reagent and recommended transfection protocol

High transfection efficacy in the presence of serum

Expand your RNAi application with a reagent optimized for delivery of both siRNA and plasmid

Reproducible transfection results

Download SK-N-MC CRISPR/Cas9 transfection protocol: [PDF]
Download PowerPoint presentation for SKNAS cells transfection kit: [PPT]
UPC/GTIN/EAN: 860002089798
Transfection Efficiency:
Reagent exhibits at least 76% transfection efficiency of siRNA delivery. Transfection efficiency was determined by RT-PCR
Transfection Protocol and MSDS:
Download Altogen Biosystems SK-N-MC Transfection Protocol: [PDF]
Download MSDS: [PDF]
SK-N-MC Cell Line:
According to the American Brain Tumor Association, approximately 80,000 new cases of brain tumors are diagnosed annually among adults. Nearly one-third of them are malignant, and 17,000 of patients will die annually. Besides, a brain tumor is the most common pediatric malignancy and the primary cause of cancer deaths in children. Human cell line models have proven to be indispensable tools for the identification of any potential limitations and finding new treatment options for brain cancer patients. SK-N-MC was derived in 1971 from a 14-year-old girl. The original paper indicated it came from the supraorbital metastasis of neuroblastoma. However, SK-N-MC is now thought by many to have originated from an Askin's tumor related to Ewing's sarcoma, which is the morphologically similar to neuroblastoma. Research showed FLI1-EWS gene fusion, the pathological change in Ewing's sarcoma and Askin's tumor, in the cells. SK-N-MC are adherent, fibroblast-like cells that grow as monolayers. The cell line is a pseudodiploid female (XX) that has chromosome counts in the diploid range. SK-N-MC has a modal chromosome number of 46. Normal chromosomes N3 and N10 are absent, and many are monosomic. Normal chromosome N8 is frequently tetrasomic. The activity of dopamine-beta-hydroxylase is moderate, and formaldehyde-induced fluorescence indicative of intracellular catecholamines. SK-N-MC cells exhibit an epithelial cell type and are neuroblastoma cells, which makes them useful for research related to brain cancers. The SK-N-MC neuroblastoma cell line has a higher cholinergic activity relative to other NB cell lines, and this coupled with its tumorigenicity make it a powerful research tool. Altogen Biosystems offers transfection kits for the SK-N-MC cell line.
Data: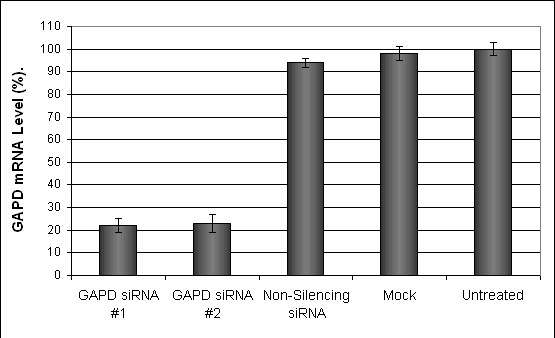 Figure 1. GAPD mRNA levels were quantified using real-time PCR in the SKNMC cells transfected with siRNAs targeting GAPD or non-silencing siRNA. Forty-eight hours post-transfection, the cells were harvested and analyzed by real-time PCR for GAPD mRNA expression levels. Data were normalized against the 18S rRNA signal. Control samples were either mock-transfected or untreated. Values are normalized to untreated sample. Data are means ± SD (n=5).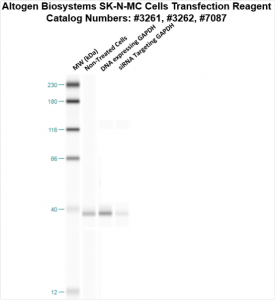 Figure 2. Protein expression of GAPDH in SK-N-MC cells. DNA plasmid expressing GAPDH or siRNA targeting GAPDH were transfected into SK-N-MC cells following Altogen Biosystems transfection protocol. At 72 hours post-transfection the cells were analyzed by Western Blot for protein expression levels (normalized by total protein, 10 µg of total protein loaded per each well). Untreated cells used as a negative control.
Selected in vivo transfection product citations (ALTOGEN® IN VIVO Transfection Kits used in the following publications):

Altogen Biosystems:
Altogen Biosystems provides preoptimized transfection products for life science research applications. Transfection protocols are optimized for individual cancer cell lines. Altogen Biosystems developed two types of in vivo delivery kits for animal research: Tissue-targeted reagents (delivery to liver, pancreas, and kidney tissues), and broad range in vivo delivery reagents (PEG-Liposome, Nanoparticle-based, Lipid-based, and Polymer-based kits). Advanced formulation of reagents and optimized transfection protocols provide efficient cellular delivery of proteins, DNA, RNA, and any other negatively charged molecules in vitro and in vivo. Read more about transfection technology at Altogen's Transfection Resource.
Altogen Labs Contract Research Services:
Altogen Labs provides good laboratory practice (GLP) compliant preclinical research services for IND applications and drug development. Our biology CRO services includes both efficacy studies (over 90 in-house validated xenograft models) and safety pharmacology/toxicology studies (for more details please visit AltogenLabs.com).
Volume Options:
0.5 ml (Catalog #3261)
1.5 ml (Catalog #3262)
1.5 ml CRISPR (Catalog #2195)
8.0 ml (Catalog #7087)