Description
Product Availability: In Stock (FedEx delivery within 2 business days).
Ordering: To place an order please use Add to Cart button (account not required).
---
Transfection Reagent for L6 Cells (Rat Myoblast Cells, CRL-1458)
A biodegradable polymer based transfection agent – once inside the cell, the polymer degrades into smaller less toxic components reducing cell toxicity, facilitating release of the transgene, and improving transfection efficiency

Optimized for intracellular delivery of pDNA, siRNA, microRNA, and mRNA

High transfection efficiency of both siRNA and plasmid DNA without compromising cell viability

Transfection kit includes Transfection Enhancer reagent

Gentle enough to be used for single cell analysis

Download L6 CRISPR/Cas9 transfection protocol: [PDF]
Download PowerPoint presentation for L6 cells transfection kit: [PPT]
Transfection Efficiency:
Reagent exhibits at least 84% transfection efficiency of siRNA delivery. Transfection efficiency was determined by qRT-PCR.
Transfection Protocol and MSDS:
Download Altogen Biosystems L6 Transfection Protocol: [PDF]
Download MSDS: [PDF]
L6 Cell Line:
Rodent models play an essential role in preclinical research for testing drug candidates for their ability to improve muscle function. Rat cell lines have been extensively employed to explore mechanisms of muscle differentiation and function. The L6 rat myoblast cell line has proven to be an excellent research model in the investigation and identification of new drugs and suitable therapeutic targets. The L6 myoblast cell line was derived by Dr. Yaffe using rat (Rattus norvegicus) thigh muscle and resembles skeletal muscle tissue. Negatively tested for mousepox (ectromelia virus), the L6 cell line can fuse in a cell culture, creating multinucleated myotubes as well as striated fibers. Also, L6 cells have a propensity for high cellular variability. Altogen Biosystems provides biodegradable polymer-based pre-optimized transfection reagent kits for the L6 rat myoblast cell line. An indispensable tool for studying mammalian connective tissue, the L6 kit is equally efficient for single and multiple transfections.
L6 cells are a type of rat skeletal muscle cell line that has been widely used as a model system for studying various aspects of muscle biology, including muscle differentiation, function, and disease. L6 cells were originally derived from the leg muscles of a rat and can be easily cultured in the laboratory. These cells share many properties with primary skeletal muscle cells, including the expression of muscle-specific proteins such as myosin and actin. L6 cells have been used in a variety of research applications, including the study of muscle cell differentiation and fusion, the regulation of muscle gene expression, and the mechanisms underlying muscle hypertrophy and atrophy. One area of research in which L6 cells have been particularly useful is in the study of insulin signaling in skeletal muscle. Skeletal muscle is a major target tissue for insulin, and defects in insulin signaling in muscle are associated with various metabolic disorders such as type 2 diabetes. L6 cells have been used to study the mechanisms underlying insulin signaling in muscle, including the activation of the insulin receptor and downstream signaling pathways such as the PI3K/Akt pathway. L6 cells have also been used to study the effects of various compounds on muscle function and metabolism, including potential therapeutic agents for muscle diseases such as muscular dystrophy.
Data: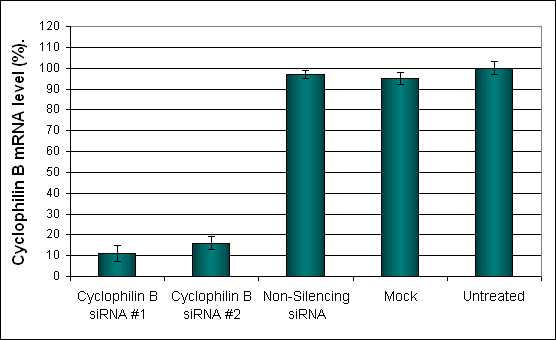 Figure 1. Cyclophilin B silencing efficiency was determined by qRT-PCR in the L6 cells transfected by Cyclophilin B siRNA or non-silencing siRNA control following the recommended transfection protocol. Cyclophilin mRNA expression levels were measured 48 hours post-transfection. 18S rRNA levels were used to normalize the Cyclophilin B data. Values are normalized to untreated sample. Data are presented as means ± SD (n=6).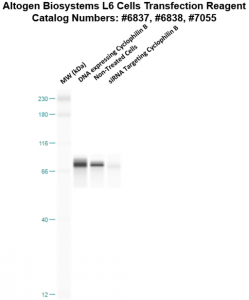 Figure 2. Protein expression of Cyclophilin B in L6 cells. DNA plasmid expressing Cyclophilin B or siRNA targeting Cyclophilin B were transfected into L6 cells following Altogen Biosystems transfection protocol. At 72 hours post-transfection the cells were analyzed by Western Blot for protein expression levels (normalized by total protein, 10 µg of total protein loaded per each well). Untreated cells used as a negative control.

Altogen Biosystems:
Altogen Biosystems provides optimized transfection kits and electroporation products for life science research. Transfection products are developed for individual cancer cell line and transfection protocols are optimized to enable high transfection  efficiency of biomolecules. Altogen Biosystems developed in vivo delivery products for small animal research, mouse and rat targeted tissue delivery: liver targeted, pancreas targeted, kidney targeted, PEG-Liposome-, Nanoparticle-, Lipid-, and Polymer-based in vivo transfection kits. Advanced formulation of reagents and optimized transfection protocols provide efficient cellular delivery of biomolecules. Read more about transfection technology at Altogen's Transfection Resource.
Altogen Labs Research Services:
Altogen Labs provides GLP compliant contract research studies for preclinical research, IND applications, and drug development. Biology CRO services include: Xenograft models (90+), development of stable cell lines, ELISA assay development, cell-based and tissue targeted RNAi studies, safety pharm/tox assays, and other studies (visit AltogenLabs.com).
Volume Options:
0.5 ml (Catalog #6837)
1.5 ml (Catalog #6838)
1.5 ml CRISPR (Catalog #2165)
8.0 ml (Catalog #7055)