Description
Product Availability: In Stock (FedEx delivery within 2 business days).
Ordering: To place an order please use Add to Cart button (account not required).
---
Transfection Reagent for HUVEC Cells (Human Umbilical Vein Endothelial Cells)
Proprietary cationic lipids formulation

High transfection efficiency of small RNA (siRNA, shRNA, miRNA), mRNA, pDNA

Effective and robust intracellular delivery

Kit includes Complex Condenser and Transfection Enhancer reagents

Work in the presence of serum

A proven reagent for establishing stable HUVEC cell lines

Download HUVEC CRISPR/Cas9 transfection protocol: [PDF]
Download PowerPoint presentation for HUVEC cells transfection kit: [PPT]
UPC/GTIN/EAN: 860002089777
Transfection Efficiency:
Reagent exhibits at least 80% transfection efficiency of siRNA delivery. Transfection efficiency was determined by qRT-PCR.
Transfection Protocol and MSDS:
Download Altogen Biosystems HUVEC Transfection Protocol: [PDF]
Download MSDS: [PDF]
HUVEC Cell Line:
The Human Umbilical Vein Endothelial Cell line (HUVEC) is a powerful tool in the study of various physiological processes such as angiogenesis. The HUVEC cell line was derived and established from human umbilical vein endothelial cells, which is also where it gets its name. This cell line very useful in the study of the interior of the umbilical cord. It is believed that HUVEC cells may play a role in angiogenesis, the formation of blood vessels from pre-existing vessels, which supply cancer growths with nutrients. Multiple research groups work on the development of cancer medicines by targeting angiogenesis. Angiogenesis is the growth of new blood vessels that is naturally used for healing and reproduction. The body controls angiogenesis by secreting chemical signals that can stimulate the formation of new blood vessels as well as the repair of damaged ones. Excessive or insufficient blood vessel growth may cause balance disturbance in the body, resulting in various deadly and debilitating diseases, such as cancer, cardiovascular disease, diabetic ulcers, and many others. Angiogenesis inhibitors usually interfere with blood vessel formation.
Endothelial cells play a key role in a diverse range of physiological processes and pathophysiological processes, including arterial disease and cancer development. HUVEC systems are commonly used for physiological and pharmacological investigations, such as macromolecule transport, fibrinolysis, and blood coagulation. HUVEC are responsive to cytokine stimulation in the expression of cell adhesion molecule. Altogen Biosystems provides an advanced formulation of a lipid-based HUVEC transfection reagent kit for umbilical vein endothelial cells.
In addition to their role in angiogenesis research, HUVEC cells are used in a variety of other applications, including toxicology testing, drug screening, and the development of tissue engineering and regenerative medicine approaches. They are also used as a tool to study other aspects of endothelial cell biology, such as cell migration, adhesion, and signal transduction.
Data: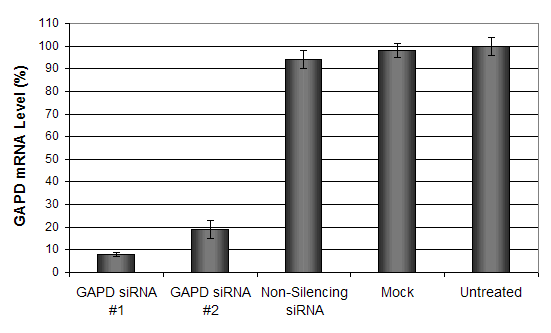 Figure 1. GAPD mRNA levels were quantified using real-time RT-PCR in the HUVEC cells transfected with siRNAs targeting GAPD or non-silencing siRNA. Forty-eight hours post-transfection, the cells were harvested and analyzed by real-time RT-PCR for GAPDH mRNA expression levels. Data were normalized against the 18S rRNA signal. Control samples were either mock-transfected or untreated. Values are normalized to untreated sample. Data are means ± SD (n=3).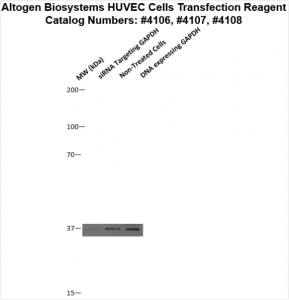 Figure 2. Protein expression of GAPDH in HUVEC cells. DNA plasmid expressing GAPDH or siRNA targeting GAPDH were transfected into HUVEC cells following Altogen Biosystems transfection protocol. At 72 hours post-transfection the cells were analyzed by Western Blot for protein expression levels (normalized by total protein, 10 µg of total protein loaded per each well). Untreated cells used as a negative control.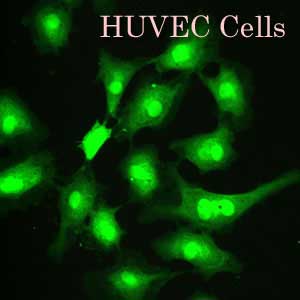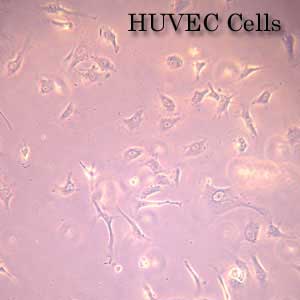 Selected in vivo transfection product citations (ALTOGEN® IN VIVO Transfection Kits used in the following publications):

Altogen Biosystems:
Altogen Biosystems manufacturers optimized transfection kits for cancer research. Reagents and transfection protocols are optimized for individual cancer cell lines. Altogen Biosystems developed two types of in vivo delivery kits for animal research: Tissue-targeted reagents (delivery into liver, pancreas, and kidney tissues), and in vivo biodistribution reagents (PEG-Liposome, Nanoparticle, Lipid, and Polymer-based kits). Optimized transfection protocols provide efficient cellular delivery of proteins, DNA, and RNA molecules in vitro and in vivo. Read more about transfection technology at Altogen's Transfection Resource.
Altogen Labs Research Services:
Altogen Labs provides good laboratory practice (GLP) compliant preclinical research services for IND applications and drug development. Our biology CRO services includes both efficacy studies (over 90 in-house validated xenograft models) and safety pharmacology/toxicology studies (for more details please visit AltogenLabs.com).
Volume Options:
0.5 ml (Catalog #4106)
1.5 ml (Catalog #4107)
1.5 ml CRISPR (Catalog #2159)
8.0 ml (Catalog #4108)