Description
Product Availability: In Stock (FedEx delivery within 2 business days).
Ordering: To place an order please use Add to Cart button (account not required).
---
Transfection Reagent for D-407 Cells (Retinal Pigment Epithelial Cells)
Proprietary cationic lipids formulation

High transfection efficiency of small RNA (siRNA, shRNA, miRNA), mRNA, pDNA

Kit includes Transfection Enhancer reagent

Produces consistent results, lot-to-lot, plate-to-plate, and well-to-well

A proven reagent for establishing stable cell lines

Optimized transfection protocols are adapted for use with both standard & reverse transfection methods

Download D407 CRISPR/Cas9 transfection protocol: [PDF]
Download PowerPoint presentation for D407 cells transfection kit: [PPT]
UPC/GTIN/EAN: 860002089753
Transfection Efficiency:
Reagent exhibits at least 70% transfection efficiency of siRNA delivery. Transfection efficiency was determined by qRT-PCR.
Transfection Protocol and MSDS:
Download Altogen Biosystems D407 Transfection Protocol: [PDF]
Download MSDS: [PDF]
D407 Cell Line:
Despite recent breakthroughs in the treatment and prevention of eye diseases that lead to blindness, there are still many causes of visual impairment for which there is no treatment. Preclinical studies of the retinal pigment epithelium (RPE) can help to overcome obstacles in finding new treatments for age-related macular degeneration (AMD), the primary cause of blindness in the world. Retinal pigment epithelium (RPE) is a layer of cells in the eye that provides nourishment to retinal cells and performs a variety of functions related to the upkeep of normal vision. Over time the RPE degenerates and leads to a variety of vision disorders. The D-407 cell line was derived from human RPE cells and is a valuable research tool in the study of vision impairment. This cell line is useful in studies of human eye cells, further investigation of this cell line could produce potential medical treatments for the visually impaired.  D-407 cells exhibit phagocytic activity and are used widely in molecular and cell biology research. Research carried out via transfection on the D-407 RPE cell line could lead to the development of treatments that could help restore vision in patients. Altogen Biosystems provides lipid-based transfection reagent kits for the D-407 retinal pigment epithelium cell line that has produced consistent results in the establishment of stable cell lines.
The D407 cell line is a human retinal pigment epithelial cell line that was originally derived from a 19-year-old donor. It has been extensively used as a model system for studying various retinal diseases, including age-related macular degeneration and diabetic retinopathy. These cells are commonly used in vitro to study the effects of drugs and toxins on retinal pigment epithelial cells, as well as to investigate molecular mechanisms involved in the development and progression of retinal diseases. They are also used for studying the pathogenesis of ocular infections.
Data: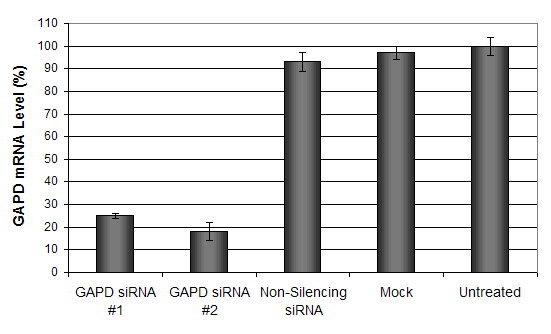 Figure 1. GAPD mRNA levels were quantified using real-time RT-PCR in the D-407 cells transfected with siRNAs targeting GAPD or non-silencing siRNA. Forty-eight hours post-transfection, the cells were harvested and analyzed by real-time RT-PCR for GAPDH mRNA expression levels. Data were normalized against the 18S rRNA signal. Control samples were either mock-transfected or untreated.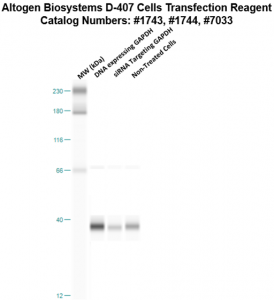 Figure 2. Protein expression of GAPDH in D-407 cells. DNA plasmid expressing GAPDH or siRNA targeting GAPDH were transfected into D-407 cells following Altogen Biosystems transfection protocol. At 72 hours post-transfection the cells were analyzed by Western Blot for protein expression levels (normalized by total protein, 10 µg of total protein loaded per each well). Untreated cells used as a negative control.

Volume Options:
0.5 ml (Catalog #1743)
1.5 ml (Catalog #1744)
1.5 ml CRISPR (Catalog #2135)
8.0 ml (Catalog #7033)