Description
Product Availability: In Stock (FedEx delivery within 2 business days).
Ordering: To place an order please use Add to Cart button (account not required).
---
Transfection Reagent for B16-F10 Cells (Mouse Melanoma Cells, CRL-6475)
Two component formulation enhances lipid mediated transfection efficiency

Optimized easy-to-use transfection protocol provided for transfection of siRNA, DNA, mRNA, and microRNA

Kit includes Transfection Enhancer reagent and recommended transfection protocol

High transfection efficacy in the presence of serum

Expand your RNAi application with a reagent optimized for delivery of both siRNA and plasmid

Reproducible transfection results

Works well for standard reverse transfection and high-throughput applications

Download B16-F10 CRISPR/Cas9 transfection protocol: [PDF]
Download PowerPoint presentation for B16-F10 cells transfection kit: [PPT]
UPC/GTIN/EAN: 860002089728
Transfection Efficiency:
Reagent exhibits at least 83% transfection efficiency of siRNA delivery. Transfection efficiency was determined by qRT-PCR.
Transfection Protocol and MSDS:
Download Altogen Biosystems B16-F10 Transfection Protocol: [PDF]
Download MSDS: [PDF]
B16-F10 Cell Line:
Malignant melanoma is a highly metastatic form of cancer as well as the sixth most common cancer in the United States. Preclinical studies of melanoma can help scientists to gain a better understanding of drug responses in humans and find novel therapeutics for the disease. Mice have been used as mammalian research models since the 16ᵗʰ century. They are useful in preclinical studies as their cells are good predictors of a potential drug's performance. The B16-F10 melanoma cell lines, first discovered in 1954, are derived from naturally occurring tumors of a mouse (Mus musculus) suffered from melanoma. This cell line exhibits a morphology that is a mixture of epithelial and spindle-shaped cells. The B16-F10 cell line could be helpful for molecular and cell biology experimental research. Furthermore, the B16-F10 melanoma cell line is a suitable host for carrying out transfection during investigative and preclinical oncological research. Altogen Biosystems creates high-efficiency customized transfection reagent kits for B16-F10 mouse melanoma cells.
B16F10 is a mouse melanoma cell line that is commonly used in cancer research as a model system to study melanoma biology, metastasis, and drug discovery. The cell line was derived from a spontaneously arising tumor in a C57BL/6 mouse, and it is known for its aggressive growth and high metastatic potential. B16F10 cells are adherent and grow in vitro as monolayer cultures. They have a relatively short doubling time and can be maintained in culture for many passages. B16F10 cells are often used in a variety of experimental techniques, including cell proliferation assays, migration and invasion assays, and animal models of cancer. B16F10 cells are a valuable tool for researchers studying melanoma biology and developing new therapies for this aggressive form of skin cancer. However, it is important to note that results obtained from experiments using cell lines may not always accurately reflect the behavior of melanoma in human patients, and further studies using animal models and patient-derived samples are often necessary to validate findings.
Data: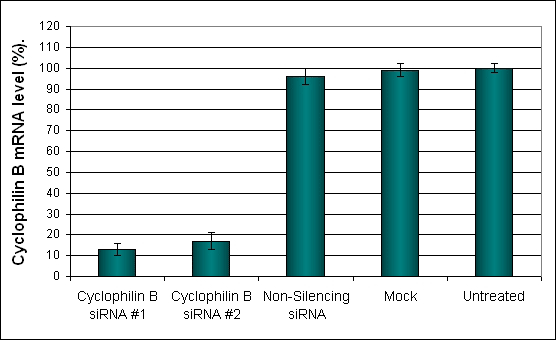 Figure 1. Cyclophilin B silencing efficiency was determined by qRT-PCR in B16-F10 cells transfected by Cyclophilin B siRNA or non-silencing siRNA control following the recommended transfection protocol. Cyclophilin mRNA expression levels were measured 48 hours post-transfection. 18S rRNA levels were used to normalize the Cyclophilin B data. Values are normalized to untreated sample. Data are presented as means ± SD (n=6).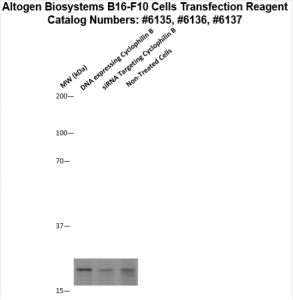 Figure 2. Protein expression of Cyclophilin B in B16-F10  cells. DNA plasmid expressing Cyclophilin B or siRNA targeting Cyclophilin B were transfected into B16-F10 cells following Altogen Biosystems transfection protocol. At 72 hours post-transfection the cells were analyzed by Western Blot for protein expression levels (normalized by total protein, 10 µg of total protein loaded per each well). Untreated cells used as a negative control.

Altogen Biosystems:
Altogen Biosystems provides pre-optimized transfection kits and electroporation products for life science research. Transfection products are developed for individual cancer cell line and transfection protocols are optimized to enable high transfection  efficiency of biomolecules. Altogen Biosystems developed in vivo delivery products for small animal research, mouse and rat targeted tissue delivery: liver targeted, pancreas targeted, kidney targeted, PEG-Liposome-, Nanoparticle-, Lipid-, and Polymer-based in vivo transfection kits. Advanced formulation of reagents and optimized transfection protocols provide efficient intracellular delivery of biomolecules. Read more about transfection technology at Altogen's Transfection Resource.
Selected in vivo transfection product citations (ALTOGEN® IN VIVO Transfection Kits used in the following publications):
Hypertension. 2015 65(2):430-9. Neurokinin 3 receptor and phosphocholine transferase… Parchim et al [PDF]
Gastroenterology. 2011 141(2) Differential type I interferon-mediated autophagic trafficking … Desai et al [PDF]
PLoS Pathog. 2014 10(10) Exosomes from hepatitis C infected patients transmit HCV … Bukong et al [PDF]
Altogen Labs Research Services:
Altogen Labs provides GLP-compliant contract research studies for preclinical research, IND applications, and drug development. Biology CRO services include: Xenograft models (90+), development of stable cell lines, ELISA assay development, cell-based and tissue targeted RNAi studies, safety pharm/tox assays, and other studies (visit AltogenLabs.com).
Volume Options:
0.5 ml (Catalog #6135)
1.5 ml (Catalog #6136)
1.5 ml CRISPR (Catalog #2111)
8.0 ml (Catalog #6137)