Description
Product Availability: In Stock (FedEx delivery within 2 business days).
Ordering: To place an order please use Add to Cart button (account not required).
---
Transfection Reagent for bEnd.3 Cell Line (Brain Endothelioma Cells, CRL-2299)
A nanoparticle-based liposome formulation

Transfection protocols provided for transfection of proteins, DNA, mRNA, siRNA, shRNA and microRNA

Transfection Enhancer reagent provided with the kit

Produce higher level of recombinant protein expression with minimal disruption of normal cell function

Generate physiologically relevant data you can trust

Effective for plasmid DNA/siRNA co-transfection

Easy-to-use transfection protocol with reproducible results

Download bEnd-3 CRISPR/Cas9 transfection protocol: [PDF]

Download PowerPoint presentation for bEnd3 cells transfection kit: [

PPT

]

UPC/GTIN/EAN: 860002089726
Transfection Efficiency:
Reagent exhibits at least 70% transfection efficiency of siRNA delivery. Transfection efficiency was determined by qRT-PCR.
Transfection Protocol and MSDS:
Download Altogen Biosystems Transfection Protocol: [PDF]
Download MSDS: [PDF]
bEnd.3 Cell Line:
Stroke is a life-threatening disease that affects arteries in the brain and can be caused by the blockage of the arteries by a blood clot, resulting in seizures. bEnd.3 is a brain endothelial cell line taken from a mouse's (Mus musculus) brain/cerebral cortex. As endothelial cells, they make up the interior surface of blood vessels and lymphatic vessels, which circulate blood. These cells form the structure that not only helps carry nutrients to the brain but also removes waste. The bEnd.3 cell line is used in a variety of molecular and cell biology research. Study of this cell could be useful for medical research related to the flow of blood, providing a test subject for ways to treat clots and congestion, which can cause seizures and other serious health effects. Altogen Biosystems offers an advanced liposome formulation bEnd-3 transfection reagent kit that provides high transfection efficiency with bEnd-3 cells and is a helpful tool for biomedical research applications related to the flow of blood and blood flow obstruction.
Data: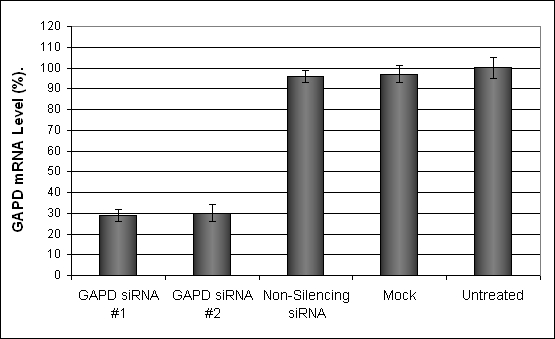 Figure 1. GAPD mRNA levels were quantified using real-time RT-PCR in the bEnd3 cells transfected with siRNAs targeting GAPD or non-silencing siRNA. Forty-eight hours post-transfection, the cells were harvested and analyzed by real-time RT-PCR for GAPD mRNA expression levels. Data were normalized against the 18S rRNA signal. Control samples were either mock-transfected or untreated. Values are normalized to untreated sample. Data are means ± SD (n=5).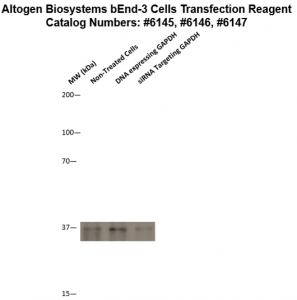 Figure 2. Protein expression of GAPDH in bEnd-3 cells. DNA plasmid expressing GAPDH or siRNA targeting GAPDH were transfected into bEnd-3 cells following Altogen Biosystems transfection protocol. At 72 hours post-transfection the cells were analyzed by Western Blot for protein expression levels (normalized by total protein, 10 µg of total protein loaded per each well). Untreated cells used as a negative control.
Selected in vivo transfection product citations (ALTOGEN® IN VIVO Transfection Kits used in the following publications):

Altogen Biosystems:
Altogen Biosystems is a life sciences company that manufactures over 100 cell type specific and preoptimized transfection kits, electroporation buffers, and targeted in vivo delivery kits and reagents. Advanced formulation of reagents and optimized transfection protocols provide highly efficient intracellular delivery of biomolecules (proteins, DNA, mRNA, shRNA and siRNA, and small molecule compounds). Read more about transfection technology at Altogen's Transfection Resource.
Altogen Research Services:
Altogen Labs provides GLP compliant contract research studies for pre-clinical research, IND applications, and drug development. Biology CRO services include: Xenograft models (30+), development of stable cell lines, ELISA assay development, cell-based and tissue targeted RNAi studies, safety pharm/tox assays, and other studies (visit AltogenLabs.com).
Volume Options:
0.5 ml (Catalog #6145)
1.5 ml (Catalog #6146)
1.5 ml CRISPR (Catalog #2113)
8.0 ml (Catalog #6147)