Description
Product Availability: In Stock (FedEx delivery within 2 business days).
Ordering: To place an order please use Add to Cart button (account not required).
---
Transfection Reagent for LS-174T Cells (Colon Adenocarcinoma Cell, CL-188)
Proprietary cationic lipids formulation

Kit includes Transfection Enhancer reagent

Produces consistent results, lot-to-lot, plate-to-plate, and well-to-well

Work in the presence of serum

A proven reagent for establishing stable cell lines

Optimized transfection protocols are adapted for use with both standard & reverse transfection methods

Download LS174 CRISPR/Cas9 transfection protocol: [PDF]
Download PowerPoint presentation for LS174T cells transfection kit: [PPT]
UPC/GTIN/EAN: 860002089786
Transfection Efficiency:
Reagent exhibits at least 92% transfection efficiency of siRNA delivery. Transfection efficiency was determined by qRT-PCR.
Transfection Protocol and MSDS:
Download Altogen Biosystems LS174T Transfection Protocol: [PDF]
Download MSDS: [PDF]
LS-174T Cell Line:
LS174T is a human colorectal adenocarcinoma cell line that was originally isolated from a metastatic lesion in a patient with colorectal cancer. These cells have been widely used as a model system for studying various aspects of colorectal cancer biology, including the molecular mechanisms underlying tumor development and progression, and the identification of potential therapeutic targets for the treatment of colorectal cancer. LS174T cells have several properties that make them useful for research. Firstly, they are relatively easy to culture in the laboratory and can be grown in large quantities. Secondly, they express markers of colorectal cancer, such as carcinoembryonic antigen (CEA) and cytokeratin, and exhibit several features characteristic of colorectal cancer, including uncontrolled proliferation, invasion, and metastasis. Thirdly, they respond to various stimuli, such as cytokines and growth factors, making them a useful model system for studying the effects of these factors on colorectal cancer cell growth and survival. Research using LS174T cells has contributed significantly to our understanding of colorectal cancer biology. For example, LS174T cells have been used to study the role of various signaling pathways, such as the Wnt/β-catenin pathway, in the development and progression of colorectal cancer. Additionally, LS174T cells have been used to screen for potential anticancer agents, including chemotherapy drugs and targeted therapies.
Colorectal cancer cell lines represent accurate molecular models of primary carcinomas and have proven to be potent tools in preclinical colon cancer research. The LS 174T epithelial cell line was isolated from a 58-year-old Caucasian female with colorectal adenocarcinoma and produces high amounts of carcinoembryonic antigen (CEA). In addition to being positive for the expression of different oncogenes, such as c-myc, N-myc, H-ras, N-ras, Myb, and fos, the LS 174T cell line possesses abundant microvilli and vacuoles. LS 174T cells are positive for mRNA expression; however, they are negative for p53 antigen expression. This cell line is commonly used for oncological research as these cells produce vast amounts of carcinoembryonic antigen, a tumor marker. Altogen Biosystems supplies multiple in vitro transfection kits, including the cationic lipids formulation LS 174T transfection reagent kit for human colon cancer cells. The LS 174T reagent is compatible with both standard and reverse transfection methods, yielding very high transfection efficiency, as indicated by qRT-PCR.
Data: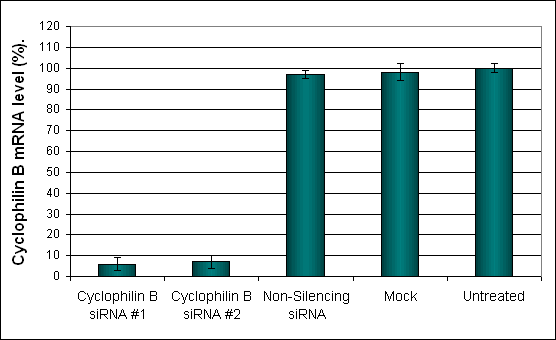 Figure 1. Cyclophilin B silencing efficiency was determined by qRT-PCR in the LS174T cells transfected by Cyclophilin B siRNA or non-silencing siRNA control following the recommended transfection protocol. Cyclophilin mRNA expression levels were measured 48 hours post-transfection. 18S rRNA levels were used to normalize the Cyclophilin B data. Values are normalized to untreated sample. Data are presented as means ± SD (n=6).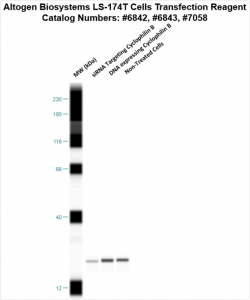 Figure 2. Protein expression of Cyclophilin B in LS-174T cells. DNA plasmid expressing Cyclophilin B or siRNA targeting Cyclophilin B were transfected into LS-174T cells following Altogen Biosystems transfection protocol. At 72 hours post-transfection the cells were analyzed by Western Blot for protein expression levels (normalized by total protein, 10 µg of total protein loaded per each well). Untreated cells used as a negative control.

Altogen Biosystems:
Altogen Biosystems provides preoptimized transfection kits and electroporation products for life science research. Transfection products are developed for individual cancer cell line and transfection protocols are optimized to enable high transfection  efficiency of biomolecules. Altogen Biosystems developed in vivo delivery products for small animal research, mouse and rat targeted tissue delivery: liver targeted, pancreas targeted, kidney targeted, PEG-Liposome-, Nanoparticle-, Lipid-, and Polymer-based in vivo transfection kits. Advanced formulation of reagents and optimized transfection protocols provide efficient intracellular delivery of biomolecules. Read more about transfection technology at Altogen's Transfection Resource.
Altogen Labs Research Services:
Altogen Labs provides GLP compliant contract research studies for preclinical research, IND applications, and drug development. Biology CRO services include: Xenograft models (90+), development of stable cell lines, ELISA assay development, cell-based and tissue targeted RNAi studies, safety pharm/tox assays, and other studies (visit AltogenLabs.com).
Volume Options:
0.5 ml (Catalog #6842)
1.5 ml (Catalog #6843)
1.5 ml CRISPR (Catalog #2168)
8.0 ml (Catalog #7058)