Description
Product Availability: In Stock (FedEx delivery within 2 business days).
Ordering: To place an order please use Add to Cart button (account not required).
---
Transfection Reagent for CT26.WT Cells (Colon Carcinoma Cells, CRL-2638)
Proprietary cationic lipids formulation

High transfection efficiency of small RNA (siRNA, shRNA, miRNA), mRNA, pDNA

Effective and robust intracellular delivery

Produces consistent results, lot-to-lot, plate-to-plate, and well-to-well

Download CT26.WT CRISPR/Cas9 transfection protocol: [PDF]

Download PowerPoint presentation for CT26WT cells transfection kit: [

PPT

]

UPC/GTIN/EAN: 860002089754
Transfection Efficiency:
Reagent exhibits at least 92% transfection efficiency of siRNA delivery. Transfection efficiency was determined by qRT-PCR.
Transfection Protocol and MSDS:
Download Altogen Biosystems CT26WT Transfection Protocol: [PDF]
Download MSDS: [PDF]
CT26.WT Cell Line:
CT26 is a mouse colon adenocarcinoma cell line that is commonly used as a syngeneic model for studying the immune response to cancer in mice. Colon cancer is the fourth most common cancer detected in the United States. In addition to being responsible for over 95,000 new cases annually, it has an increased incidence rate in patients younger than age 50, as per the Colon Cancer Alliance (CCA). The CT26.WT colon cancer cell line was derived from BALB/c mice that developed aggressive colon carcinoma as a result of chemically induced mutation and cloned with the retroviral vector LXSN, containing the lacZ gene. CT26.WT is a highly tumorigenic cell line, which is commonly employed in the drug development for colon cancer. Also, CT26.WT cells are often used as a model for the testing of immunotherapy protocols, as well as transfection host cell line for research studies on the immune response. Altogen Biosystems provides lipid-based high-efficiency transfection reagent kits for the CT26.WT cell line that have demonstrated consistent results and low cytotoxicity.
Data: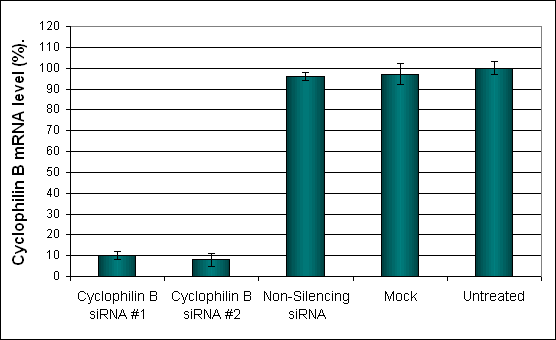 Figure 1. Cyclophilin B silencing efficiency was determined by qRT-PCR in CT26WT cells transfected by Cyclophilin B siRNA or non-silencing siRNA control following the recommended transfection protocol. Cyclophilin mRNA expression levels were measured 48 hours post-transfection. 18S rRNA levels were used to normalize the Cyclophilin B data. Values are normalized to untreated sample. Data are presented as means ± SD (n=6).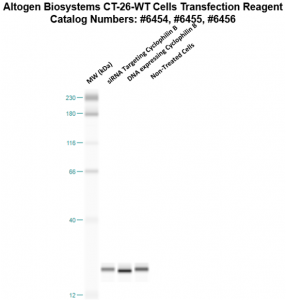 Figure 2. Protein expression of Cyclophilin B in CT26.WT cells. DNA plasmid expressing Cyclophilin B or siRNA targeting Cyclophilin B were transfected into CT26.WT cells following Altogen Biosystems transfection protocol. At 72 hours post-transfection the cells were analyzed by Western Blot for protein expression levels (normalized by total protein, 10 µg of total protein loaded per each well). Untreated cells used as a negative control.

Altogen Biosystems:
Altogen Biosystems is a life sciences company that offers cell type-specific and pre-optimized transfection products, electroporation kits, and in vivo delivery reagents. Advanced formulation of reagents and optimized transfection protocols provide efficient intracellular delivery of protein, DNA, mRNA, shRNA and siRNA molecules. Read more about transfection technology at Altogen's Transfection Resource.
Altogen Labs Research Services:
Altogen Labs provides GLP compliant contract research studies for preclinical research, IND applications, and drug development. Biology CRO services include: Xenograft models (90+), development of stable cell lines, ELISA assay development, cell-based and tissue targeted RNAi studies, safety pharm/tox assays, and other studies (visit AltogenLabs.com).
Volume Options:
0.5 ml (Catalog #6454)
1.5 ml (Catalog #6455)
1.5 ml CRISPR (Catalog #2134)
8.0 ml (Catalog #6456)