Description
Product Availability: In Stock (FedEx delivery within 2 business days).
Ordering: To place an order please use Add to Cart button (account not required).
---
Transfection Reagent for CLBPEC Cells (Neuroblastoma Cells)
Proprietary cationic lipids formulation

High transfection efficiency of small RNA (siRNA, shRNA, miRNA), mRNA, pDNA

Effective and robust intracellular delivery

Kit includes Complex Condenser and Transfection Enhancer reagents

A proven reagent for establishing stable cell lines

Download CLBPEC CRISPR/Cas9 transfection protocol: [PDF]
Download PowerPoint presentation for CLBPEC cells transfection kit: [PPT]
UPC/GTIN/EAN: 860002089742
Transfection Efficiency:
Reagent exhibits at least 70% transfection efficiency of siRNA delivery. Transfection efficiency was determined by qRT-PCR.
Transfection Protocol and MSDS:
Download Altogen Biosystems Transfection Protocol: [PDF]
Download MSDS: [PDF]
CLBPEC Cell Line:
Neuroblastoma is a rare form of cancerous tumor that develops from neuroblasts, found in the adrenal glands and almost always occurs in children, according to St. Jude's Hospital. Neuroblastoma comprises 50% of all cancers that are diagnosed in infants, being the most common cancer in infants under 12 months of age, with the majority of cases diagnosed by age 5, as per the American Cancer Society (ACS).  Since approximately 70% of neuroblastoma patients are diagnosed at a late stage, innovative treatment options and new approaches are vital. Neuroblasts are cells found in fetuses that ultimately develop into neurons.  The CLBPEC cell line was established from neuroblastoma cells of a patient and is a powerful tool for performing transfection studies in the quest to find a viable cure for the disease. CLBPEC cells are widely used in the study of cancers that affect young children. Altogen Biosystems provides lipid-based high-efficiency transfection reagent kits for the CLBPEC neuroblastoma cell line that is an appropriate host for studying pediatric brain tumors. The CLBPEC neuroblastoma cell line is a cell line derived from a human neuroblastoma, a type of cancer that arises from nerve tissue. The CLBPEC neuroblastoma cell line has been used in research to investigate the biology of neuroblastoma, as well as to test potential therapeutics and treatments for this disease. The clbpec cell line has been characterized as having an amplification of the MYCN oncogene, which is a common feature of high-risk neuroblastoma.
Data: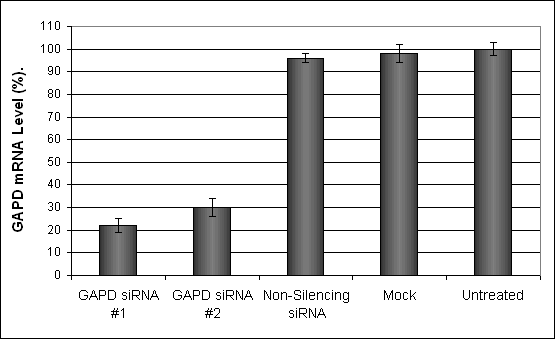 Figure 1. GAPD mRNA levels were quantified using real-time qRT-PCR in the CLBPEC cells transfected with siRNAs targeting GAPD or non-silencing siRNA. Forty-eight hours post-transfection, the cells were harvested and analyzed by real-time qRT-PCR for GAPD mRNA expression levels. Data were normalized against the 18S rRNA signal. Control samples were either mock-transfected or untreated. Values are normalized to untreated sample. Data are means ± SD (n=5).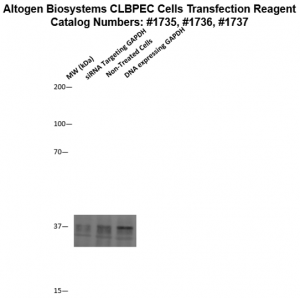 Figure 2. Protein expression of GAPDH in CLBPEC cells. DNA plasmid expressing GAPDH or siRNA targeting GAPDH were transfected into CLBPEC cells following Altogen Biosystems transfection protocol. At 72 hours post-transfection the cells were analyzed by Western Blot for protein expression levels (normalized by total protein, 10 µg of total protein loaded per each well). Untreated cells used as a negative control.

Altogen Biosystems:
Altogen Biosystems provides optimized transfection kits and electroporation products for life sciences and cancer research. Transfection protocols are optimized for individual cancer cell lines. Altogen Biosystems developed two types of in vivo delivery kits (animal transfection): 1) Tissue-targeted reagents (delivery of proteins, DNA, and RNA into liver, pancreas, or kidney tissues), and 2) Broad range in vivo biodistribution reagents (PEG-Liposome based reagent, Nanoparticle-based in vivo reagent, Lipid-based transfection kit, and Polymer-based kit). Advanced formulation of reagents and optimized transfection protocols provide efficient intracellular delivery of proteins, DNA, mRNA, shRNA, siRNA, and other negatively charged biomolecules in vitro and in vivo. Read more about transfection technology at Altogen's Transfection Resource.
Altogen Research Services:
Altogen Labs provides GLP-compliant contract research studies for preclinical research, IND applications, and drug development. Our biology CRO services include: Xenograft models (over 90 in house validated xenograft models), development of stable cell lines, ELISA assay development, cell-based and tissue targeted RNAi studies, safety pharm/tox assays, and other studies (visit AltogenLabs.com).
Volume Options:
0.5 ml (Catalog #1735)
1.5 ml (Catalog #1736)
1.5 ml CRISPR (Catalog #2131)
8.0 ml (Catalog #1737)