Description
Product Availability: In Stock (FedEx delivery within 2 business days).
Ordering: To place an order please use Add to Cart button (account not required).
---
Transfection Reagent for HeLa-S3 Cells (Cervical Adenocarcinoma, CCL-2.2)
Proprietary cationic lipids formulation

High transfection efficiency of small RNA (siRNA, shRNA, miRNA), mRNA, pDNA

Effective and robust cellular delivery

Kit includes Transfection Enhancer and Complex Condenser reagents

Produces consistent results, lot-to-lot, plate-to-plate, and well-to-well

Work in the presence of serum

A proven reagent for establishing stable cell lines

Optimized transfection protocols are adapted for use with both standard & reverse transfection methods

Download HeLaS3 CRISPR/Cas9 transfection protocol: [PDF]
Download PowerPoint presentation for HeLa-S3 cells transfection kit: [PPT]
UPC/GTIN/EAN: 860002089770
Transfection Efficiency:
Reagent exhibits at least 94% transfection efficiency of siRNA delivery. Transfection efficiency was determined by qRT-PCR.
Transfection Protocol and MSDS:
Download Altogen Biosystems Hela-S3 Transfection Protocol: [PDF]
Download MSDS: [PDF]
HeLa-S3 Cell Line:
The HeLa S3 cell line is a derivative of the immortal HeLa cell line and is also considered immortal, sharing many similar properties with the HeLa cell line, as a result. The difference between the famous HeLa cell line and the HeLa S3 cell line is that S3 represents the third clone isolated and propagated from the original HeLa culture. The letter S was used in honor of Dr. Florence Rena Sabin, though this cell line originated in the lab of Dr. Theodore Puck. HeLa S3 was established in 1955 and has been used for studies in cloning of mammal cells. It also has similar properties to the famous HeLa cell line, named after Henrietta Lacks, from which it was derived. The HeLa cell line was established using cervical cancer cells taken in 1951 from Henrietta Lacks, a patient who eventually died of her cancer later that year. The HeLa cell line considered an "immortal" cell line and had been used in a wide variety of scientific research. These cells have received a lot of media attention, due to the controversy surrounding patient's rights. HeLaS3 cells are very similar to the original HeLa cells in terms of their morphology, growth characteristics, and genetic makeup. However, there are some important differences between the two cell lines. HeLaS3 cells tend to be more homogeneous in their growth and morphology, making them easier to work with in certain types of experiments. They also have a different karyotype (chromosome number and arrangement) than the original HeLa cells. HeLaS3 cells have been used in a wide variety of research areas, including cancer biology, virology, and drug discovery. Like the original HeLa cells, they are known for their ability to grow rapidly and continuously in culture, making them an ideal model system for studying the effects of drugs, toxins, and viruses on human cells. They have been used to study the mechanisms of tumor development and progression, to develop new cancer therapies, and to study the life cycles of viruses such as HIV and human papillomavirus (HPV). The HeLa cell line was in fact the first human cell line to be able to establish itself and be successful in a cell culture. In addition to being an indispensable tool in conducting a wide variety of specialized biomedical applications, the HeLa S3 is beneficial for mammalian cloning research. The HeLa S3 transfection reagent kit for cervical adenocarcinoma offered by Altogen Biosystems, among many other transfection products, yields high transfection efficiency of siRNA delivery. Besides, it produces high-level recombinant protein expression with minimal disruption of cell function and has low cytotoxicity.
Data: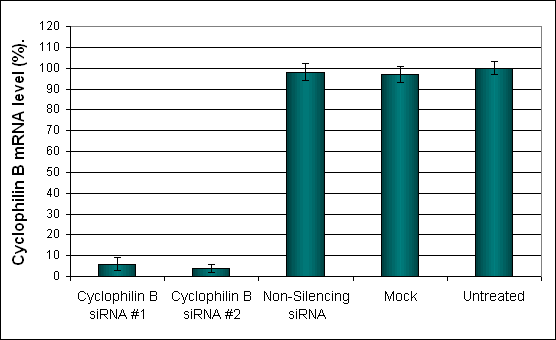 Figure 1. Cyclophilin B silencing efficiency was determined by qRT-PCR in the Hela-S3 cells transfected by Cyclophilin B siRNA or non-silencing siRNA control following the recommended transfection protocol. Cyclophilin mRNA expression levels were measured 48 hours post-transfection. 18S rRNA levels were used to normalize the Cyclophilin B data. Values are normalized to untreated sample. Data are presented as means ± SD (n=6).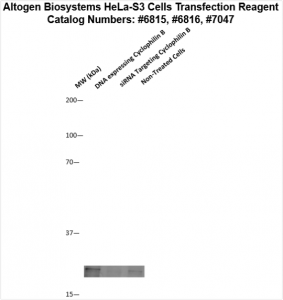 Figure 2. Protein expression of Cyclophilin B in HeLa-S3 cells. DNA plasmid expressing Cyclophilin B or siRNA targeting Cyclophilin B were transfected into HeLa-S3 cells following Altogen Biosystems transfection protocol. At 72 hours post-transfection the cells were analyzed by Western Blot for protein expression levels (normalized by total protein, 10 µg of total protein loaded per each well). Untreated cells used as a negative control.
Selected in vivo transfection product citations (ALTOGEN® IN VIVO Transfection Kits used in the following publications):

Altogen Biosystems:
Altogen Biosystems transfection and electroporation products for life sciences and cancer research. Company developed two types of in vivo delivery kits for animal research: Tissue-targeted reagents (delivery to liver, pancreas, and kidney tissues), and broad range in vivo delivery reagents (PEG-Liposome, Nanoparticle-based, Lipid-based, and Polymer-based kits).  Advanced formulation of reagents and optimized transfection protocols provide efficient intracellular delivery of proteins, DNA, mRNA, shRNA, siRNA, and other negatively charged molecules in vitro and in vivo. Read more about transfection technology at Altogen's Transfection Resource.
Altogen Labs Research Services:
Altogen Labs provides GLP compliant contract research studies for preclinical research, IND applications, and drug development. Biology CRO services includes: Xenograft models (90+), development of stable cell lines, ELISA assay development, cell-based and tissue targeted RNAi studies, safety pharm/tox assays, and other studies (visit AltogenLabs.com).
Volume Options:
0.5 ml (Catalog #6815)
1.5 ml (Catalog #6816)
1.5 ml CRISPR (Catalog #2151)
8.0 ml (Catalog #7047)