Description
Product Availability: In Stock (FedEx delivery within 2 business days).
Ordering: To place an order please use Add to Cart button (account not required).
---
Transfection Reagent for CFPEo (HTRpC) Cells (Trachea Epithelium Cells)
Proprietary cationic lipids formulation

High transfection efficiency of small RNA (siRNA, shRNA, miRNA), mRNA, pDNA

Effective and robust intracellular delivery

Kit includes Transfection Enhancer reagent

Work in the presence of serum

A proven reagent for establishing stable cell lines

Download CFPEo CRISPR/Cas9 transfection protocol: [PDF]
Download PowerPoint presentation for CFPEo cells transfection kit: [PPT]
UPC/GTIN/EAN: 860002089746
Transfection Efficiency:
Reagent exhibits at least 73% transfection efficiency of siRNA delivery. Transfection efficiency was determined by qRT-PCR.
Transfection Protocol and MSDS:
Download Altogen Biosystems CFPEo Transfection Protocol: [PDF]
Download MSDS: [PDF]
CFPEo (HTRpC) Cell Line:
Approximately 14% of all newly diagnosed cancers are lung cancers that mainly occur in older people, with an average patient age being around 70 years old, according to the American Cancer Society (ACS). The CFPEo cell line was established using human trachea epithelium cells (also known as HTEpC Cell Line). Human Trachea Epithelium Cells (HTEpC) are responsible for keeping the airways clean and providing proper lubrication for air passage. HTEpC are usually impacted in the event of a respiratory disorder and hence make for appropriate investigative and toxicological research tools. These types of cells in the airways are responsible for maintaining humidity as well as cleaning the respiratory tract. In addition to being an important target for drugs, toxins, and carcinogens, CFPEo cells are beneficial cell culture models in biomedical research for treatments of asthma, viral infection, fibrotic lung disease, lung cancer, and cystic fibrosis. Consequently, CFPEo are effective for investigating the function and pathology of the respiratory system. They are also used in drug uptake experiments, toxicological and wound healing research, oncology, and cell differentiation. Investigations include studying the regulation of intracellular pH, the stimulant effect of IL-1b on airway epithelial cell growth, and how human rhinovirus infection affects upregulation, or hastening, of ICAM-1 expression on epithelial cells. Altogen Biosystems provides the CFPEo (HTRpC) transfection reagent kit for human trachea epithelium cells that yields high transfection efficiency.
Data: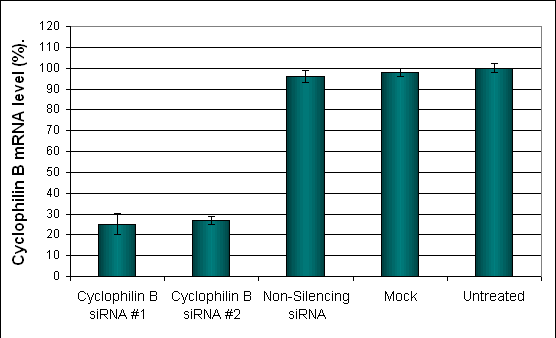 Figure 1. Cyclophilin B silencing efficiency was determined by qRT-PCR in the CFPEO cells transfected by Cyclophilin B siRNA or non-silencing siRNA control following the recommended transfection protocol. Cyclophilin mRNA expression levels were measured 48 hours post-transfection. 18S rRNA levels were used to normalize the Cyclophilin B data. Values are normalized to untreated sample. Data are presented as means ± SD (n=6).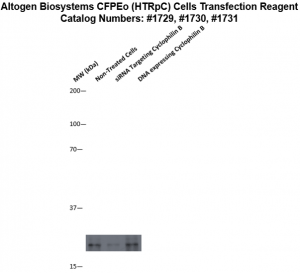 Figure 2. Protein expression of Cyclophilin B in CFPEo cells. DNA plasmid expressing Cyclophilin B or siRNA targeting Cyclophilin B were transfected into CFPEo cells following Altogen Biosystems transfection protocol. At 72 hours post-transfection the cells were analyzed by Western Blot for protein expression levels (normalized by total protein, 10 µg of total protein loaded per each well). Untreated cells used as a negative control.

Altogen Biosystems:
Altogen Biosystems transfection and electroporation products for life sciences and cancer research. Company developed two types of in vivo delivery kits for animal research: Tissue-targeted reagents (delivery to liver, pancreas, and kidney tissues), and broad range in vivo delivery reagents (PEG-Liposome, Nanoparticle-based, Lipid-based, and Polymer-based kits).  Advanced formulation of reagents and optimized transfection protocols provide efficient intracellular delivery of proteins, DNA, mRNA, shRNA, siRNA, and other negatively charged molecules in vitro and in vivo. Read more about transfection technology at Altogen's Transfection Resource.
Altogen Research Services:
Altogen Labs provides GLP-compliant contract research studies for preclinical research, IND applications, and drug development. Biology CRO services include: Xenograft models (90+), development of stable cell lines, ELISA assay development, cell-based and tissue targeted RNAi studies, safety pharm/tox assays, and other studies (visit AltogenLabs.com).
Volume Options:
0.5 ml (Catalog #1729)
1.5 ml (Catalog #1730)
1.5 ml CRISPR (Catalog #2127)
8.0 ml (Catalog #1731)