Description
Product Availability: In Stock (FedEx delivery within 2 business days).
Ordering: To place an order please use Add to Cart button (account not required).
---
Transfection Reagent for MDA-MB Cells (Breast Adenocarcinoma Cells, HTB-26)
Optimized for MDA-MB-231, MDA-MB-435, MDA-MB-468 cell lines

Two component formulation enhances lipid mediated transfection efficiency

Optimized easy-to-use transfection protocol provided for transfection of small RNA (siRNA, shRNA, microRNA), mRNA, and plasmid DNA

Kit includes Transfection Enhancer reagent and recommended transfection protocol

Expand your RNAi application with a reagent optimized for delivery of both siRNA and plasmid

Reproducible transfection results

Works well for standard reverse transfection and high-throughput applications

Download MDA-MB CRISPR/Cas9 transfection protocol: [PDF]
Download PowerPoint presentation for MDA-MB cells transfection kit: [PPT]
UPC/GTIN/EAN: 860002089784
Transfection Efficiency:
Reagent exhibits at least 80% transfection efficiency of siRNA delivery. Transfection efficiency was determined by qRT-PCR.
Transfection Protocol and MSDS:
Download Altogen Biosystems MDA-MB Transfection Protocol: [PDF]
Download MSDS: [PDF]
MDA-MB Cell Lines:
MDAMB (also known as MDA-MB) cells are a group of breast cancer cell lines that were derived from the pleural effusion or metastatic lesions of patients with breast cancer. There are several subtypes of MDA-MB cells, each with different characteristics and gene expression profiles. Research using MDA-MB cells has contributed significantly to our understanding of breast cancer biology. For example, MDAMB cells have been used to study the role of various signaling pathways, such as the PI3K/Akt and MAPK pathways, in the development and progression of breast cancer. Additionally, MDAMB cells have been used to screen for potential anticancer agents, including chemotherapy drugs and targeted therapies.
Breast cancer is considered the fifth leading cause of cancer deaths among females worldwide as well as the most frequently occurring malignancy in women. With approximately 1.7 million new cases detected every year, it represents an increasing public health problem, accounting for more than 500,000 fatalities annually globally, according to Global Health Estimates WHO 2013. Breast cancer cell lines are extensively used in preclinical research as models of different subtypes of breast carcinomas. MDA-MB-453 cells were isolated in 1976 from an effusion of a 48-year old Caucasian female with metastatic breast carcinoma, involving the nodes, brain and both pleural and pericardial cavities. Certain MDA-MB cell lines are not tumorigenic in immunosuppressed mice but do form colonies in semisolid medium. The cells – epithelial-like, round, loosely attached monolayers – overexpress FGF receptors. It has been found that stimulation of MDA-MB-453 cells with HRG beta 2 resulted in the tyrosine phosphorylation of p185c-erbB-2 and p180erbB-4 in a time and dose-dependent way. In addition to expressing high levels of functional androgen receptor, MDA-MB-453 cells have an active glycerol 3-phosphate shuttle. This cell line is a valuable in vitro model for further studies on androgen regulation of gene expression, and possibly cell proliferation, in breast cancer. MDA-MB-453 cells were used to determine that G-protein-coupled inwardly rectifying potassium (GIRK) are involved in cellular signaling in breast cancer cells. The MDA-MB-435 triple negative breast cancer (TNB) cell line is a reliable tool for studying the effectiveness of novel chemotherapy drugs. Altogen Biosystems provides pre-optimized lipid-mediated MDA-MB-453 transfection reagent kits for breast adenocarcinoma cells that yield high transfection efficiency.
MDA-MB-231 cell line mutations:
| | | | | | | | | | |
| --- | --- | --- | --- | --- | --- | --- | --- | --- | --- |
| KRAS | 3845 | 37 | 12 | 25398281 | 25398281 | Missense_Mutation | SNP | C | T |
| TP53 | 7157 | 37 | 17 | 7577099 | 7577099 | Missense_Mutation | SNP | C | T |
| LUM | 4060 | 37 | 12 | 91502008 | 91502008 | Missense_Mutation | SNP | G | C |
| PSD2 | 84249 | 37 | 5 | 139193008 | 139193008 | Silent | SNP | C | T |
| OR2T10 | 127069 | 37 | 1 | 248756584 | 248756584 | Silent | SNP | G | A |
| BAI3 | 577 | 37 | 6 | 69703796 | 69703796 | Missense_Mutation | SNP | G | T |
| BRAF | 673 | 37 | 7 | 140481417 | 140481417 | Missense_Mutation | SNP | C | A |
| MYH7 | 4625 | 37 | 14 | 23883284 | 23883284 | Missense_Mutation | SNP | G | A |
| ABCA3 | 21 | 37 | 16 | 2347421 | 2347421 | Missense_Mutation | SNP | G | C |
Data: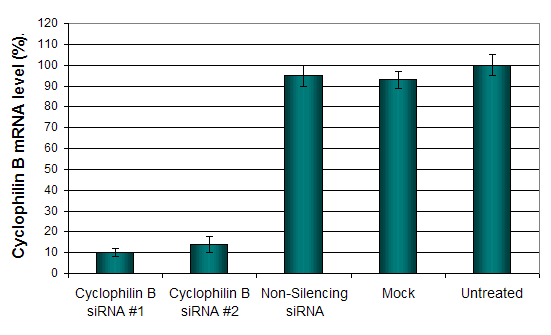 Figure 1. Cyclophilin B silencing efficiency was determined by RT-PCR in the MDA-MB-453 cells transfected by Cyclophilin B siRNA or non-silencing siRNA control following the recommended transfection protocol. Cyclophilin mRNA expression levels were measured 48 hours post-transfection. 18S rRNA levels were used to normalize the Cyclophilin B data. Values are normalized to untreated sample. Data are presented as means ± SD (n=3).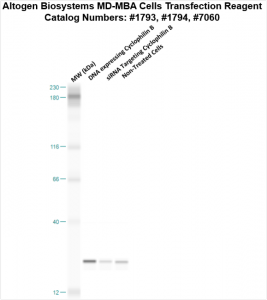 Figure 2. Protein expression of Cyclophilin B in MDA-MB cells. DNA plasmid expressing Cyclophilin B or siRNA targeting Cyclophilin B were transfected into MDA-MB cells following Altogen Biosystems transfection protocol. At 72 hours post-transfection the cells were analyzed by Western Blot for protein expression levels (normalized by total protein, 10 µg of total protein loaded per each well). Untreated cells used as a negative control.
Selected MDA-MB transfection reagent citation references:
PLoS ONE. 2011. 6(1). Identification of Distinctive Patterns of USP19-Mediated Growth Regulation in Normal and Malignant Cells. Lu et al [PDF]
RNA. 2010 16(11):2108-19. RNase L releases a small RNA from HCV RNA that refolds … Malathi et al [PDF]
Circulation Research. 2010 15;107(8). Kruppel-like factor-4 transcriptionally regulates … Cowan et al [PDF]

Altogen Biosystems:
Altogen Biosystems is a life sciences company that offers cell type-specific and pre-optimized transfection products, electroporation kits, and in vivo delivery reagents. Advanced formulation of reagents and optimized transfection protocols provide efficient intracellular delivery of protein, DNA, mRNA, shRNA and siRNA molecules. Read more about transfection technology at Altogen's Transfection Resource.
Altogen Labs Research Services:
Altogen Labs provides good laboratory practice (GLP) compliant preclinical research services for IND applications and drug development. Our biology CRO services includes both efficacy studies (over 90 in-house validated xenograft models) and safety pharmacology/toxicology studies (for more details please visit AltogenLabs.com).
Volume Options:
0.5 ml (Catalog #1793)
1.5 ml (Catalog #1794)
1.5 ml CRISPR (Catalog #2170)
8.0 ml (Catalog #7060)