Description
Product Availability: In Stock (FedEx delivery within 2 business days).
Ordering: To place an order please use Add to Cart button (account not required).
---
Transfection Reagent for Beta-TC-6 Cells (Pancreas Tumor, CRL-11506)
Two component formulation enhances lipid mediated transfection efficiency

Optimized easy-to-use transfection protocol provided for transfection of siRNA, DNA, mRNA, and microRNA

Kit includes Transfection Enhancer reagent and recommended transfection protocol

High transfection efficacy in the presence of serum

Expand your RNAi application with a reagent optimized for delivery of both siRNA and plasmid

Reproducible transfection results

Works well for standard reverse transfection and high-throughput applications

Download Beta-TC-6 CRISPR/Cas9 transfection protocol: [PDF]

Download PowerPoint presentation for Beta-TC6 cells transfection kit: [

PPT

]

UPC/GTIN/EAN: 860002089725
Transfection Efficiency:
Reagent exhibits at least 91% transfection efficiency of siRNA delivery. Transfection efficiency was determined by qRT-PCR.
Transfection Protocol and MSDS:
Download Altogen Biosystems Beta-TC6 Transfection Protocol: [PDF]
Download MSDS: [PDF]
Beta-TC-6 Cell Line:
Diabetes mellitus is a disorder that occurs when the body cannot make good use of the insulin it produces, or the pancreas fails to make enough insulin, which results in high blood sugar. Insulinoma is a rare neuroendocrine tumor that forms in pancreatic islet cells and is mainly treated via surgery. The rarity of insulinoma poses a challenge in the development of novel treatment drugs that can address it, as there are fewer participants in clinical trials, which makes comprehensive preclinical studies especially crucial in the quest to find a cure for it. Transfection studies carried out on viable cancer cell lines are a robust and widely-accepted method for conducting preclinical research on almost all types of cancer. The Beta-TC-6 cell line was established from pancreatic tumor tissue from a transgenic mouse (Mus musculus) suffered from insulinoma. These cells are transgenic for SV40 large T antigen and exhibit epithelial cell morphology (beta cell type). They have been known to produce glucagon, insulin, and somatostatin, secreting mainly insulin specifically in response to the presence of glucose. Beta-TC-6 cells are beneficial for biomedical research related to diabetes.
Data: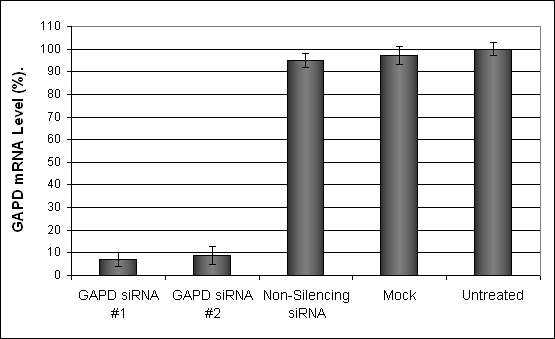 Figure 1. GAPDH mRNA levels were quantified using real-time RT-PCR in the Beta-TC6 cells transfected with siRNAs targeting GAPDH or non-silencing siRNA. Forty-eight hours post-transfection, the cells were harvested and analyzed by real-time qRT-PCR for GAPDH mRNA expression levels. Data were normalized against the 18S rRNA signal. Control samples were either mock-transfected or untreated. Values are normalized to untreated sample. Data are means ± SD (n=5).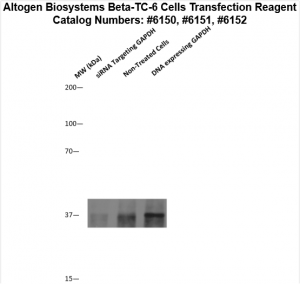 Figure 2. Protein expression of GAPDH in Beta-TC-6 cells. DNA plasmid expressing GAPDH or siRNA targeting GAPDH were transfected into Beta-TC-6 cells following Altogen Biosystems transfection protocol. At 72 hours post-transfection the cells were analyzed by Western Blot for protein expression levels (normalized by total protein, 10 µg of total protein loaded per each well). Untreated cells used as a negative control.

Altogen Biosystems:
Altogen Biosystems is a life sciences company that manufactures over 100 cell type specific and pre-optimized transfection kits, electroporation buffers, and targeted in vivo delivery kits and reagents. Advanced formulation of reagents and optimized transfection protocols provide highly efficient intracellular delivery of biomolecules (proteins, DNA, mRNA, shRNA and siRNA, and small molecule compounds). Read more about transfection technology at Altogen's Transfection Resource.
Selected in vivo transfection product citations (ALTOGEN® IN VIVO Transfection Kits used in the following publications):
Hypertension. 2015 65(2):430-9. Neurokinin 3 receptor and phosphocholine transferase… Parchim et al [PDF]
Gastroenterology. 2011 141(2) Differential type I interferon-mediated autophagic trafficking … Desai et al [PDF]
PLoS Pathog. 2014 10(10) Exosomes from hepatitis C infected patients transmit HCV … Bukong et al [PDF]
Altogen Labs Research Services:
Altogen Labs provides GLP-compliant contract research studies for pre-clinical research, IND applications, and drug development. Biology CRO services include: Xenograft models (30+), development of stable cell lines, ELISA assay development, cell-based and tissue targeted RNAi studies, safety pharm/tox assays, and other studies (visit AltogenLabs.com).
Volume Options:
0.5 ml (Catalog #6150)
1.5 ml (Catalog #6151)
1.5 ml CRISPR (Catalog #2114)
8.0 ml (Catalog #6152)