Description
Product Availability: In Stock (FedEx delivery within 2 business days).
Ordering: To place an order please use Add to Cart button (account not required).
---
Transfection Reagent for A549 Cells (Lung Carcinoma Cells, CCL-185)
Two component formulation enhances lipid mediated transfection efficiency

Optimized easy-to-use transfection protocol provided for transfection of siRNA, DNA, mRNA, and microRNA

Kit includes Transfection Enhancer reagent and recommended transfection protocol

High transfection efficacy in the presence of serum

Expand your RNAi application with a reagent optimized for delivery of both siRNA and plasmid

Reproducible transfection results

Works well for standard reverse transfection and high-throughput applications

Download A549 CRISPR/Cas9 transfection protocol: [PDF]

Download PowerPoint presentation for A549 cells transfection kit: [

PPT

]

UPC/GTIN/EAN: 860002089724
Transfection Efficiency:
Reagent exhibits at least 80% transfection efficiency of siRNA delivery. Transfection efficiency was determined by real-time RT-PCR.
Transfection Protocol and MSDS:
Download Altogen Biosystems Transfection Protocol: [PDF]
Download MSDS: [PDF]
A549 Cell Line:
Lung cancer is considered the leading cause of cancer death worldwide, despite a steady decline in the mortality rate resulting from widespread public health awareness campaigns. New advances in lung cancer treatment approaches, as well as immunotherapy and targeted therapies, are essential in treating patients with advanced stage disease. According to Dr. John Heymach, chairman of Thoracic Oncology at MD Anderson, approximately 160,000 people die from lung cancer every year, a number more significant than the next three prominent cancers (colorectal, breast, prostate) combined. The A549 lung cancer cell line has been used to investigate treatments for various forms of lung cancer, in addition to other respiratory illnesses such as asthma. The A549 cell line was derived in 1972 from the carcinomatous lung tissue of a 58-year-old Caucasian male. A549 cells are adenocarcinomic human alveolar basal epithelial cells that are squamous and responsible for the diffusion of substances such as water and electrolytes, across the alveoli of lungs. This cell line a hypotriploid human cell line with the modal chromosome number of 66, occurring in 24 percent of cells. There were also frequent instances of cells with 64, 65, and 67 chromosome counts. A549 cells have been shown to synthesize lecithin with a high percentage of desaturated fatty acids via the cytidine diphosphocholine pathway. These cells are used in vitro model for a type II pulmonary epithelial cell model for drug metabolism. Immunoperoxidase staining shows that A549 cells are positive for keratin. This cell line is typically used to investigate numerous respiratory ailments, such as viral infections that can cause asthma, tissue damage linked to asbestos exposure, and smoking-related emphysema. A549 cells grow as a monolayer and are capable of synthesizing lecithin.
A549 is a human lung carcinoma cell line that was originally derived from the lung tissue of a patient with adenocarcinoma. This cell line is commonly used as a model system for studying lung cancer and for evaluating potential therapies. A549 cells are known for their ability to differentiate into different types of lung epithelial cells, which makes them useful for studying the molecular mechanisms of lung development and differentiation. A549 cells are commonly cultured as adherent monolayers and have been shown to express markers of lung epithelial differentiation, such as surfactant proteins and mucins. They are also known to be sensitive to certain chemotherapeutic agents and radiation therapy, which makes them useful for studying drug resistance mechanisms and testing novel therapeutic strategies. In addition to their use as a model system for studying lung cancer, A549 cells have been used to study a wide range of biological processes, including cell signaling, apoptosis, and autophagy. They have also been used to study the interactions between cancer cells and the immune system and to evaluate potential immunotherapies for lung cancer. Overall, the A549 cell line is a valuable tool for studying lung cancer and has contributed significantly to our understanding of the molecular mechanisms underlying this disease.
Mutations:
| | | | | | | | | | |
| --- | --- | --- | --- | --- | --- | --- | --- | --- | --- |
| KRAS | 3845 | 37 | 12 | 25398285 | 25398285 | Missense_Mutation | SNP | C | T |
| KEAP1 | 9817 | 37 | 19 | 10602581 | 10602581 | Missense_Mutation | SNP | C | A |
| GIMAP1 | 170575 | 37 | 7 | 150417510 | 150417510 | Missense_Mutation | SNP | G | T |
| AP5B1 | 91056 | 37 | 11 | 65545457 | 65545457 | Missense_Mutation | SNP | G | T |
| GAS6 | 2621 | 37 | 13 | 114531592 | 114531592 | Silent | SNP | C | T |
| PLEKHH3 | 79990 | 37 | 17 | 40823553 | 40823553 | Missense_Mutation | SNP | G | A |
| PLCB4 | 5332 | 37 | 20 | 9416235 | 9416235 | Missense_Mutation | SNP | G | T |
| ZNF14 | 7561 | 37 | 19 | 19823290 | 19823290 | Missense_Mutation | SNP | C | T |
| TPRG1L | 127262 | 37 | 1 | 3542384 | 3542384 | Missense_Mutation | SNP | G | A |
| ENO1 | 2023 | 37 | 1 | 8925414 | 8925414 | Missense_Mutation | SNP | A | C |
| NMNAT1 | 64802 | 37 | 1 | 10042579 | 10042579 | Missense_Mutation | SNP | C | A |
Data: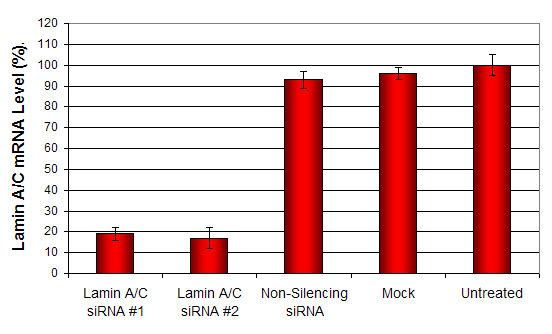 Figure 1. SiRNAs targeting Lamin A/C mRNA or non-silencing control siRNA were transfected following the recommended protocol. At 48 hours post-transfection the A549 cells were analyzed by qRT-PCR for gene expression levels. 18S rRNA levels were used to normalize the Lamin A/C data. Values are normalized to untreated sample. Data are means ± SD (n=3).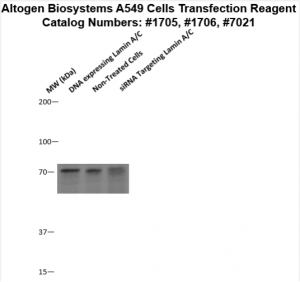 Figure 2. Protein expression of Lamin A/C in A549 cells. DNA plasmid expressing Lamin A/C or siRNA targeting Lamin A/C were transfected into A549 cells following Altogen Biosystems transfection protocol. At 72 hours post-transfection the cells were analyzed by Western Blot for protein expression levels (normalized by total protein, 10 µg of total protein loaded per each well). Untreated cells used as a negative control.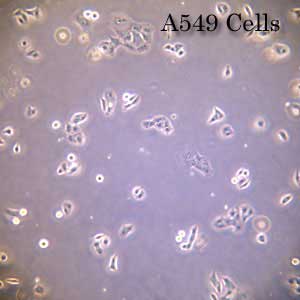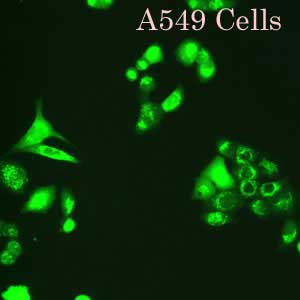 Selected citations for A549 transfection reagent used in the following publications:
Journal of General Virology. 2008 89:1978. Role of retinoic acid inducible gene-I in human … Liao et al [PDF]
PLoS One. 2012 (7). Pharmacological Inhibition of Microsomal Prostaglandin E Synthase-1 … Finetti et al [PDF]
Mol Cell Biol. 2013 33(7). SCO2 induces p53-mediated apoptosis by Thr845 phosphorylation … Madan et al [PDF]

Altogen Biosystems:
Altogen Biosystems provides cell type specific and preoptimized transfection products, elecroporation kits, and targeted in vivo delivery reagents. Advanced formulation of reagents and optimized transfection protocols provide efficient intracellular delivery of protein, DNA, mRNA, shRNA, siRNA and other biomolecules. Read more about transfection technology at Altogen's Transfection Resource.    
Altogen Research Services:
Altogen Labs provides GLP-compliant contract research studies for pre-clinical research, IND applications, and drug development. Biology CRO services include: Xenograft models (30+), development of stable cell lines, ELISA assay development, cell-based and tissue targeted RNAi studies, safety pharm/tox assays, and other studies (visit AltogenLabs.com).
Volume Options:
0.5 ml (Catalog #1705)
1.5 ml (Catalog #1706)
1.5 ml CRISPR (Catalog #2104)
8.0 ml (Catalog #7021)