Description
Product Availability: In Stock (FedEx delivery within 2 business days).
Ordering: To place an order please use Add to Cart button (account not required).
---
Transfection Reagent for COS-7 Cells (Monkey Kidney Cells, CRL-1651)
Lipid-based transfection reagent

Optimized easy-to-use transfection protocol provided for transfection of siRNA, DNA, and mRNA

Kit includes Transfection Enhancer reagent and recommended transfection protocol

Expand your RNAi application with a reagent optimized for delivery of both siRNA and plasmid

Reproducible transfection results

Works well for standard reverse transfection and high-throughput applications

Download Cos-7 CRISPR/Cas9 transfection protocol: [PDF]
Download PowerPoint presentation for Cos-7 cells transfection kit: [PPT]
UPC/GTIN/EAN: 860002089750
Transfection Efficiency:
Reagent exhibits at least 80% transfection efficiency of siRNA delivery. Transfection efficiency was determined by qRT-PCR.
Transfection Protocol and MSDS:
Download Altogen Biosystems Cos-7 Transfection Protocol: [PDF]
Download MSDS: [PDF]
COS-7 Cell Line:
Simian virus 40 (SV40) is a simple tumor virus that has been linked to mesothelioma, an aggressive subtype of lung cancer. According to the CDC, there are between 2,400 and 2,800 new cases of mesothelioma, each year, in the United States. Although SV40 (Simian virus 40) has proven to cause cancer in some experimental animals, there is no evidence that it can cause cancer in humans, as stated by the American Cancer Society (ACS). However, it remains a very controversial topic, as some studies show that the risk of developing mesothelioma and lymphomas increases after infection with SV40, with several polio vaccines made from monkey cells contaminated with SV40 back in the 1950s and 1960s. COS-7 was established from a CV-1 line derived from kidney cells of the African green monkey (Cercopithecus aethiops) through transformation with a mutant version of the SV-40 genome that can produce large T antigen. They are fibroblast-like cells growing as monolayers. The COS-7 cell line is frequently used by researchers to study the SV-40 monkey virus. It is also used to transfect cells to produce recombinant proteins for biochemistry, molecular and cellular biology experiments. COS-7 has been shown to retain complete permissiveness for lytic growth of SV40, support the replication of tsA209 virus at 40°C, and support the replication of pure populations of SV40 mutants. Transfection is a powerful tool in the field of cancer research, and the COS-7 cell line is a reliable transfection host. Altogen Biosystems provides optimized lipid-based transfection reagent kits for the COS-7 monkey kidney cell line.
COS7 is a cell line that is derived from monkey kidney tissue, specifically from the African green monkey (Cercopithecus aethiops) species. This cell line has been extensively used in biomedical research, particularly in the study of protein expression, cell signaling, and molecular biology. COS7 cells are well transfectable, which means that they are easy to manipulate in the laboratory and are often used for the expression of exogenous genes or proteins. The cells are also highly proliferative and have a flat, fibroblast-like morphology, making them easy to maintain in culture. The COS-7 cell line has been used to study a wide range of biological processes, including cell signaling, protein trafficking, and membrane dynamics. In addition, the cells are commonly used in the production of recombinant proteins and vaccines.
Data: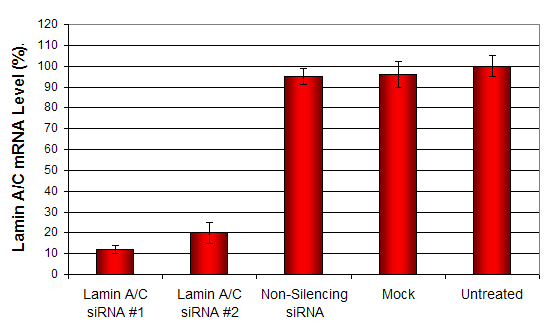 Figure 1. siRNA targeting Lamin A/C mRNA or non-silencing control siRNA were transfected into Cos-7 cells following the recommended protocol. At 48 hours post-transfection the cells were analyzed by qRT-PCR for gene expression levels. 18S rRNA levels were used to normalize the Lamin A/C data. Values are normalized to untreated sample. Data are means ± SD (n=3).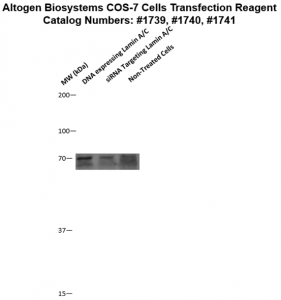 Figure 2. Protein expression of Lamin A/C in Cos-7 cells. DNA plasmid expressing Lamin A/C or siRNA targeting Lamin A/C were transfected into Cos-7 cells following Altogen Biosystems transfection protocol. At 72 hours post-transfection the cells were analyzed by Western Blot for protein expression levels (normalized by total protein, 10 µg of total protein loaded per each well). Untreated cells used as a negative control.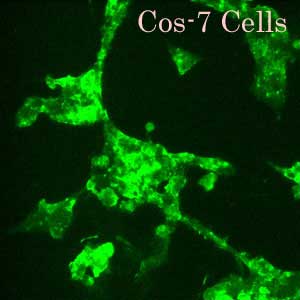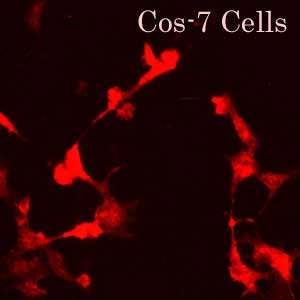 Citations and references:
Patent WO2010004003A2. Modified peptides as potent inhibitors of the psd-95/nmda receptor interaction. Anders Bach et al [PDF]
RNA. 2010 16(11):2108-19. RNase L releases a small RNA from HCV RNA that refolds … Malathi et al [PDF]
Jounal of Biological Chemistry. 2012 287(4):2907. Chaperoning of mutant p53 protein … Gogna et al [PDF]

Altogen Biosystems:
Altogen Biosystems is a life sciences company that manufactures over 100 cell type specific and pre-optimized transfection kits, electroporation buffers, and targeted in vivo delivery kits and reagents. Advanced formulation of reagents and optimized transfection protocols provide highly efficient intracellular delivery of biomolecules (proteins, DNA, mRNA, shRNA and siRNA, and small molecule compounds). Read more about transfection technology at Altogen's Transfection Resource.
Altogen Labs Research Services:
Altogen Labs provides good laboratory practice (GLP) compliant preclinical research services for IND applications and drug development. Our biology CRO services includes both efficacy studies (over 90 in-house validated xenograft models) and safety pharmacology/toxicology studies (for more details please visit AltogenLabs.com).
Volume Options:
0.5 ml (Catalog #1739)
1.5 ml (Catalog #1740)
1.5 ml CRISPR (Catalog #2133)
8.0 ml (Catalog #1741)