Description
NOTE: To place order using Credit Card, P-Card, or Purchase Order – please choose kit size above and click "Add to cart" button. You can place order online without creating an account.
Transfection Reagent for Primary Cells and Difficult-to-Transfect Cell Lines
Two component formulation enhances liposome mediated transfection efficiency

Transfection protocol provided for transfection of si/miRNA, plasmid DNA, mRNA, and small proteins

AltoFect™ Transfection Kit includes Transfection Enhancer reagent and recommended transfection protocol

Expand your RNAi application with a reagent optimized for delivery of both siRNA and plasmid
Download AltoFect™ transfection protocol: [PDF]
UPC/GTIN/EAN: 860002089701
AltoFect reagent is designed for hard-to-transfect cell lines and primary cell types. These cells are are difficult to introduce foreign genetic material into using traditional transfection methods (transfection is a laboratory technique used to introduce nucleic acids, such as DNA, RNA, or siRNA, into cells, allowing researchers to study gene expression, protein function, and cell signaling pathways). Some cells are hard-to-transfect because they have innate mechanisms that prevent the entry of foreign RNA and protein into cytoplasm and DNA into their nuclei. These cells are usually highly specialized and have complex structures that make it difficult for biomolecules to enter. Examples of hard-to-transfect cells include primary cells (cells taken directly from living organisms rather than being grown in a lab), stem cells, neurons, and immune cells (suspension cultures). AltoFect is a powerfull research tool to overcome the challenges of transfecting hard-to-transfect cells, allowing researchers to study the functions of genes and their roles in cellular processes.
Transfection Efficiency:
Reagent exhibits at least 85% transfection efficiency of siRNA delivery. Transfection efficiency was determined by qRT-PCR and Western Blot analysis.
Transfection Protocol and MSDS:
Download Altogen Biosystems AltoFect™ Transfection Protocol: [PDF]
Download MSDS: [PDF]
Data: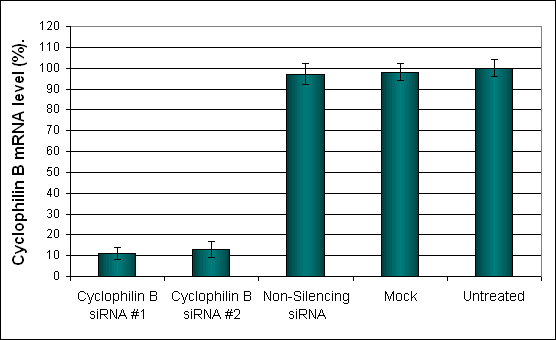 Figure 1. Cyclophilin B silencing efficiency was determined by qRT-PCR in primary neuronal culture transfected by Cyclophilin B siRNA or non-silencing siRNA control following the recommended AltoFect transfection protocol. Cyclophilin mRNA expression levels were measured 48 hours post-transfection. 18S rRNA levels were used to normalize the Cyclophilin B data. Values are normalized to untreated sample. Data are presented as means ± SD (n=6).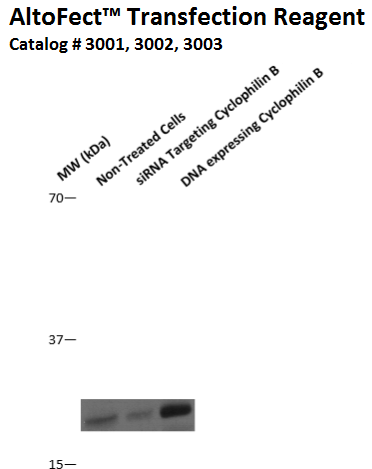 Figure 2. Protein expression of Cyclophilin B in primary neuronal cells. DNA plasmid expressing Cyclophilin B or siRNA targeting Cyclophilin B were transfected into primary neuronal cells following AltoFect™ transfection protocol. At 72 hours post-transfection the cells were analyzed by Western Blot for protein expression levels (normalized by total protein, 10 µg of total protein loaded per each well). Untreated cells used as a negative control.
About Altogen Biosystems:
Altogen Biosystems is a life sciences company that offers cell type-specific and pre-optimized transfection products, electroporation kits, and in vivo delivery reagents. Advanced formulation of reagents and optimized transfection protocols provide efficient intracellular delivery of protein, DNA, mRNA, shRNA and siRNA molecules. Read more about transfection technology at Altogen's Transfection Resource.
Altogen Labs Research Services:
Altogen Labs provides GLP-compliant contract research studies for preclinical research, IND applications, and drug development. Biology CRO services include: Over 60 xenograft models, development of stable cell lines, ELISA assay development, cell-based and tissue targeted RNAi studies, safety pharm/tox assays, and other studies (visit AltogenLabs.com).
Volume Options:
0.05 ml (Catalog #3000)
0.5 ml (Catalog #3001)
1.5 ml (Catalog #3002)
8.0 ml (Catalog #3003)