Description
Product Availability: In Stock (FedEx delivery within 2 business days).
Ordering: To place an order please use Add to Cart button (account not required).
---
Transfection Reagent for BHK-21 Cells (Kidney Cells, CCL-10)
A biodegradable polymer based transfection agent – once inside the cell, the polymer degrades into smaller less toxic components reducing cell toxicity, facilitating release of the transgene, and improving transfection efficiency

Optimized for intracellular delivery of plasmid DNA, siRNA, microRNA, and mRNA

High transfection efficiency of both siRNA and plasmid DNA without compromising cell viability

Achieve robust siRNA uptake for dependable gene silencing

Effective transfection under conditions of up to 40% serum

Transfection kit includes Transfection Enhancer reagent

Gentle enough to be used for single cell analysis

Download BHK-21 CRISPR/Cas9 transfection protocol: [PDF]
Download PowerPoint presentation for BHK-21 cells transfection kit: [PPT]
UPC/GTIN/EAN: 860002089736
Transfection Efficiency:
Reagent exhibits at least 86% transfection efficiency of siRNA delivery. Transfection efficiency was determined by qRT-PCR.
Transfection Protocol and MSDS:
Download Altogen Biosystems BHK-21 Transfection Protocol: [PDF]
Download MSDS: [PDF]
BHK-21 Cell Line:
Chronic kidney failure is a loss of kidney function over the time that is considered a significant public health problem worldwide. Development of novel kidney therapeutics and innovative treatments often depends on preclinical studies that can help to gain the understanding of the etiology of the disease. The BHK-21 cell line was established in 1961 from 1-day-old hamster by I.A. Macpherson and M.G.P. Stoker. This cell line exhibited fibroblast morphology and was taken from the kidneys of healthy golden hamster (Mesocricetus auratus). These cells are susceptible to human adenovirus 25, poliovirus 2, and reovirus 3, among others. BHK-21 cells are beneficial for studying mammalian kidney cells biology. Adenoviruses belong to a family of viruses characterized by the presence of non enveloped double-stranded DNA and the ability to infect a wide variety of human cells. Adenoviruses preferably target upper respiratory region of the body, and the symptoms manifest themselves in the form of highly contagious diseases such as conjunctivitis. They are also responsible for more severe illnesses such as meningitis. Hamster fibroblasts were found to be highly prone to infection adenoviruses, and thus, the BHK-21 cell line. Over time the BHK-21 has proven to be a reliable transfection host during preclinical studies involving not only adenoviruses but other potential pathogens such as reoviruses. Altogen Biosystems provides biodegradable polymer-based high efficiency transfection reagent kits that have exhibited low cytotoxicity and high siRNA uptake by host cells.
BHK-21 is a cell line that was derived from the kidney of a baby hamster (Mesocricetus auratus) and is commonly used in cell biology and virology research. The cell line was first established in 1961 by R. Dulbecco and L. Vogt and has since become a widely used model system for studying viral replication and vaccine development. BHK21 cells are adherent and grow in vitro as monolayer cultures. They are highly susceptible to a variety of viruses, including foot-and-mouth disease virus, Japanese encephalitis virus, and influenza virus. Because of their high susceptibility to viral infection, BHK-21 cells have been used to produce viral vaccines and to study viral replication and pathogenesis. In addition to virology research, BHK-21 cells have also been used to study cell signaling pathways, protein expression, and gene regulation. They are a useful tool for investigating the effects of various agents on cell growth and differentiation, and for screening potential drug candidates.
Data: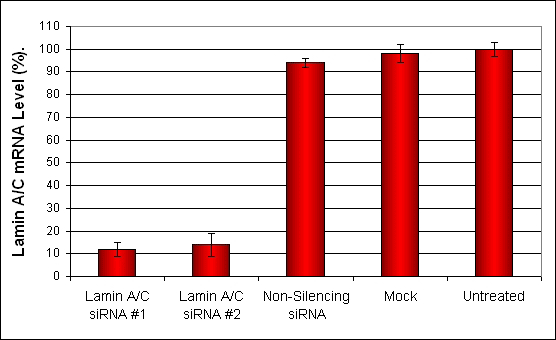 Figure 1. siRNAs targeting Lamin A/C mRNA or non-silencing control siRNA were transfected into BHK-21 cells following the recommended protocol. At 48 hours post-transfection the cells were analyzed by qRT-PCR for Lamin A/C gene expression levels. 18S rRNA levels were used to normalize the Lamin A/C data. Values are normalized to untreated sample. Data are means ± SD (n=4).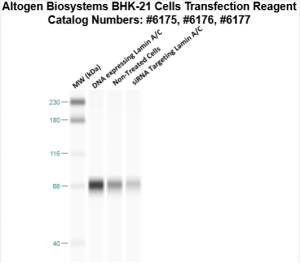 Figure 2. Protein expression of Lamin A/C in BHK-21 cells. DNA plasmid expressing Lamin A/C or siRNA targeting Lamin A/C were transfected into BHK-21 cells following Altogen Biosystems transfection protocol. At 72 hours post-transfection the cells were analyzed by Western Blot for protein expression levels (normalized by total protein, 10 µg of total protein loaded per each well). Untreated cells used as a negative control.

Altogen Biosystems:
Altogen Biosystems is a life sciences company that offers cell type-specific and preoptimized transfection products, electroporation kits, and in vivo delivery reagents. Advanced formulation of reagents and optimized transfection protocols provide efficient intracellular delivery of protein, DNA, mRNA, shRNA and siRNA molecules. Read more about transfection technology at Altogen's Transfection Resource.
Selected in vivo transfection product citations (ALTOGEN® IN VIVO Transfection Kits) used in the following publications:
Altogen Research Services:
Altogen Labs provides GLP compliant contract research studies for preclinical research, IND applications, and drug development. Biology CRO services include: Xenograft models (90+), development of stable cell lines, ELISA assay development, cell-based and tissue targeted RNAi studies, safety pharmacology/toxicology assays, and other studies (visit AltogenLabs.com).
Volume Options:
0.5 ml (Catalog #6175)
1.5 ml (Catalog #6176)
1.5 ml CRISPR (Catalog #2115)
8.0 ml (Catalog #6177)