Description
Product Availability: In Stock (FedEx delivery within 2 business days).
Ordering: To place an order please use Add to Cart button (account not required).
---
Transfection Reagent for NIH3T3 Cells (Swiss Mouse Fibroblast Cells, CRL-1658)
Two component formulation enhances lipid mediated transfection efficiency

Optimized easy-to-use transfection protocol provided for transfection of siRNA, DNA, mRNA, and microRNA

Kit includes Transfection Enhancer reagent and recommended transfection protocol

High transfection efficacy in the presence of serum

Expand your RNAi application with a reagent optimized for delivery of both siRNA and pDNA

Reproducible transfection results

Works well for standard reverse transfection and high-throughput applications

Download NIH3T3 CRISPR/Cas9 transfection protocol: [PDF]

Download PowerPoint presentation for NIH3T3 transfection kit: [

PPT

]

UPC/GTIN/EAN: 860002089796
Transfection Efficiency:
Reagent exhibits at least 85% transfection efficiency of siRNA delivery. Transfection efficiency was determined by RT-PCR.
Transfection Protocol and MSDS:
Download Altogen Biosystems NIH3T3 Transfection Protocol: [PDF]
Download MSDS: [PDF]
NIH3T3 Cell Line:
The mouse fibroblast cell line NIH 3T3 has been extensively employed in multiple studies and is considered one of the most frequently used fibroblast cell lines. NIH3T3 are derived from a cell line of a Swiss mouse embryo established in 1962 by two scientists at the Department of Pathology in the New York University School of Medicine. 3T3 cells are characterized by their ability to grow as adherent monolayers and their high proliferative rate. These cells also have a diploid karyotype and express a variety of cell surface markers, including fibronectin and integrins.The 3T3 cell line has become the standard fibroblast cell line. Mouse embryonic fibroblasts NIH3T3 is a type of murine embryonic fibroblast cells (MEF). MEFs are often used as feeder cells in human embryonic stem cell research and for the maintenance of embryonic stem cells in the undifferentiated state. Feeder cells serve as a basal layer for other cultures and have been utilized to support the nourishment and proliferation of other cell types including stem cells. Cell layers of feeder cells cannot divide, but they secrete growth factor to the culture media, supporting the growth of target cells. MEF cell line is an excellent host for studies related to mammalian embryonic tissue, frequently employed as a transfection host in cell and molecular biology research. Many various MEF cell lines exhibit slightly different characteristics. MEF cells are also used for titration of viruses from mouse organs and tissues in lab studies. NIH3T3 cells are utilized in the cultivation of keratinocytes, with the 3T3 cells secreting growth factors favorable to keratinocytes. It has been found that NIH3T3 cells are inhibited by benzodiazepines. The 3T3 designation is an abbreviation of "3-day transfer, inoculum 3 x 10e5 cells". NIH3T3 cells line is a good transfection host susceptible to sarcoma and leukemia viruses. Altogen Biosystems offers lipid-based transfection reagent kits for the NIH-3T3 cell line that yield high transfection efficiency, as detected by RT-PCR. NIH3T3 cells are commonly used to study cellular signaling and proliferation, including the regulation of the cell cycle, the role of oncogenes and tumor suppressor genes in cancer development, and the mechanisms of cellular transformation. This cell line has also been used to investigate the molecular mechanisms underlying drug resistance and to test the efficacy of novel anti-cancer agents. Additionally, NIH3T3 cells have been used as a platform for gene editing and genetic engineering studies.
Data: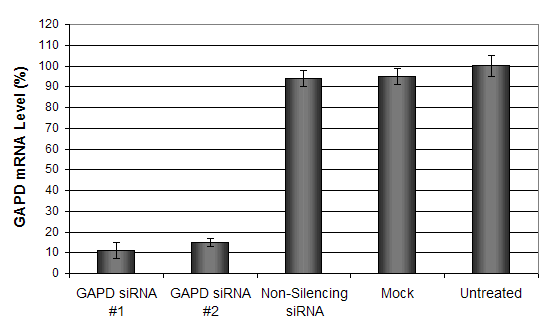 Figure 1. GAPD mRNA levels were quantified using real-time PCR in NIH3T3 cells transfected with siRNAs targeting GAPD or non-silencing siRNA. Forty-eight hours post-transfection, the cells were harvested and analyzed by real-time PCR for GAPDH mRNA expression levels. Data were normalized against the 18S rRNA signal. Control samples were either mock-transfected or untreated. Values are normalized to untreated sample. Data are means ± SD (n=3).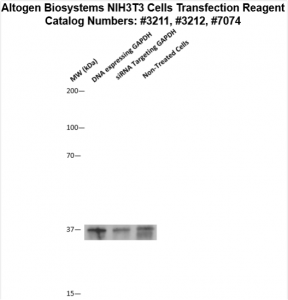 Figure 2. Protein expression of GAPDH in NIH3T3 cells. DNA plasmid expressing GAPDH or siRNA targeting GAPDH were transfected into NIH3T3 cells following Altogen Biosystems transfection protocol. At 72 hours post-transfection the cells were analyzed by Western Blot for protein expression levels (normalized by total protein, 10 µg of total protein loaded per each well). Untreated cells used as a negative control.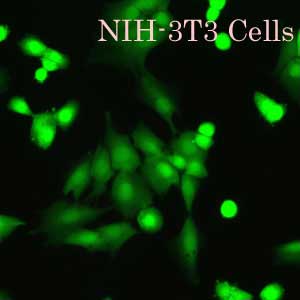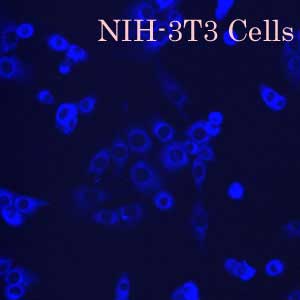 Selected in vivo transfection product citations (ALTOGEN® IN VIVO Transfection Kits used in the following publications):

Altogen Biosystems:
Altogen Biosystems is a life sciences company that offers cell type-specific and pre-optimized transfection products, electroporation kits, and in vivo delivery reagents. Advanced formulation of reagents and optimized transfection protocols provide efficient intracellular delivery of protein, DNA, mRNA, shRNA and siRNA molecules. Read more about transfection technology at Altogen's Transfection Resource.
Altogen Labs Research Services:
Altogen Labs provides GLP compliant contract research studies for preclinical research, IND applications, and drug development. Biology CRO services include: xenograft models (90+), development of stable cell lines, ELISA assay development, cell-based and tissue targeted RNAi studies, safety pharm/tox assays, and other studies (visit AltogenLabs.com).
Volume Options:
0.5 ml (Catalog #3211)
1.5 ml (Catalog #3212)
1.5 ml CRISPR (Catalog #2185)
8.0 ml (Catalog #7074)