Description
Product Availability: In Stock (FedEx delivery within 2 business days).
Ordering: To place an order please use Add to Cart button (account not required).
---
Transfection Reagent for Neuro-2a Cells (Neuroblastoma Cells, CCL-131)
Proprietary cationic lipids formulation

Effective and robust intracellular delivery

Kit includes Transfection Enhancer and Complex Condenser reagents

Produces consistent results, lot-to-lot, plate-to-plate, and well-to-well

A proven reagent for establishing stable cell lines

Download Neuro2a CRISPR/Cas9 transfection protocol: [PDF]

Download PowerPoint presentation for Neuro2a cells transfection kit: [

PPT

]

UPC/GTIN/EAN: 860002089792
Transfection Efficiency:
Reagent exhibits at least 71% transfection efficiency of siRNA delivery. Transfection efficiency was determined by RT-PCR.
Transfection Protocol and MSDS:
Download Altogen Biosystems Neuro2a Transfection Protocol: [PDF]
Download MSDS: [PDF]
Neuro-2a Cell Line:
Neuro-2a (N2a) is a mouse neuroblastoma cell line that was originally derived from a spontaneous tumor in the sympathetic nervous system. This cell line is commonly used in neuroscience research as a model for studying neuronal differentiation, neurobiology, and drug discovery. Neuro2a cells are characterized by their ability to differentiate into neuronal-like cells in response to various stimuli, such as retinoic acid, and by their high expression of neuronal markers, such as the neurofilament protein. These cells also have a deletion in the p53 gene, which encodes for the p53 tumor suppressor protein. N2a cells commonly used to study various aspects of neurobiology, including the mechanisms of neuronal differentiation, the signaling pathways involved in neuronal survival and death, and the development of new therapeutic agents for neurological disorders. This cell line has also been used to study the role of p53 in neurogenesis and to test the efficacy of drugs targeting this pathway. Additionally, N2a cells have been used as a platform for studying neurotoxicity, neuroinflammation, and neurodegenerative diseases, such as Alzheimer's and Parkinson's diseases.
Neuroblastoma is the most frequent extracranial solid tumor in children, and roughly half of the patients experience bone metastasis accompanied by bone pain, leading to poor prognosis for those affected. The Neuro-2a cell line was established from brain tissue of an albino house mouse (Mus musculus) with neuroblastoma. These cells exhibit neuronal and amoeboid stem cell morphology, making them uniquely useful for scientific study. Also, the Neuro-2a cell line is susceptible to herpes simplex virus, human poliovirus 1, and vesicular stomatitis virus. Neuro-2a cells have been known to create large amounts of microtubular protein. Neuro-2a cells make for reliable transfection hosts due to their neuronal and amoeboid morphology. Altogen Biosystems offers in vitro transfection reagents delivering satisfactory results, including a liposome formulation Neuro-2a transfection reagent kit for neuroblastoma cells that yields high transfection efficiency and is considered an appropriate host for studying brain tumors.
Data: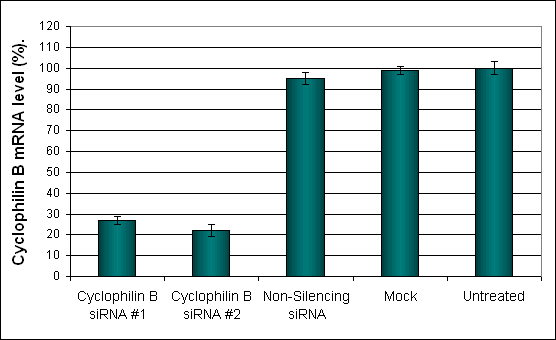 Figure 1. Cyclophilin B silencing efficiency was determined by RT-PCR in Neuro2a cells transfected by Cyclophilin B siRNA or non-silencing siRNA control following the recommended transfection protocol. Cyclophilin mRNA expression levels were measured 48 hours post-transfection. 18S rRNA levels were used to normalize the Cyclophilin B data. Values are normalized to untreated sample. Data are presented as means ± SD (n=6).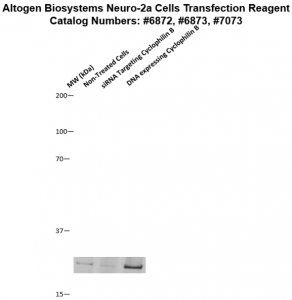 Figure 2. Protein expression of Cyclophilin B in Neuro-2a cells. DNA plasmid expressing Cyclophilin B or siRNA targeting Cyclophilin B were transfected into Neuro-2a cells following Altogen Biosystems transfection protocol. At 72 hours post-transfection the cells were analyzed by Western Blot for protein expression levels (normalized by total protein, 10 µg of total protein loaded per each well). Untreated cells used as a negative control.

Altogen Biosystems:
Altogen Biosystems is a life sciences company that manufactures over 100 cell type specific and pre-optimized transfection kits, electroporation buffers, and targeted in vivo delivery kits and reagents. Advanced formulation of reagents and optimized transfection protocols provide highly efficient intracellular delivery of biomolecules (proteins, DNA, mRNA, shRNA and siRNA, and small molecule compounds). Read more about transfection technology at Altogen's Transfection Resource.
Altogen Labs Research Services:
Altogen Labs provides good laboratory practice (GLP) compliant preclinical research services for IND applications and drug development. Our biology CRO services includes both efficacy studies (over 90 in-house validated xenograft models) and safety pharmacology/toxicology studies (for more details please visit AltogenLabs.com).
Volume Options:
0.5 ml (Catalog #6872)
1.5 ml (Catalog #6873)
1.5 ml CRISPR (Catalog #2184)
8.0 ml (Catalog #7073)