Description
Product Availability: In Stock (FedEx delivery within 2 business days).
Ordering: To place an order please use Add to Cart button (account not required).
---
Transfection Reagent for Fibroblast Cells (Fibroblast Cell Lines and Primary Fibroblasts)
Proprietary cationic lipid formulation

High transfection efficiency of small RNA (siRNA, shRNA, miRNA), mRNA, and plasmid DNA

Effective and robust intracellular delivery

Kit includes Transfection Enhancer and Complex Condenser reagents

Work in the presence of serum

A proven reagent for establishing stable fibroblast cell lines

Download Fibroblast CRISPR/Cas9 transfection protocol: [PDF]

Download PowerPoint presentation for Fibroblast cells transfection kit: [

PPT

]

UPC/GTIN/EAN: 860002089767
Transfection Efficiency:
Reagent exhibits at least 85% transfection efficiency of siRNA delivery. Transfection efficiency was determined by qRT-PCR.
Transfection Protocol and MSDS:
Download Altogen Biosystems Fibroblasts Transfection Protocol: [PDF]
Download MSDS: [PDF]
Fibroblast Cell Lines and Primary Fibroblasts:
Fibroblasts maintain the structure of connective tissues by secreting precursors of the extracellular matrix, primarily a variety of fibers and the ground substance. Fibroblasts and related connective tissues sculpt the significant portion of an organism. Fibroblasts are derived from primitive mesenchyme. Fibroblasts have a branched cytoplasm that surrounds a nucleus with one or two nucleoli. Fibroblasts can migrate slowly over substratum as individual cells (in contrast to epithelial cells). Fibroblasts can show different phenotypes in separate anatomical locations. Active fibroblasts have rough abundant endoplasmic reticulum. Fibroblasts often align in parallel clusters when crowded. Unlike the epithelial cells lining the body structures, fibroblasts do not form flat mono-layers and are not restricted to a basal lamina on one side. Of the total tissue mass in the human body, approximately 45% is made up of connective tissue. Within the cells that make up connective tissue, fibroblasts are the most prolific. Fibroblasts secrete extracellular proteins that help maintain the structure of connective tissue. Fibroblasts are well known for the role they play in wound healing, by synthesizing collagen at the site of an injury. Many studies have successfully demonstrated the ability of healthy fibroblasts to convert into different functional cells. Fibroblasts are characterized by their elongated shape and their ability to produce and secrete extracellular matrix (ECM) components such as collagen, elastin, and fibronectin. They are involved in wound healing, tissue remodeling, and the formation of scar tissue. Fibroblasts are commonly used in cell culture studies as a model system for studying the biology of connective tissue cells, as well as for drug screening and toxicity testing. Altogen Biosystems manufactures optimized cationic lipid-based transfection reagent kits suitable for carrying out transfection on various fibroblast cell lines.
Data: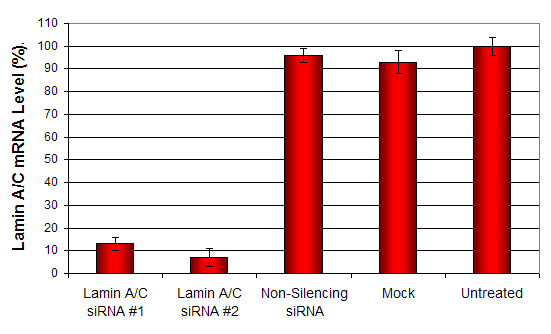 Figure 1. siRNAs targeting Lamin A/C mRNA or non-silencing control siRNA were transfected into fibroblast cells following the recommended protocol. At 48 hours post-transfection the cells were analyzed by qRT-PCR for gene expression levels. 18S rRNA levels were used to normalize the Lamin A/C data. Values are normalized to untreated sample. Data are means ± SD (n=3).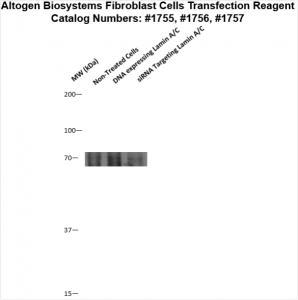 Figure 2. Protein expression of Lamin A/C in Fibroblast cells. DNA plasmid expressing Lamin A/C or siRNA targeting Lamin A/C were transfected into Fibroblast cells following Altogen Biosystems transfection protocol. At 72 hours post-transfection the cells were analyzed by Western Blot for protein expression levels (normalized by total protein, 10 µg of total protein loaded per each well). Untreated cells used as a negative control.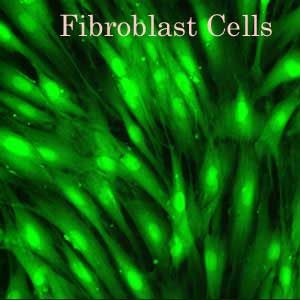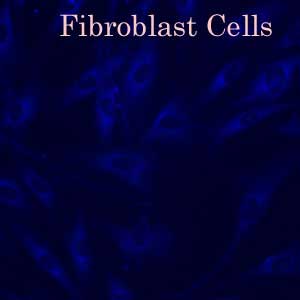 Selected Fibroblast transfection kit citations and references:

Altogen Biosystems:
Altogen Biosystems provides optimized transfection products for life science research applications. Transfection protocols are optimized for individual cancer cell lines. Altogen Biosystems developed two types of in vivo delivery kits for animal research: Tissue-targeted reagents (delivery to liver, pancreas, and kidney tissues), and broad range in vivo delivery reagents (PEG-Liposome, Nanoparticle-based, Lipid-based, and Polymer-based kits). Advanced formulation of reagents and optimized transfection protocols provide efficient intracellular delivery of proteins, DNA, RNA, and any other negatively charged molecules in vitro and in vivo. Read more about transfection technology at Altogen's Transfection Resource.
Altogen Laboratory Services:
Altogen Labs provides good laboratory practice (GLP) compliant preclinical research services for IND applications and drug development. Our biology CRO services includes both efficacy studies (over 90 in-house validated xenograft models) and safety pharmacology/toxicology studies (for more details please visit AltogenLabs.com).
Volume Options:
0.5 ml (Catalog #1755)
1.5 ml (Catalog #1756)
1.5 ml CRISPR (Catalog #2142)
8.0 ml (Catalog #1757)