Description
Product Availability: In Stock (FedEx delivery within 2 business days).
Ordering: To place an order please use Add to Cart button (account not required).
---
Transfection Reagent for AR42J Cells (Pancreatic Carcinoma Cells, CRL-1492)
A nanoparticle-based liposome formulation

Transfection protocols provided for transfection of proteins, DNA, mRNA, siRNA, shRNA and microRNA

Transfection Enhancer reagent provided with the kit

Produce higher level of recombinant protein expression with minimal disruption of normal cell function

Generate physiologically relevant data you can trust

Effective for plasmid DNA/siRNA co-transfection

Easy-to-use transfection protocol with reproducible results

Download AR42J CRISPR/Cas9 transfection protocol: [PDF]

Download PowerPoint presentation for AR42J cells transfection kit: [

PPT

]

UPC/GTIN/EAN: 860002089722
Transfection Efficiency:
Reagent exhibits at least 87% transfection efficiency of siRNA delivery. Transfection efficiency was determined by real-time RT-PCR.
Transfection Protocol and MSDS:
Download Altogen Biosystems AR42J Transfection Protocol: [PDF]
Download MSDS: [PDF]
AR42J Cell Line:
Pancreatic cancer remains a fatal disease as well as a significant public health problem due to its resistance to radiotherapy and chemotherapy. Furthermore, it has the lowest 5-year survival rate among all types of cancer, at 3%, as stated by Cancer Research UK. Preclinical research for novel drugs using RNA interference is a well-known laboratory technique that could help researchers find new therapies for patients with this deadly disease. An efficient transfection reagent, such as the AR42J Transfection Kit for pancreatic carcinoma cells, offered by Altogen Biosystems, can improve the outcome of this research. AR42J is a pancreatic cancer cell line that has proven to be a suitable host for transfection. The AR42J cell line was established using the pancreas tissue from a Wistar rat (Rattus norvegicus) that suffered from a pancreatic tumor. This tumorigenic cell line exhibits an epithelial cell morphology and produces amylase and other exocrine enzymes, which is inducible. It has receptors for glucocorticoid and insulin, which facilitate production. AR42J cells are known to reorganize their endoplasmic reticulum (ER) extensively. These cells make for a good transfection host and could be useful in many molecular and cellular biology studies.
AR42J is a rat pancreatic acinar cell line that was originally derived from a chemically induced pancreatic tumor. This cell line is commonly used as a model system for studying pancreatic exocrine function and for evaluating potential therapies for pancreatic cancer and pancreatitis. AR42J cells are known for their ability to differentiate into acinar-like cells when treated with dexamethasone, a steroid hormone. These differentiated cells have been shown to express markers of pancreatic acinar function, such as amylase and lipase, and are commonly used to study the mechanisms of pancreatic enzyme secretion and regulation. In addition to their use as a model system for studying pancreatic function and disease, AR42J cells have been used to study the mechanisms of gastrointestinal hormone secretion and the effects of potential therapies for gastrointestinal disorders. Overall, the AR42J cell line is a valuable tool for studying pancreatic exocrine function and has contributed significantly to our understanding of the molecular mechanisms underlying pancreatic diseases.
Data: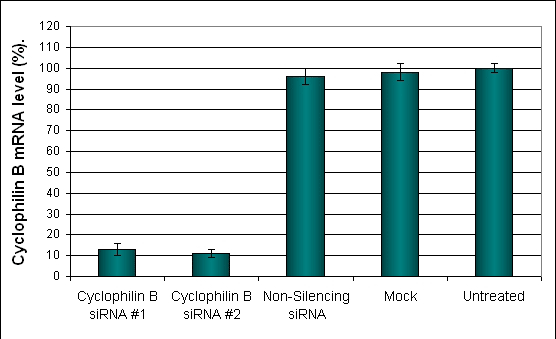 Figure 1. Cyclophilin B silencing efficiency was determined by qRT-PCR in the AR42J cells transfected by Cyclophilin B siRNA or non-silencing siRNA control following the recommended transfection protocol. Cyclophilin mRNA expression levels were measured 48 hours post-transfection. 18S rRNA levels were used to normalize the Cyclophilin B data. Values are normalized to untreated sample. Data are presented as means ± SD (n=6).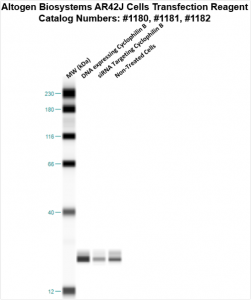 Figure 2. Protein expression of Cyclophilin B in AR42J cells. DNA plasmid expressing Cyclophilin B or siRNA targeting Cyclophilin B were transfected into AR42J cells following Altogen Biosystems transfection protocol. At 72 hours post-transfection the cells were analyzed by Western Blot for protein expression levels (normalized by total protein, 10 µg of total protein loaded per each well). Untreated cells used as a negative control.
Selected in vivo transfection product citations (ALTOGEN® IN VIVO Transfection Kits used in the following publications):

Altogen Biosystems:
Altogen Biosystems manufacturers preoptimized transfection kits for cancer research. Reagents and transfection protocols are optimized for individual cancer cell lines. Altogen Biosystems developed two types of in vivo delivery kits for animal research: Tissue-targeted reagents (delivery into liver, pancreas, and kidney tissues), and in vivo biodistribution reagents (PEG-Liposome, Nanoparticle, Lipid, and Polymer-based kits). Optimized transfection protocols provide efficient intracellular delivery of proteins, DNA, and RNA molecules in vitro and in vivo. Read more about transfection technology at Altogen's Transfection Resource.
Altogen Labs Research Services:
Altogen Labs provides GLP compliant contract research studies for pre clinical research, IND applications, and drug development. Biology CRO services include: Xenograft models (90+), development of stable cell lines, ELISA assay development, cell-based and tissue targeted RNAi studies, safety pharm/tox assays, and other studies (visit AltogenLabs.com).
Volume Options:
0.5 ml (Catalog #1180)
1.5 ml (Catalog #1181)
1.5 ml CRISPR (Catalog #2106)
8.0 ml (Catalog #1182)