Description
Product Availability: In Stock (FedEx delivery within 2 business days).
Ordering: To place an order please use Add to Cart button (account not required).
---
Transfection Reagent for HCAEC Cells (Coronary Artery Endothelial Cells)
A nanoparticle-based liposome formulation

Complex Condenser and Transfection Enhancer reagents are provided with the kit

Produce higher level of recombinant protein expression with minimal disruption of normal cell function

Generate physiologically relevant data you can trust

Effective for pDNA/siRNA co-transfection

Easy-to-use transfection protocol with reproducible results

Download HCAEC CRISPR/Cas9 transfection protocol: [PDF]

Download PowerPoint presentation for HCAEC cells transfection kit: [

PPT

]

UPC/GTIN/EAN: 860002089765
Transfection Efficiency:
Reagent exhibits at least 80% transfection efficiency of siRNA delivery. Transfection efficiency was determined by qRT-PCR.
Transfection Protocol and MSDS:
Download Altogen Biosystems HCAEC Transfection Protocol: [PDF]
Download MSDS: [PDF]
HCAEC Cell Line:
The term "heart disease" includes several types of heart conditions, with coronary artery disease being the most common form that can lead to a heart attack, according to the Centers for Disease Control and Prevention (CDC). Arteries that supply blood to the heart are called coronary arteries. The buildup of plaque in these arteries clogs them and reduces their flexibility. Coronary artery disease is the most common cardiovascular disorder (CVD) with 3 million cases being diagnosed annually. Endothelium is the interior cell layer of vascular and lymphatic vessels. The HCAEC cell line stands for human coronary artery endothelial cells (HCAEC). As the name would imply, these cells were derived from the endothelial cells removed from the coronary artery in a human patient. These cells are used for studying the circulatory system and heart as well as different diseases, including thrombosis, hypertension, and atherosclerosis. HCAEC cells exhibit an epithelial cell morphology. This cell line makes for a useful transfection host in the study of many cardiovascular diseases.
HCAEC (Human Coronary Artery Endothelial Cells) is a cell line derived from the endothelial cells that line the coronary arteries of the heart. HCAECs are commonly used as a model system to study the biology and pathology of the coronary arteries and to investigate the mechanisms of cardiovascular diseases. HCAECs are characterized by their expression of endothelial cell markers, such as von Willebrand factor, and their ability to form capillary-like structures when cultured on extracellular matrix proteins such as Matrigel. They also exhibit many of the functions of endothelial cells, such as regulation of vascular tone, angiogenesis, and leukocyte adhesion. HCAECs are commonly used in experiments to investigate the molecular and genetic mechanisms underlying endothelial cell function and dysfunction in cardiovascular diseases, as well as to evaluate the efficacy and safety of potential therapeutic agents for cardiovascular diseases. Altogen Biosystems manufactures nanoparticle-based transfection reagent kits for coronary artery endothelial cells. The reagent has demonstrated reproducible high-efficiency transfection results.
Data: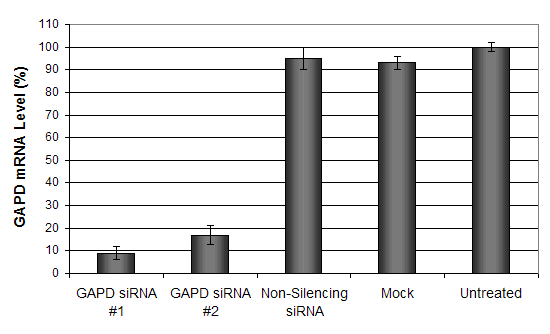 Figure 1. GAPD mRNA levels were quantified using real-time qRT-PCR in the cells transfected with siRNAs targeting GAPD or non-silencing siRNA. Forty-eight hours post-transfection, the cells were harvested and analyzed by real-time qRT-PCR for GAPDH mRNA expression levels. Data were normalized against the 18S rRNA signal. Control samples were either mock-transfected or untreated. Values are normalized to untreated sample. Data are means ± SD (n=3).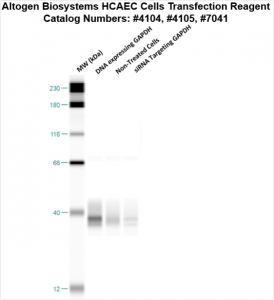 Figure 2. Protein expression of GAPDH in HCAEC cells. DNA plasmid expressing GAPDH or siRNA targeting GAPDH were transfected into HCAEC cells following Altogen Biosystems transfection protocol. At 72 hours post-transfection the cells were analyzed by Western Blot for protein expression levels (normalized by total protein, 10 µg of total protein loaded per each well). Untreated cells used as a negative control.

Altogen Biosystems:
Altogen Biosystems provides preoptimized transfection products for life science research applications. Transfection protocols are optimized for individual cancer cell lines. Altogen Biosystems developed two types of in vivo delivery kits for animal research: Tissue-targeted reagents (delivery to liver, pancreas, and kidney tissues), and broad range in vivo delivery reagents (PEG-Liposome, Nanoparticle-based, Lipid-based, and Polymer-based kits). Advanced formulation of reagents and optimized transfection protocols provide efficient intracellular delivery of proteins, DNA, RNA, and any other negatively charged molecules in vitro and in vivo. Read more about transfection technology at Altogen's Transfection Resource.
Altogen Labs Contract Research Services:
Altogen Labs provides good laboratory practice (GLP) compliant preclinical research services for IND applications and drug development. Our biology CRO services includes both efficacy studies (over 90 in-house validated xenograft models) and safety pharmacology/toxicology studies (for more details please visit AltogenLabs.com).
Volume Options:
0.5 ml (Catalog #4104)
1.5 ml (Catalog #4105)
1.5 ml CRISPR (Catalog #2144)
8.0 ml (Catalog #7041)