Description
NOTE: To place order using Credit Card, P-Card, or Purchase Order – please choose kit size above and click "Add to cart" button. You can place order online without creating an account.
Transfection Reagent for CHO Cells (Chinese hamster ovary cells, CCL-61)
Two component formulation enhances lipid mediated transfection efficiency

Optimized easy-to-use transfection protocol provided for transfection of siRNA, DNA, mRNA, and microRNA

Kit includes Transfection Enhancer reagent and recommended transfection protocol

High transfection efficacy in the presence of serum

Expand your RNAi application with a reagent optimized for delivery of both siRNA and plasmid

Download PowerPoint presentation for CHO cells transfection kit: [

PPT

]
Transfection Efficiency:
Reagent exhibits at least 90% transfection efficiency of siRNA delivery. Transfection efficiency was determined by qRT-PCR.
Transfection Protocol and MSDS:
Download Altogen Biosystems Transfection Protocol: [PDF]
Download MSDS: [PDF]
CHO Cell Line:
The CHO stands for, and was established (1957) using Chinese Hamster (Cricetulus griseus) Ovary tissue. This cell line is frequently used in the production of therapeutic proteins, and is one of the most widely used mammalian cell lines used in transfection, as well as large scale recombinant protein production. CHO cells exhibit an epithelial like cell morphology. CHO cell line is extensively used in biomedical research and biotechnology R&D applications.
Data: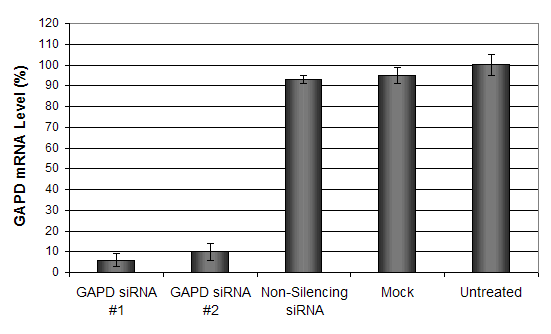 Figure 1. GAPD mRNA levels were quantified using real-time RT-PCR in the CHO cells transfected with siRNAs targeting GAPD or non-silencing siRNA. Forty-eight hours post-transfection, the cells were harvested and analyzed by real-time RT-PCR for GAPDH mRNA expression levels. Data were normalized against the 18S rRNA signal. Control samples were either mock-transfected or untreated. Values are normalized to untreated sample. Data are means ± SD (n=3).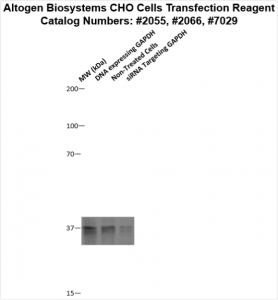 Figure 2. Protein expression of GAPDH in CHO cells. DNA plasmid expressing GAPDH or siRNA targeting GAPDH were transfected into CHO cells following Altogen Biosystems transfection protocol. At 72 hours post-transfection the cells were analyzed by Western Blot for protein expression levels (normalized by total protein, 10 µg of total protein loaded per each well). Untreated cells used as a negative control.
Selected in vivo transfection product citations (ALTOGEN® IN VIVO Transfection Kits used in the following publications):
Altogen Biosystems:
Altogen Biosystems transfection and electroporation products for life sciences and cancer research. Transfection reagents are developed for individual cancer cell line and transfection protocols are optimized for maximum delivery efficiency. Advanced formulation of reagents and optimized transfection protocols provide efficient intracellular delivery of proteins, DNA, mRNA, shRNA, siRNA, and other negatively charged biomolecules in  vitro and in vivo. Read more about transfection technology at Altogen's Transfection Resource.
Altogen Labs Research Services:
Altogen Labs provides GLP-compliant contract research studies for pre-clinical research, IND applications, and drug development. Biology CRO services include: Xenograft models (30+), development of stable cell lines, ELISA assay development, cell-based and tissue targeted RNAi studies, safety pharm/tox assays, and other studies (visit AltogenLabs.com).
Volume Options:
0.5 ml (Catalog #2055)
1.5 ml (Catalog #2066)
1.5 ml CRISPR (Catalog #2128)
8.0 ml (Catalog #7029)