Description
NOTE: To place order using Credit Card, P-Card, or Purchase Order – please choose kit size above and click "Add to cart" button. You can place order online without creating an account.
Transfection Reagent for LNCaP Cells (Prostate Carcinoma Cells, CRL-1740)
A nanoparticle-based liposome formulation

Transfection protocols provided for transfection of proteins, DNA, mRNA, siRNA, shRNA and microRNA

Transfection Enhancer reagent provided with the kit

Produce higher level of recombinant protein expression with minimal disruption of normal cell function

Generate physiologically relevant data you can trust

Effective for plasmid DNA/siRNA co-transfection

Easy-to-use transfection protocol with reproducible results

Download PowerPoint presentation for LnCAP transfection kit: [PPT]
Transfection Efficiency:
Reagent exhibits at least 85% transfection efficiency of siRNA delivery. Transfection efficiency was determined by qRT-PCR.
Transfection Protocol and MSDS:
Download Altogen Biosystems LNCaP Transfection Protocol: [PDF]
Download MSDS: [PDF]
LNCaP Cell Line:
LNCaP cells are human prostate adenocarcinoma cells that were derived from the supraclavicular lymph node metastasis of a 50-year-old Caucasian male in 1977. LNCaP cells are adherent epithelial cells growing both in aggregates or as a single cell. The LNCaP cells grow readily in vitro, form clones, and are resistant to human fibroblast interferon. High affinity specific androgen receptors in cytosol and nuclear fractions of cells (in culture and in tumors). Estrogen receptors can be seen in the cytosol. The model is responsive hormonally. The cell line expresses Prostate Specific Antigen. The frequency of the tumor development and the time of tumor appearance are significantly different for males and females. Male mice do develop tumors sooner and at the greater frequency than females. Hormonal manipulations demonstrate that frequency of tumor development correlates with the levels of serum androgen. However, the rate of the tumor growth is not dependent on the gender or hormonal status.
Data: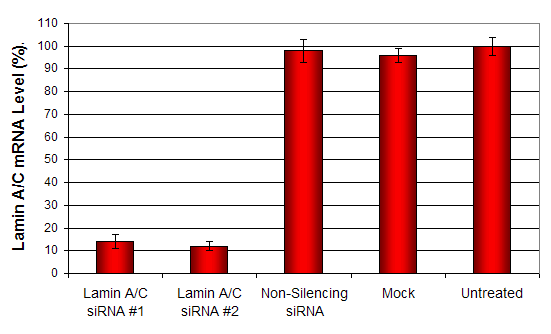 Figure 1. SiRNAs targeting Lamin A/C mRNA or non-silencing control siRNA were transfected into LNCaP cells following the recommended protocol. At 48 hours post-transfection the cells were analyzed by qRT-PCR for gene expression levels. 18S rRNA levels were used to normalize the Lamin A/C data. Values are normalized to untreated sample. Data are means ± SD (n=3).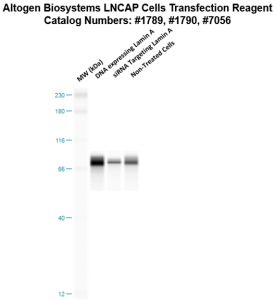 Figure 2. Protein expression of Lamin A in LNCAP cells. DNA plasmid expressing Lamin A or siRNA targeting Lamin A were transfected into LNCAP cells following Altogen Biosystems transfection protocol. At 72 hours post-transfection the cells were analyzed by Western Blot for protein expression levels (normalized by total protein, 10 µg of total protein loaded per each well). Untreated cells used as a negative control.
Selected citations for LNCAP transfection reagent used in the following publications:
PLoS One. 2011 6(1) Identification of distinctive patterns of USP19-mediated growth regulation in normal and malignant cells. Lu Y, Bedard N, Chevalier S, Wing S [

PDF

]

RNA. 2010 16(11):2108-19. RNase L releases a small RNA from HCV RNA that refolds … Malathi et al [PDF]
Selected in vivo transfection product citations (ALTOGEN® IN VIVO Transfection Kits used in the following publications):
Altogen Biosystems:
Altogen Biosystems is a life sciences company that manufactures over 100 cell type specific and pre-optimized transfection kits, electroporation buffers, and targeted in vivo delivery kits and reagents. Advanced formulation of reagents and optimized transfection protocols provide highly efficient intracellular delivery of biomolecules (proteins, DNA, mRNA, shRNA and siRNA, and small molecule compounds). Read more about transfection technology at Altogen's Transfection Resource.
Altogen Labs Research Services:
Altogen Labs provides GLP-compliant contract research studies for pre-clinical research, IND applications, and drug development. Biology CRO services include: Xenograft models (30+), development of stable cell lines, ELISA assay development, cell-based and tissue targeted RNAi studies, safety pharm/tox assays, and other studies (visit AltogenLabs.com).
Volume Options:
0.5 ml (Catalog #1789)
1.5 ml (Catalog #1790)
1.5 ml CRISPR (Catalog #2166)
8.0 ml (Catalog #7056)